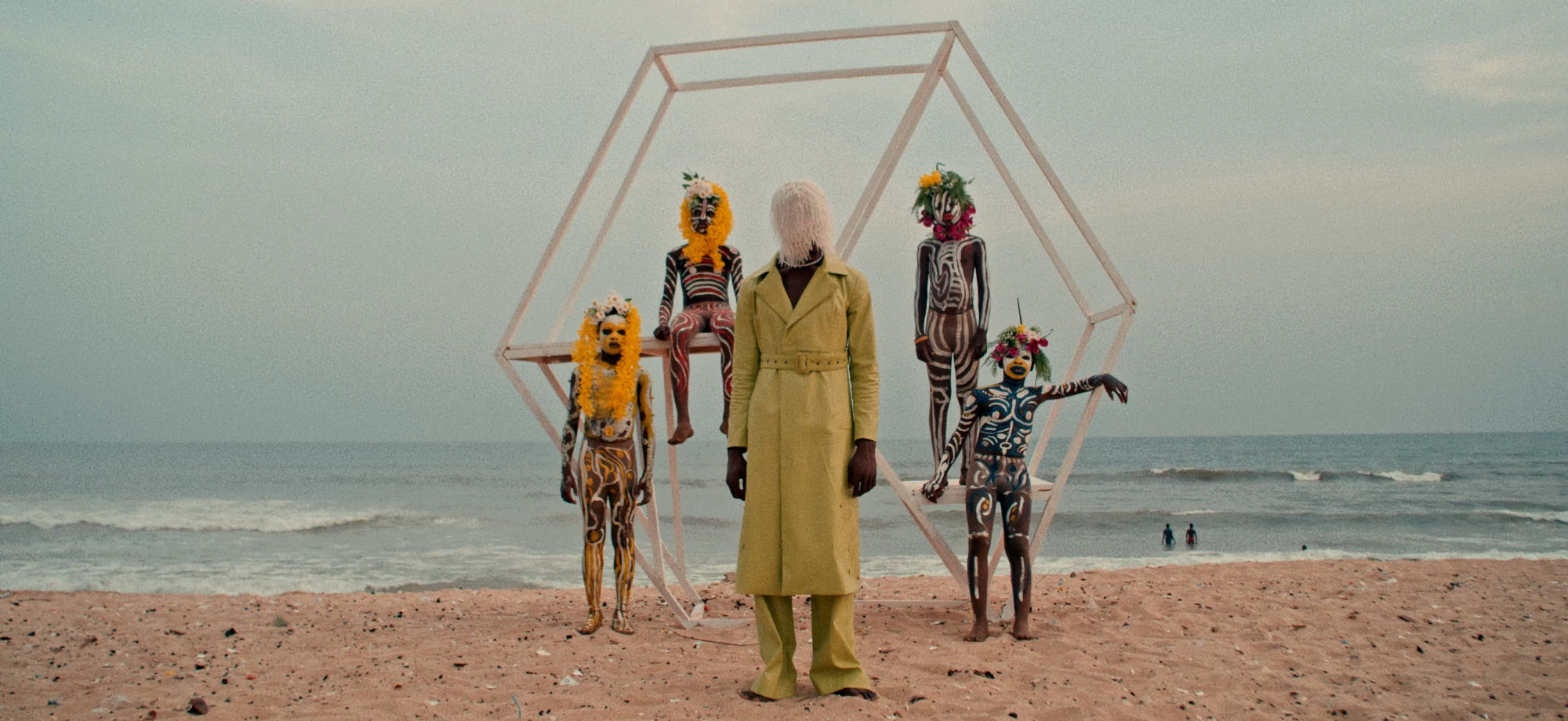 Multidisciplinary Filmmaker
91/ The Pioneer: Ebeneza Blanche
For this week's journal, we speak to Ghanaian SMUGGLER director Ebeneza Blanche. An indisputable pioneer and rising star in the film industry, Ebeneza has worked with some of the biggest names in the music and fashion industry including Skepta, Wizkid, Joy Crookes, Chanel, Gucci, and Nike.
From the acclaimed Little Simz's 'Point and Kill' to his latest semi-autobiographical film 'Mathlete', Ebeneza presents the black experience through an honest and authentic lense, without forgetting the three key ingredients to any of his projects: nostalgia, afro-centricity, and sartorial flair.
Here we chat about his starts in the film industry, what influences his work, and the message behind 'Mathlete'.
                 PHOTOGRAPHY BY JULIETTE DUFFY
Can you tell us a bit about yourself and how you started in the film industry?
Hi, my name is Ebeneza and I'm from Ghana. I discovered my interest in film when I studied a computer course in college. There was an animation project that I very much enjoyed and from there it was history.
The decision to enter the film industry was driven by my passion for storytelling and a desire to create and share meaningful stories. I was also moved by the film 'The Great Gatsby' by Baz Lurman. I think that film influenced me heavily in pushing myself to acquire whatever I put my mind to.
        STILL OF 'POINT & KILL' BY LITTLE SIMZ
Your work champions real and honest representations of Black culture and diasporic experiences. How do your personal experiences influence your work?
I always try to champion real and honest representations of black culture and the diasporic experience. I think it is important because there is a huge gap in the market and it is important for the next generation to grow up seeing content where they can truly identify themselves.
            STILL FROM 'MATHLETE' BY EBENEZA BLANCHE
Your latest film Mathlete weaves together metaphors, symbolism, dream-like sequences, and fashion creating a personal and nostalgic work of art. What message do you hope to pass on through this film? 
The specific message of this film is that when I found myself living in a Ghanaian boarding school in my early teens. I kept asking myself "How much does it take to corrupt your soul?". This a question I want people to ask themselves when they watch this film.
            STILL FROM 'MATHLETE' BY EBENEZA BLANCHE
Your work has a very cinematic and theatrical feel. How has art influenced your visual language?
I always try to take in the environments I find myself in. Whether it's watching a theatre show in Mexico, or taking inspiration from Architecture in Copenhagen - it's whatever I see and captures my attention. However, sound is my biggest source of inspiration.
       STILL FROM 'DIMENSION'  BY JAE 5 X SKEPTA X REMA
What's something you wish you could change in the film industry?
More diversity. I see myself mostly being the only black person on set and I think I've come to a point of realization that I need to work on collective progress.
STILL FROM GUCCI'S 'A HERO'S JOURNEY - JALEN RAMSEY' 
What's something you wished people asked you more?
Who's my biggest inspiration?
             STILL OF 'POINT & KILL' BY LITTLE SIMZ
QUICKFIRE ROUND
Your muse? Protein 
Favourite place? Takoradi, Ghana
Favourite artwork? Dimension
Three favourite film of all time? Intouchable (french version), Paid In Full, Menace to Society
Currently listening to? J Hus


FOLLOW EBENEZA
@filmbyebs
Watch Mathlete | Short Film set in Ruthless Ghanaian Boarding School
Ebeneza Blanche's Curation