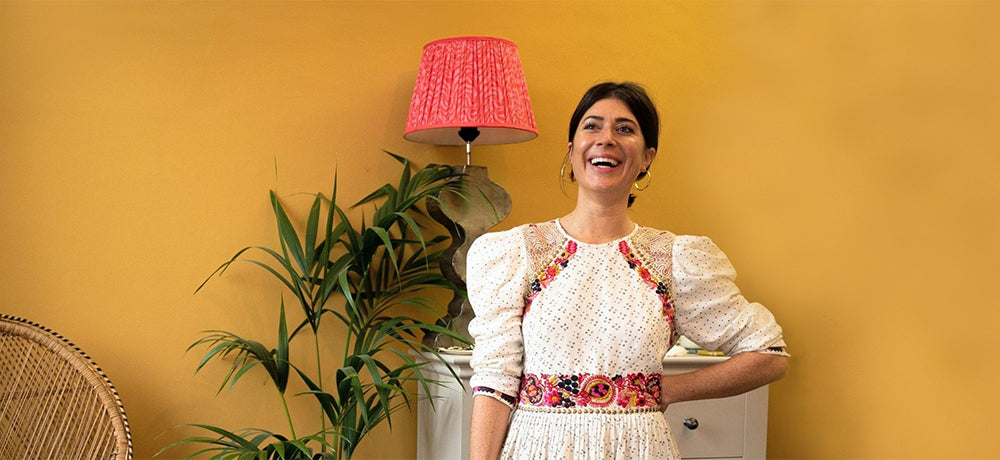 Founder of Creative Wardrobe
11/ Hang With Charlie Collins
Introducing a new arm to our journal, Hang With...
In this series, we profile Partnership Editions collectors who inspire us with their individual style and personality.

Partnership Editions Founder, Georgia Spray: "One of the most rewarding parts of founding Partnership Editions for me has been discovering that so many of our collectors are also founders of amazing companies and are immensely creative people. I've always loved seeing how their artworks live on in their homes. Seeing the pieces that they choose in the setting of their home gives these works a new meaning that is deeply personal to each collector."
To launch the series we talk to Georgia's great friend, Charlie Collins, who has been a huge support to Partnership Editions from the early days - providing invaluable introductions to the fashion world and generally being a networking guru. In 2019, having built up an amazing CV in the vintage fashion world, working at Vestiaire Collective, Smart Works Charity and William Vintage, Charlie founded her own business, Creative Wardrobe.



Charlie uses her exceptional eye to curate 'treasure hunts' - vintage sales on her instagram - photographing each piece hung beautifully in her colourful home (usually to coincide with a new moon). She also runs 'wardrobe detoxes' for clients, where she comes to your home and helps you make the most out of your wardrobe by decluttering it with you to figure out what to 'treasure', 'donate', or 'sell'. Not only does this allow her clients to make the most of their personal style, but is a brilliant way to create a more sustainable wardrobe and mindset. 
So, welcome to the home of colour-loving, fashion creative extraordinaire, Charlie Collins where you are invited to hang together like long lost friends...

 
I live on pretty, pastel-coloured Kelly Street in Kentish Town. Over the past ten years I have moved all over London from Parsons Green, onto Battersea, Brixton, Islington and finally here. My street makes me so happy; not just the ice cream coloured houses, but the incredible community that lives here. We have someone that does just about everything on our street from police women to doctors and even BAFTA winning costume designers! There is a tradition of street gatherings that happen every Thursday evening, long since the NHS Clap For Carers ended. People here look out for each other like a big group of friends and everyone here knows that Mario's cafe on the corner does the best fry ups for a fiver.


| | |
| --- | --- |
| | |

Working from home actually suits me as I'm lucky that I am not stuck on back to back zoom calls all day so I can work quite freely in most spaces. I let my husband Matt take the spare room/office (soon to be a nursery too!) and I work from our table downstairs looking out to the garden. Each month I run a vintage sale on Instagram so I'm always trying to find new places to hang and shoot my wares. This part can be a little challenging with our new place but this beautiful weather has allowed me to take photos in our garden. Long may it last.
| | |
| --- | --- |
| An original Jonathan Schofield painting that Charlie's family commissioned for her 30th birthday. | Charlie's husband Matt bought this Jonathan Schofield collage for her one Christmas and it sits in pride of place in her living room with a collection of art books and trinkets that she has collected over the years. |
My first art purchase was The Henri Matisse "Blue Nude" print in an enormous size that I had hanging on my childhood lime green bedroom wall, under glow in the dark ceiling stars!


| | |
| --- | --- |
|  The Blue Nude, Henri Matisse, 1952 | Sitting Woman in a Robe, Henri Matisse |

If I could hang any artwork in my collection it would be Henri Matisse Sitting Woman In A Robe. I love this painting so much I tried to morph into it for a New Year's party. Unfortunately the result was absolutely terrible.
| | |
| --- | --- |
|  In Charlie's colourful home, vintage clothes hang on the walls like artworks. | An original Julianna Byrne coral styled next to a collection of ceramics. |
My prized possession is My red 1920's kimono from Furiki Yo Kimono. I hang it from the top of my cupboard like a work of art.
When decorating my home I like to buy from all over! Carboot sales, thrift shops, ETSY, EBAY and places like Habitat, OKA and Sophie Conran for more splashy bits like dinner sets, candle sticks and bed sheets.

| | |
| --- | --- |
| An Alexandria Coe x Kana London plate bought at our International Women's Day dinner at Benk + Bo in 2018. | Charlie has a love for vintage wicker baskets - which she often sources and sells in her vintage sales. |
My recipe for a happy home is fresh flowers, colour EVERYWHERE and vintage plates for breakfast, lunch and dinner.


| | |
| --- | --- |
| An original etching by Rose Electra Harris given as a Bridesmaid's present to her at a friend's wedding. | The kitchen looking onto the garden where vintage plates hang as works of art. |
I spend most of my time at home staring at my big, fat, mainecoon cat Wolf and wondering what he's thinking.
I've currently got my eye on an arty blanket throw from ARKET home.

I couldn't live without the moon.


| | |
| --- | --- |
|  Charlie in the Venetia Berry "Blue Moon" slip dress. | An original Julianna Byrne painting - the love for moons is a theme throughout the house. |
Sometimes I just wish I could move all my nearest and dearest into a giant home in the countryside so we could just live off the land, have huge dinners every night and dance wild and free under the stars.
| | |
| --- | --- |
| The Julianna Byrne Night's Sky Slip Dress hanging next to an original artwork by Julianna that she commissioned for an event at Vestiaire Collective. | The Rose Electra Harris "Wild Romance" Slip dress hanging next to an original Rose etching. |