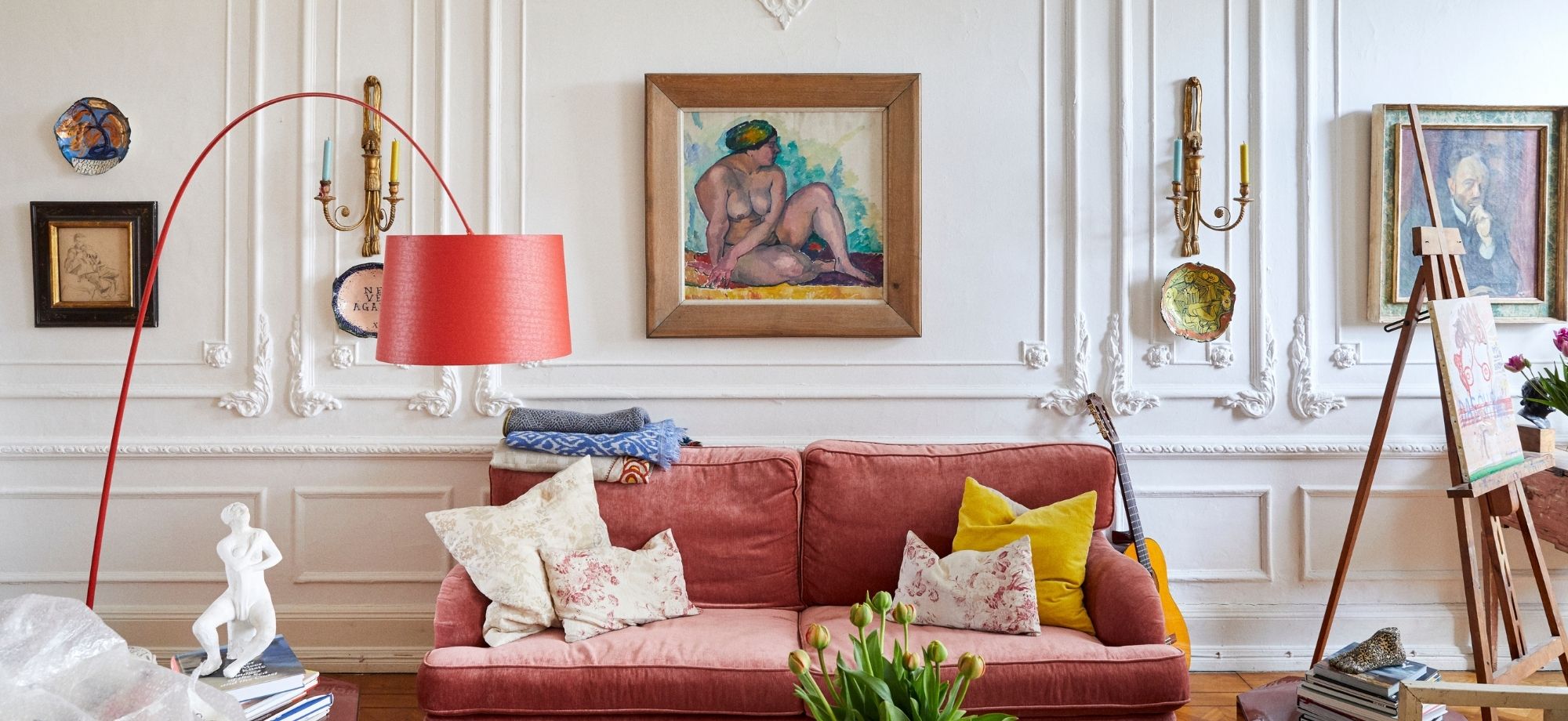 Founder of Heroldian Art Concepts
23/ The Tastemaker: Katharina Herold
For this Journal feature we catch up with Katharina Herold, the founder and undeniable tastemaker behind Heroldian Art Concepts and Heroldian Journal. Born into a family of art enthusiasts, she pursued her passion for helping people through the  personal journey of art collecting, helping her clients expand their curiosity and creativity by mixing contemporary art with their existing art collections. Her beautiful Instagram account is filled with images of her eclectic and elegant studio,  an incredible source of inspiration for art styling.
Tell us about yourself and how Heroldian Art Concepts came to fruition
I am half German, half Scottish. I have an MA in History of Art from University College of London. Before I founded Heroldian Art Concepts I worked for auction houses and selected dealers and ran my own gallery for four years. Next to running my gallery, I was invited by Christie's London to style their window displays with items from their upcoming sales. This series ran from 2015-2016 and was called At Home with Art.
Through the work for Christie's and a more and more personal approach to growing a collection with selected clients, I had the idea of bringing the art gallery into people's homes. Much like your founder Georgia Spray, I realised that many people don't feel comfortable in a gallery space or are even too afraid to enter. I want to open up the art world in a personal manner that my clients feel comfortable with, but at the same time bring a level of expertise to the table.  
What is your earliest memory about art?
My father's collector cabinet filled with little objects from antiquity to today. I remember pulling up a little stool so I could look in. My father would ask me every so often to choose an object and we would investigate it with all senses as to what it is, where it is from, how it is made, what it is made from, and so on. I remember that this initially sparked my curiosity towards art and objects. And now I'm still the one smelling a sculpture in an auction house to determine what material it is made from... 
What do you enjoy the most about your job?
Probably artist studio visits, I find it so fascinating to delve into a studio, I usually peek into every nook and cranny. But to be perfectly honest I like every part of my job (minus accounting). I love meeting clients and discussing art that may suit their home and it gives me equal joy to install works and get feedback of how happy they are being surrounded by the pieces. I enjoy the styling aspects for home shoots or with selected companies such as Christie's or Lisa Corti. 
Next to Heroldian Art Concepts I am part of a family gallery (Galerie Herold) and feel fortunate to be able to work with my brother and my father. 
Which tastemakers do you admire?
I try to soak up my father's experience and knowledge of the art world. I think the interior designer Emma Grant manages to use antique pieces in a way that doesn't look outdated. There are so many amazing creatives out there. For my own work however, I trust my instincts and don't look to anyone else. For me that's important, as it can be quite overwhelming how great everyone else is and it ensures I stay true to my style. My inspiration comes from artworks, museums, books, and my heritage.
Do you have a favourite museum or gallery of all time?
My favourite museums are those that used to be private homes of collectors or artists and have thankfully been preserved for the public. When I studied in London I frequently visited John Soames Museum & Dennis Severes' House, in Paris it's the house of artist Gustave Moreau & the Atelier Brancusi, but probably my favourite of all time is the house of artist couple Anna and Michael Ancher in Skagen, Denmark.
I have to say all these places were a bit less crowded before Instagram but I still enjoy them. They exemplify how collectors and artists live with masterpieces and much less valuable things side by side, but each just as significant to the collector. It's all about the emotional value which you can't put a price on. 
What's the most unusual piece in your collection and the most precious one to you?
Now those are two different pairs of shoes, I have so many unusual and weird things... it's hard to pick one- maybe the mid 19th Century artist cane that can be unscrewed and reveals an inkwell in the handle and an artist palette, a quill and brushes in the stick. When I'm a little older I want to fully commit to a serious cane collection. 
The most precious is the earthernware plate by German expressionist Heinrich Steinhagen from circa 1920, which was the first artwork given to me by my father and is the inspiration to my company's logo. 
What is your favourite book?
The Alchemist. I think it's a beautiful story about love that is free. 
What does the Heroldian Art Concepts Studio sound like?
Oh my soundtrack is just as eclectic as my taste in anything really :-) Lauren Hill, Otis Reading, Mos Def, Kurt Vile, Parcels, Dylan, the Stones, Fraser A. Gorman, Joni Mitchell, Lou Doillon, Elton John, Joan Baez, Nathaniel Rateliff, Van Morrison, Cat Stevens, En Vogue, Aaliyah, Missy Elliot, Jamiroquai... to name a few. 
What's next for Heroldian Art Concepts?
We hopefully get to install our big project in 2021, fingers crossed that our lovely clients can cross the pond. We have lots of exciting collaborations for our Heroldian Art Collector Club, which we are starting in January with Vienna based artist Max Freund. As of 2021 our collector series is going into a new direction- each piece will be especially made for our company and exclusive to Heroldian Art Collector. I am contributing to my friends magazine FAIRE which is all about creative people and I can't wait for it to come to life. I am collaborating with interior designers here in Hamburg and in London. I would also love to design a product in 2021, so any offers welcome :-). The rest is in the stars...


PHOTOGRAPHY BY LISA WINTER
Katharina 's curation
Bodies of Water

Sold

Last but not least Cecilia Reeve's Bodies of Water: I've chosen this for many reasons- the subject matter, the colours and mostly the medium, making me think of pastels by some of the famous impressionists. I think pastels have such a beautiful quality as they are quite fragile.