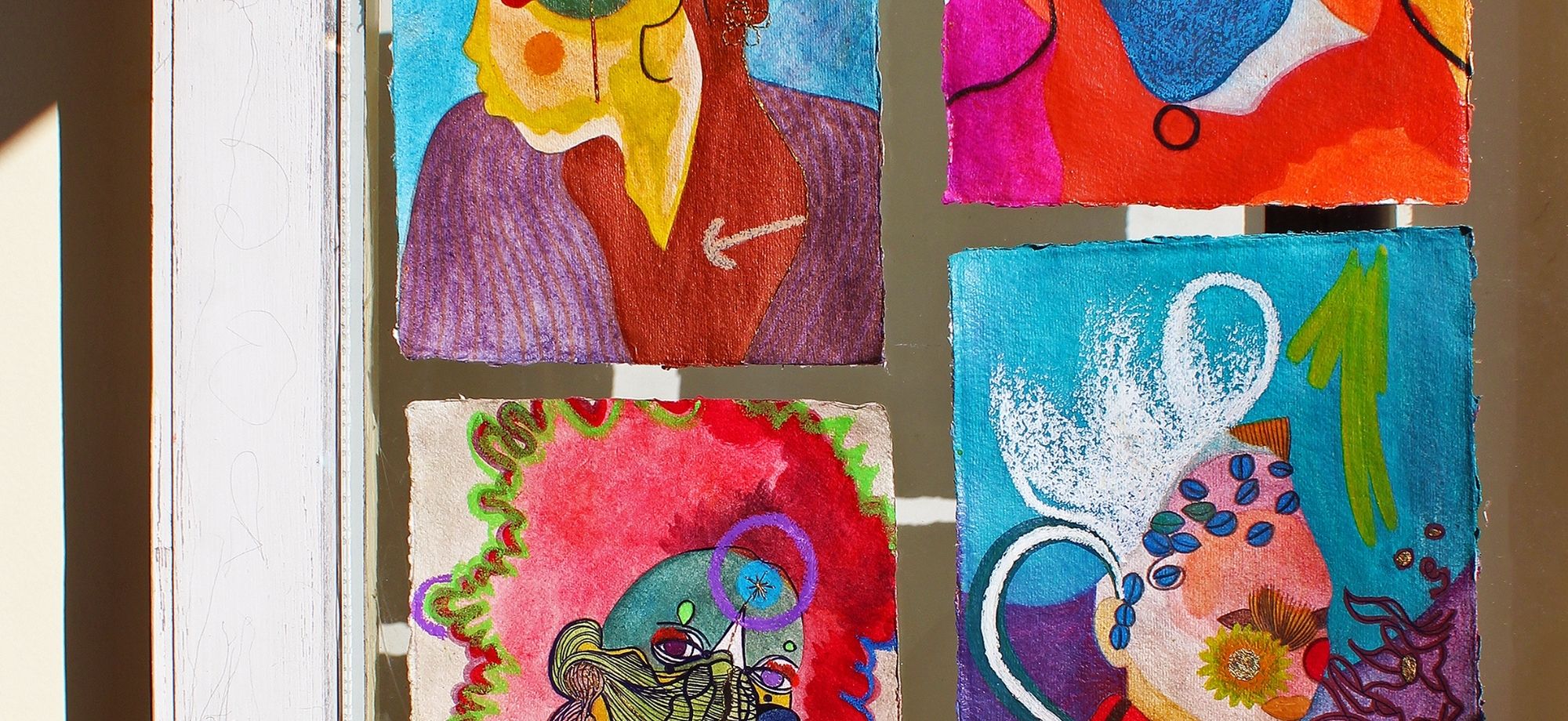 Mixed Media Artist
32/ In The Studio With Tiffanie Delune
We are so thrilled to present this edition of 'In The Studio With', where we get to know Tiffanie Delune, who has joined our roster of artists with the launch of her debut collection 'BEING'.
Here, we get to learn more about Tiffanie's background, inspiration, and the root of her unmistakable style founded in the intersection between figuration and abstraction.
How did you become an artist, what's your training and background?

Originally from the suburbs of Paris, I naturally knew how to draw as a child and wanted to become a fashion designer. In the end, I spent almost a decade working in project management at advertising agencies and beauty brands in Montreal, Geneva, Paris, and London. While I enjoyed that time of my life, it no longer engaged my creative curiosity to its full potential. I was craving to express my inner self with my hands, working in a free space at my own pace; and it's moving to London in 2017 followed by the birth of my son that was the catalyst of embracing art-making. I started from a very humble place in my living room and kept learning along the way with an instinctive approach equally engaging deep focus and meditative states, self-discipline, and playfulness. 
What are your influences? Are there certain artists, subjects, or movements that inspire your work in particular? 

I am particularly drawn to artists at the intersection of figuration and abstraction with a strong emphasis on the latter, with imagery relating to heritage and animism, identity and spirituality, oneirism and femininity. In that spirit, I love what the contemporary artists Omar Ba and Ouattara Watts are making, as well as the energy of Georgia O'Keefe, Hilma af Klint, or Alice Rahon. I am also interested in artists with rich colours, childlike wonder and a sense of poetry flowing from the work, such as Amrita Sher-Gil, Baya Mahhiedine, Chaibia Talal, Joan Miro, Frank Bowling or the paper cutouts of Matisse.
For the BEING collection, I was interested in exploring part figurative, part magical figures, using elements from contemporary circus and symbols from otherworldliness. Working with a warm colour palette of watercolours, the spirit of astrology, African artistry, and a family tree was the starting point. They are imaginary subjects from a borderless family and see me introduce younger subjects as well as men to my natural tendency to draw women. The small scale and delicate techniques of the work is an invitation to feel a sense of intimacy with the subject and be surprised by its unfolding.  
What does your process look like? Why do you choose to work in the materials that you work with? 
I quickly sketch the main features of the face before I fully recreate it on one of my favourite Indian Cotton Rag Paper, which already has a texture and is slightly imperfect. I instinctively add a colour palette or mood I'm drawn to in watercolours and oil pastels before a wide range of other materials are added. Here, I deliberately limited myself to stitching, mixed papers, and gold & metallic leaf to create a thread between all of them. I look at the texture of the material but also a sense of memory and heritage. The leaf calls for magic and royalty while the stitching is soft and feminine and feels like connecting the old to the new. Papers cutouts are childish and playful and endless of possibilities. The shapes and movements I create for each family member come from a dialogue between the work and my subconscious, very often in the early hours of the day. 
What emotions or responses do you hope to create for the viewer with your work?

I hope to engage on a blended narrative that sits outside of the spectrum of one thing or another. I believe that we are all multifaceted beings equally influenced by our heritage and other cultures, personal experiences, and inner dialogues. I'd like to visually invite the viewer to an infinitive journey of self-exploration and revelation, that feels celebratory and joyful. Interlacing mystical references and modern souls, I am interested in leading viewers to question what connects the natural world and the individual, the physical and the sensorial.  
Can you tell us more about your creative process and the BEING series?
The natural world is center stage to my creativity from constellations to the seas, tales of the African Motherland and visions of hope — untouched places without any form of conditioning, birthing a boundless sense of being. Blooming shapes and rich colours give life to unique characters and dreamscapes that infinitely dance between independence and sexuality, strength and vulnerability, stillness and vitality.
Staged between the figurative and the magical, the BEING series portrays the imaginary subjects of a borderless family. Drawing influences from contemporary circus, otherworldly spaces, and African artistry, the figures float in a warm colour palette of watercolour with emotional cues from delicate stitching, pastel, papers, and gold leaf. Existing beyond our world, they celebrate a culture of childlike wonder and spirited performance.
Shop Tiffanie's debut collection, BEING


FOLLOW TIFFANIE
@tiffanie.delune