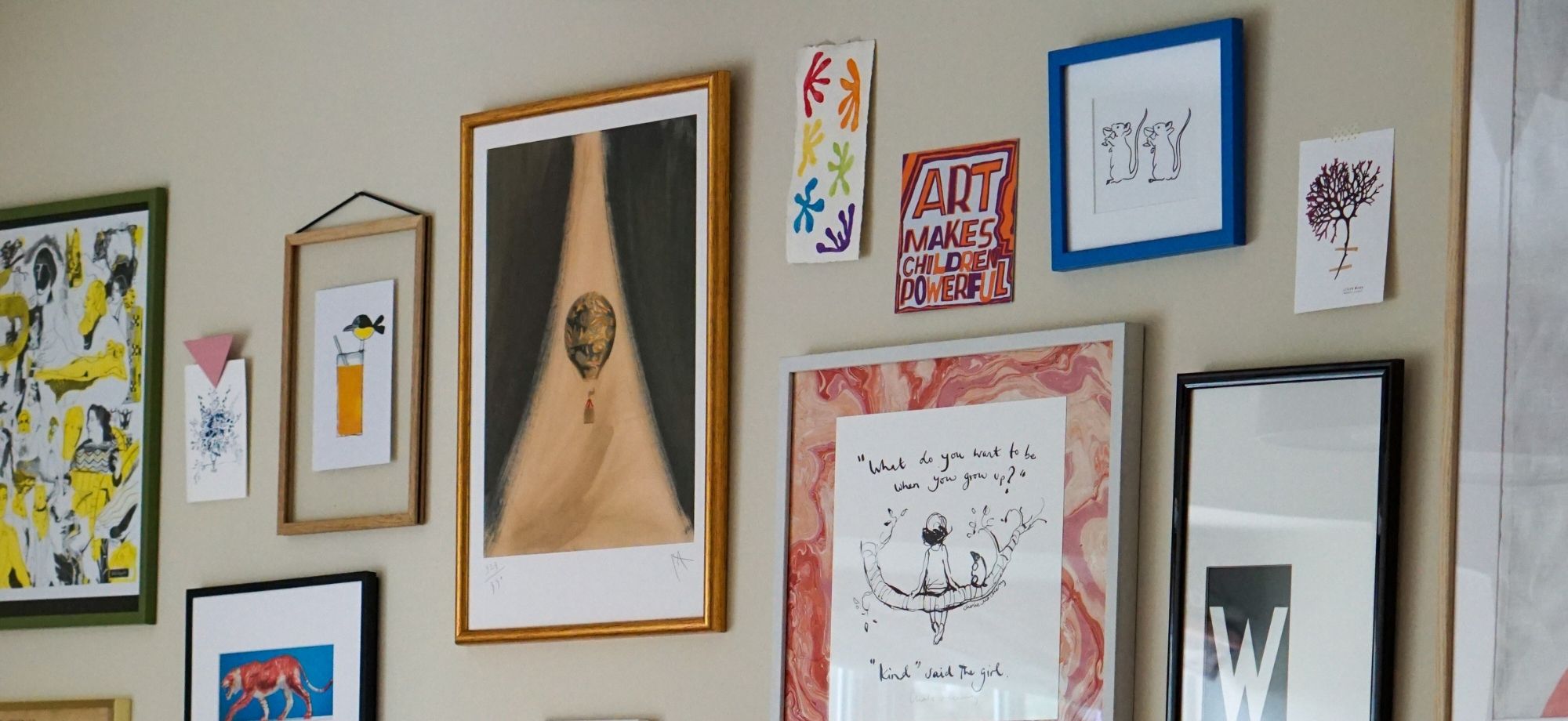 Founder of Studio Bust and MadHoneyLondon
34/ Hang With Mads Montagu-Andrews
In this Hang With feature, we step into the beautiful Hampshire home of Mads Montagu-Andrews, founder and creative behind the interior and bespoke gift brand, MadHoneyLondon, and Studio Bust, which was recently launched with the mission to champion and celebrate the female form through 3D printed bespoke busts. 
Here we chat to Mads about her earliest memories of art, the origins and inspiration behind Studio Bust, and the art of juggling motherhood with a busy schedule.
Tell us a little bit about yourself and how your creative journey started.
I'm Mads and I live with my husband Theo and two young daughters in Hampshire. We lived in Notting Hill until the pandemic struck, but last March when our second daughter was two weeks old we retreated to Devon for a week and ended up not coming home for 4 months. 
Theo put our flat on the market as soon as it reopened and we were incredibly lucky in that it sold straight away. We spent the summer house-hunting whilst staying with my parents but after six months settled on a rental, deciding to take our time and enjoy living in the countryside before finding our next project.
I've always loved making things and looking back now, I really wish I'd studied art rather than the Accounting and Finance degree I somehow battled my way through - but luckily life has a funny way of coming full circle. After graduating and completing a placement at KPMG, I quickly realised I didn't want a city job and so went to Ballymaloe Cookery School in Ireland to do their 3-month course. On completion, I worked for Skye Gyngell, as a pastry chef at Spring Restaurant. I loved the pace, variety, and creativity that it brought and Skye is hugely passionate about using seasonal, quality ingredients which has had a lasting impact.
After Theo and I married, I wanted to move into something with more sociable working hours, so I did a spell of food styling which again opened my eyes to a world I'd never encountered but loved. Theo has always been incredibly creative and set up his own fine furniture business straight out of school. After we married we renovated our first home together and this was when my love of interiors really grew, as I loved coming up with ideas (mainly v creative storage solutions for our tiny flat), and thankfully Theo could (almost always) implement them!
| | |
| --- | --- |
| Artwork by Jonathan Schofield, Photography by @penguinseggphoto. | |
Have you always had a love for art - where does it stem from?
I've always loved art. I have many happy memories of trips to London visiting the latest exhibitions that were showing.  My mother always encouraged us to buy posters from the exhibitions we really loved. I think it is such a wonderful thing to do - some of my posters are 15 years old and as we now have more wall space to fill, we have recently framed a few more. I love the memories they bring back, as well as adding so much character to our walls in a relatively affordable way. 
My childhood home was filled with an eclectic mix of art - whether magazine and newspaper cuttings stuck to the kitchen cupboards or paintings picked up from auctions or passed down from my grandparents, who have always been great supporters of the arts. My favourites include a cutting of Jonathan Yeo's collage of George Bush (2007), made up of clippings from pornographic magazines which felt particularly daring at the time. The man with the shaking hand is by Eric J Morby which my great-grandparents bought when visiting The Summer Exhibition at the Royal Academy in 1964. As children we found him quite terrifying but I've developed a newfound appreciation for him over the years!
Our holidays were spent in Ireland with two other families where we would spend hours scouring the beaches for sea glass, shells, and fragments of pottery (anything pink was a particularly rare and cherished find). Eventually, the mothers decided we should make something with our bounty, so would have us wrap old jam jars with air-dry clay into which we could press our treasures.  Each pot is a reminder of our individuality and how we all have such varied ways of expressing ourselves even when presented with a reasonably similar task to complete.
Art was by far my favourite A-Level - the large golden vase in our home was the piece I made in my final exam - it was inspired by Grayson Perry and his ability to tell a story through his pottery - mine tells the story of many happy summers spent in Ireland.
What is the first and the most recent piece in your collection?

Aside from my exhibition posters, I vividly remember buying my first piece of art from the Summer Exhibition in 2011. It's an etching of a bird by Tracey Emin and I love its fragility. However, my first original piece was from Partnership Editions of course! I bought one of Jonathan Schofield's Lemons in 2017 to remind me of my time as a chef at Spring - lemons are one of Skye Gyngell's hero ingredients and there are often Amalfi Lemons scattered on the tables in the Restaurant.
More recently, I commissioned an artist called Morag Caister to do a portrait of Theo. She captured his essence so well and we completely love her style, so Theo decided I needed to have one too. We are impatiently awaiting our appointment at the framers so that we can get them hung in all their glory, along with a few other pieces I've picked up during lockdown from artists I've stumbled across via Instagram.
| | |
| --- | --- |
| | Lemon XVII by Jonathan Schofield |
How did Studio Bust come about?

When I was pregnant with Winnie, my first daughter, I was one of Mr. Bingo's models in his yearly advent calendar and in return, I was given the original drawing. So when I was pregnant with my second daughter, I wanted to capture my body again in another medium.
My mother-in-law has the most incredible bronze collection - one of which is of a pregnant lady, so I looked into having a full plaster cast of my bump but at the time we lived in a small London flat and I had no idea where I would ever display it. I then stumbled across a company in Europe doing small sculptures so we travelled to have one made. Whilst I love what they captured, I realised there was space for me to bring something similar to the UK, offering a wider range of high-quality Busts and seizing the chance to celebrate every female body, not just those of pregnant women but of all different ages.
How do you hope your sitters feel throughout this process? 

I hope they feel empowered and confident and proud of their bodies and what they have experienced. We start gently, I take the first scan and show them how beautiful it will be. There can be an element of apprehension, which I totally understand - I've been there! After looking at their body on the screen my clients always seem to stand up straighter and prouder and I love to capture them at that moment.
Both of your companies have been inspired by motherhood in some sort of way, how do you combine such a busy schedule with being a mum?

I ask for help! MadHoneyLondon started as a creative outlet that I could focus on when Winnie was asleep, but things are a little busier now with Studio Bust and our second daughter Celestine in the mix. 
Thankfully, Theo also runs his own company so can be flexible helping out with the girls where needed . My parents also live up the road and generously help out at the drop of a hat, which I am so grateful for. Winnie is at the most incredible forest school nursery that is all outdoors, she loves it - but there's a reason why they say it takes a village! 
We are also very lucky to have our girls close together - they are on the same nap and bedtime schedules and after supper, Theo and I do tend to retreat to our office to enjoy the peace and quiet and get the things done we didn't find time to do during the day!
What do you enjoy the most about your work?

I love that I am helping women celebrate their bodies in whichever stage of life they come to me. Together we are creating a beautiful keepsake that they can cherish for years to come. 
| | |
| --- | --- |
| Artwork by Alexandria Coe | |
What are your hopes for Studio Bust?
I'd like women to realise that all bodies are art. The female body especially is capable of so much and ought to be celebrated at every stage, regardless of age, shape, or size. We have now scanned women in their 20s, 30s, 40s, 50s, and 60s, which is something I am so proud of and hope to continue!
Studio Bust's Liberty Collection, plate by Alexandria Coe.
FOLLOW MADS
Mads 's curation
Crocodile Pose

Sold

I am particularly drawn to colour and I love the way Isabella's work conveys so much personality. My daughter, Winnie, was looking over my shoulder as I was browsing and she was immediately drawn to this piece. We've been reading a lot of Quentin Blake books recently and Isablla's work reminded us of his illustrations.

In Memory of 22 Sinclair Gardens

Sold

The way Adriana includes the frame into the piece of work is inspired and I love the calming tones in this piece.

Morning Sun

Sold

I've been a huge fan of Ruby Kean's work for a while now - I love the texture a collage offers and of course adore the wavy frame!