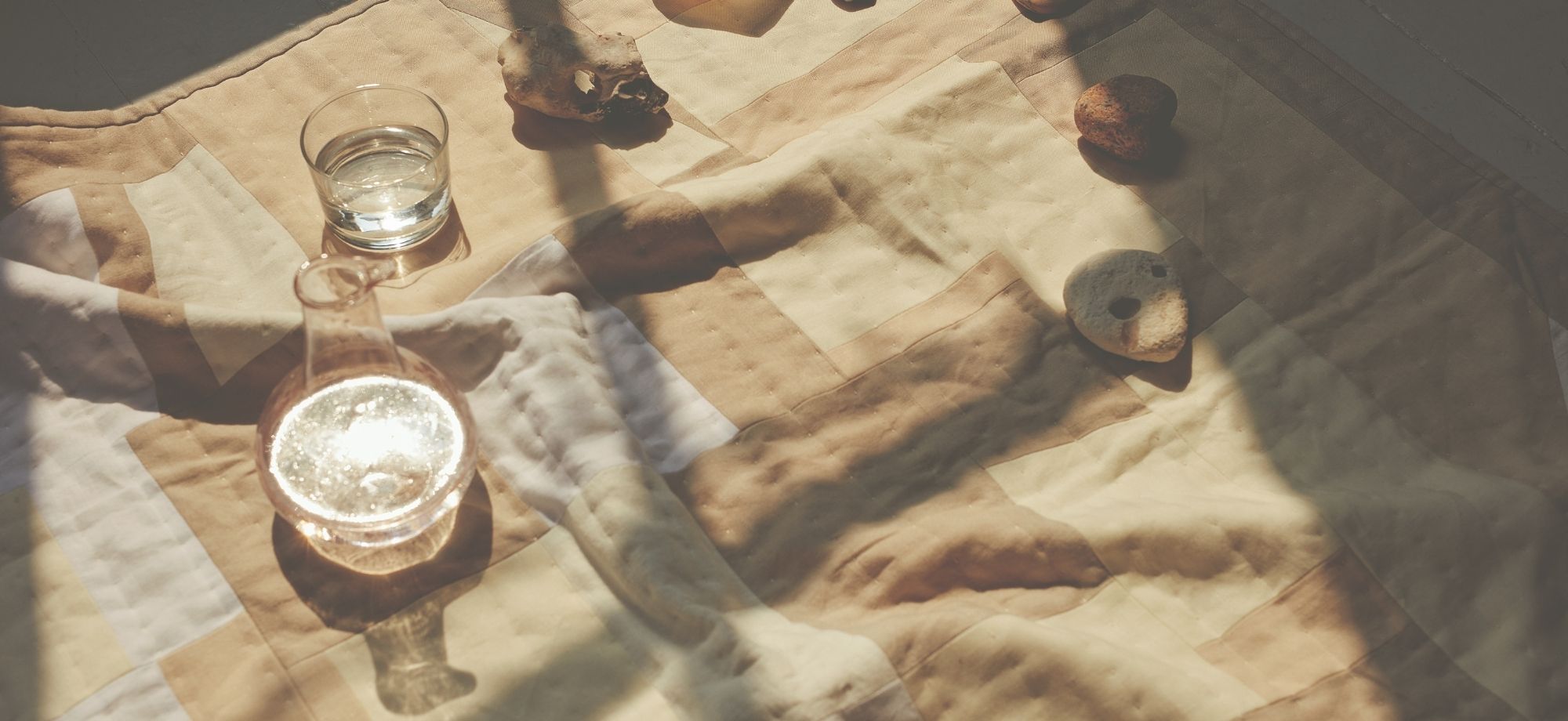 Founder of House of Quinn & Author of Modern Quilting
35/ The Tastemaker: Julius Arthur
For the first Tastemaker feature of the year, we have invited contemporary textile designer and founder of House of Quinn, Julius Arthur, to chat about his work and inspiration. Julius first caught our eye through his striking Instagram feed featuring his endless hand-stitched creations, that can be classed as functional works of modern abstract art.
His unique approach to making and designing, combined with the deep-rooted tradition, have made him an expert in the subject, leading him to write 'Modern Quilting', a publication where he guides readers through the intricate journey of quilt-making through personal tips and advice, launching on the 27th May.
What's your first memory of textiles?

Textiles have always been a motif throughout my life, my sister and I would dress up when we were younger and pretend to be anyone or anything we could imagine, or make dens out of sheets and furniture. We would watch my mother knit and make things from cross stitch and needlework. I remember my sister and I had matching knitted jumpers that mum had made us, I think I had one with pockets that had knitted characters that you could move around the jumper. 
When I was a teenager I had a job in a local fabric shop, which was so magical. I felt very at home there and learnt so much, talking to the local quilters and hobby sewists, meeting the different fabric merchants who came to sell their latest collections. I think textiles for me let me escape into a different place. A length of cloth and some imagination can get you a long way.
How did House of Quinn come about?

House of Quinn began at University when I was a very aspirational teenager with big dreams. Since the age of eleven, I had always imagined myself a fashion designer with a big atelier. House of Quinn was almost a manifestation of the goal and something I think I projected into the world with my graduation collection. 
When I left University I started a small menswear brand, which lasted about four years before I realised it wasn't the path I was supposed to be on. I took some time out from making to focus on what I wanted to do and started to look back at things I used to enjoy before University. Working with textiles in different ways, print, collage and experimenting with different techniques. When I started making again I kept the name House of Quinn. Although it was not the original dream of a Fashion House any more it was a home, a place for creativity. House of Quinn I now describe as a creative practice and studio, a place to make and experiment. I felt that I needed a way to have a more multidisciplinary approach to design, and not be constrained to just one thing and House of Quinn emcompasses that. 
At the moment I make quilts which has been an amazing journey and is probably what I am most known for but I would like House of Quinn to become a physical space one day and work in different mediums to establish a collection of objects and design style personal to me. I recently launched a collection of art prints and will soon be launching a line of printed textiles in a very special collaboration coming soon.
What would you like people's purchases to contribute to their homes / How do you want people to feel when they interact with the objects?
I think it goes back to that childhood imagination. These objects can bring a sense of creating your own dens, and taking you to other places, real or imagined. For me a quilt is the perfect conduit for memory, storytelling and escapism. They are functional, but also tactile, beautiful and sit within our spaces so easily. Over time they gather up memories and stories as they become part of our everyday lives and rituals, from the time you bought it, to it maybe coming from each place you have moved, or being gifted to someone who will cherish it as it becomes part of their everyday rituals and lives. 
Who are your interior design inspirations?
So many to mention. Vanessa Bell with her hand-painted approach to just about anything she could paint around her. I love the simplicity and history of Architect Charlotte Perriand who's work I very fortunately was able to see in Paris before the pandemic. I love the work of Axel Vervoordt and the world's he creates with his architecture and interiors. I also get quite obsessed with images of artists' homes,  C Twombly, Georgia O'keefe's house is incredible, and the work and home of JB Blunk is a recent obsession. I can't also forget Faye Toogood, her work is incredible.
What artists have influenced your work?

There are so many artists who I love that it is hard to pick. Recently I have been looking at the work of ceramicist Annie Turner who creates these earthy net-like forms and baskets from clay. I also love the collage work of John Piper and Abstract Expressionists like Robert Motherwell. Isabella Ducrot is another amazing artist who creates incredible work with textiles. 
Through Modern Quilting you have made this age-old craft accessible to so many with detailed guides, what inspired you to write it?
Quilting is such an accessible craft with many amazing designers, teachers, and makers who create incredible work from all around the world. Without the quilters who are making today and the rich history of quilting I wouldn't have been able to learn and develop my own style. Quilting means so much to so many people and we must remember to acknowledge those who paved the way. I mention a little quilting history in the book to inspire others to find out more about quilts from all over the world and who made them. 
Modern Quilting is inspired by the processes, materials and inspirations that I use everyday in my work but hopefully allows the reader to be empowered to give it a go and create something personal to them. I use the term 'informal quilting' when I refer to my work because it feels comfortable and approachable, making should be fun and creative and I hope the reader embraces mistakes, wobbly lines and organic shapes to make objects that are inherently theirs. 
The projects in the book are also inspired or take reference from childhood memories or past collections of quilts I have made. Hopefully instilling a sense of self into the book but ultimately inviting the reader to put their own memories or inspiration into the projects when making them from the book. 
If you could give one piece of advice to those starting in quilt-making what would it be?

Not to worry too much about straight lines and neat stitching. There are a few fundamental processes to learn, but once you have nailed those you can create whatever you want. If you love perfect lines and symmetry absolutely go for that, but I encourage people to break those lines and find perfection in imperfection. 
What is a question you wished people asked more?
"Who made quilts in the past and where did these techniques come from?"
 I have spent some time finding out more about the background and history of quilts myself, I am no expert at all but It has shone some light on the lack of diversity and acknowledgment of communities who established some of the techniques a lot of quilters use today. 
FOLLOW JULIUS & BUY THE BOOK
Credit line: Modern Quilting by Julius Arthur (Hardie Grant, £18.99)
Photography ©Matt Russell