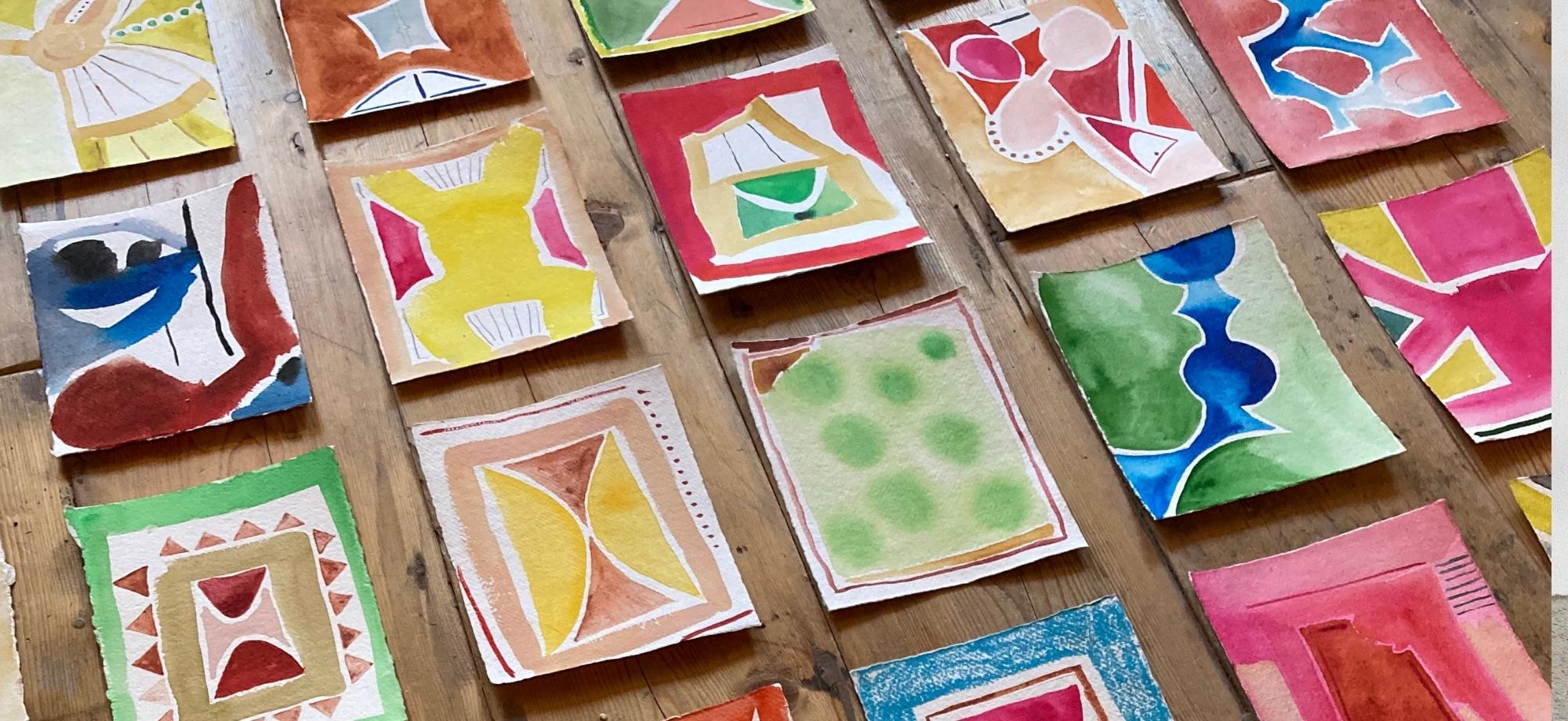 Artist
55/ In The Studio With Molly van Amerongen
Today we are introducing Molly van Amerongen, the London-based artist who will be joining our family of artists with the launch of her debut collection 'Open Windows'.
Molly's interests lie predominantly with colour, its transportive qualities, and the stories it can tell. Her debut collection of mixed media abstract pieces is based around the idea that her paintings are like windows into other worlds. 
How did you become an artist, what's your training and background?
I studied Fine Art at Newcastle University and graduated in 2015. Since then I have been working as an artist between London and Ireland with periods of time in both Mexico City and India. 
What are your influences - generally and specifically for this collection? Are there certain artists, subjects or movements that inspire your work in particular?
The impulse is personal, and comes from a mixture of memory and imagination. I use photography and drawing in my work which sparks a recollection of things seen, which in turn allows the imagination to create a space which has not yet been seen. It is important to me to spend time in other cultures (India, Morocco, Mexico), places where colour is central to the meaning of life, and a form of storytelling.
I think it's a good idea to replenish my palette every so often, to cleanse the doors of perception, which London (like any sophisticated European city) tends to close rather than open. I also draw influence from the artists I love, a few of my favourites are Helen Frankenthaler, Patrick Heron, Roger Hilton, Robert Motherwell, Howard Hodgkin – and Mark Rothko.
What does your process look like? Why do you choose to work with this type of materials/techniques?
I work with oil, acrylic, pigments, collage. Pigments are amazing: you can mix the richest colours, colour without names, and it is a very physical way of making and thinking in colour. Drawing is also important to my picture-making, and I often take elements from the drawings to create larger painted pieces. Collage has always been important for me, as a process that encourages the various elements in my pictures to find their own places. I don't think my arrangements have to do with conscious order – more to do with what is called accident.
What emotions or response do you hope to create for the viewer with your work?
I would like my work to invite the viewer to make his or her own personal sense of what the painting is, but I also like them to be taken somewhere beyond their expectations. I want my work to communicate a strong sense of place. And I want there to be a story, whether of an object or a landscape.
QUICKFIRE:
What's your current song on repeat in the studio? The Future by Leonard Cohen
Favourite cocktail? Mezcal Margarita
Your muse? My sister, and Jemima Kirke
Perfect night out? Sweaty dancing
Favourite gallery? The MOMA
Can't live without? Cheese
FOLLOW MOLLY
Learn more about Molly van Amerongen's work and shop her debut collection.
Open Windows by Molly van Amerongen