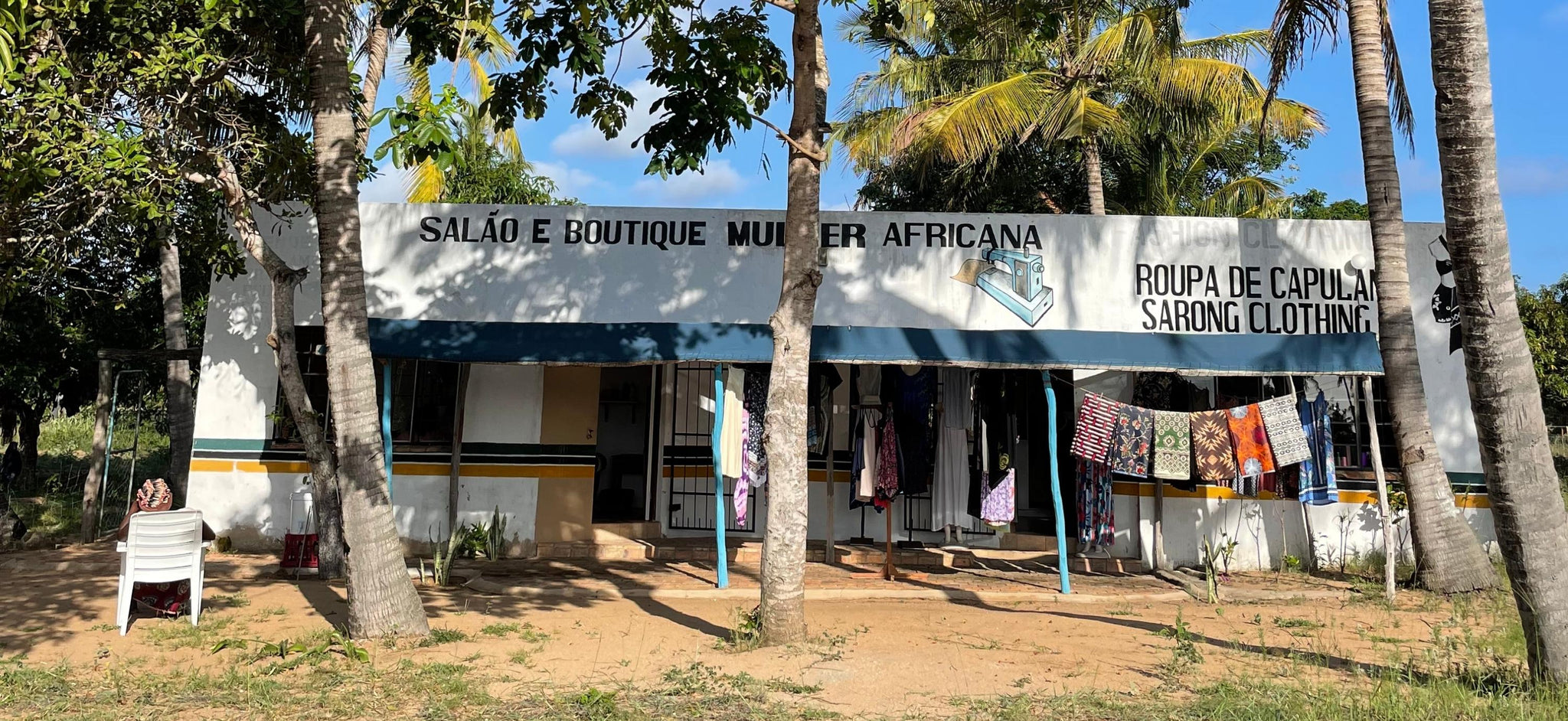 Artist
63/ Diary Of... Mozambique by Mafalda Vasconcelos
I spent 4 months in my home country Mozambique, a time cherished and well spent in nature and surrounded by friends and family. In that period of time, I traveled through the coast of Mozambique and found secluded beaches to enjoy the sun and the warm Indian Ocean, but also, traveled through lush green savannahs where elephants and lions crossed rivers to find food.
Time flew by when I was there but every moment was precious. I made a collection of artworks 'Diary of Mozambique' when I was there, inspired by my travels and by the beauty I witnessed.
This diary is from the 10th to the 22nd of January, when my parents, my partner, my dog Carrot, and I went on a road trip from Maputo all the way to Inhassoro in the Inhambane province.
Day 1. 10th January

We started the drive from Maputo on the 10th of January and drove almost 4 hours along a two lane old road to Bilene, a coastal village where a lagoon meets the ocean. We drove in the afternoon and the road was very busy and had villages at every 15km. We had to slow down the speed to 40kmp/h near villages, making the drive a lot slower but much more beautiful and interesting. We arrived at Bilene at night and had a family dinner. I took a few paintings I had started but had been stuck on them for a few weeks, with no resolution.
Day 2. 11th January
We woke up early and had breakfast after walking around the lush green garden surrounding the property we stayed at. After breakfast, we packed the car and drove all the way to Tofo beach, a trendy beach town in the Inhambane province, near Inhambane city. The drive was about 7h, we listened to bossa nova the whole way and ate delicious fruit bought on the side of the road sold by local vendors. We arrived at 7 pm and went straight to have dinner at a tiny restaurant near the market that made delicious fresh-caught tuna.
Day 3. 12th January
After breakfast, we drove to Barra beach where we found a lovely restaurant and had some cocktails by the beach in between swims. In the afternoon we visited a local art market filled with beautiful wooden sculptures and objects.
Day 4. 13th January
Our bedrooms have a beautiful beach view and we woke up every morning with the sun shining through the windows. On day 4, I started painting some artworks inspired by the landscapes I saw on the drive up. I was thrilled to be able to paint artworks during the trip. At midday, we visited a few beaches on the coast, accessible via remote dirt roads that could only fit one car at a time. We visited Guinjata Bay, Baia dos cocos and Paindane.
Day 5. 14th January
I woke up to some morning rain that then turned into a beautiful sunny day. I painted all morning while my partner went diving with manta rays. After lunch, we visited a vegetarian restaurant and stayed by the pool.
Day 6. 15th January
Started the day painting again and I finished a couple of paintings. What a joy it is to paint whilst watching and hearing the waves. After 11 am we went to the beach in Tofo. The water was at around 28 degrees Celsius, it was wonderful. At this time, beaches were closed to the public in Mozambique, unless for sport from early morning until 4 pm, so we had to take bodyboards and pretend. It was fun, my dog also loves the beach.
Day 7. 16th January
I started the day painting again as my parents went to visit some friends that lived in Tofo. After lunch, we went to the beach for a swim. We spent the night packing for the rest of our trip.
Day 8. 17th January
We woke up early to continue our road trip up north. We drove 7h to get to Inhassoro and arrived in the afternoon. We drove past huge Boab trees, a magical sighting.
Day 9. 18th January
In the early mornings, we watched the fisherman coming back from the sea with freshly caught seafood and we bought some for dinner. At night mom taught me how to make a delicious grilled lobster and fish.
Day 10. 19th January
On day 10 we did a boat tour around the Island Santa Carolina, a paradise island with abandoned buildings and beautiful reefs surrounding it. We did some snorkeling and saw dolphins, turtles, and the most beautiful and colorful reef fish and coral. The pristine white sand beach and turquoise sea were just incredible and I felt so lucky to be there.
Day 11. 20th January
We decided on doing another boat tour around the Bazaruto Archipelago to visit Bazaruto and Benguerra Islands. The imposing sand dunes on the landscape looked so out of place and yet so beautiful. Buenguerra was my favorite though.
Day 12. 21st January
We traveled down to Vilankulo, another beach town in the Inhambane province. A very beautiful place. We took the day to visit the art market and to buy fresh fruit to take back to Maputo. At night we had a lovely family dinner to celebrate the end of a great trip.
Day 13. 22nd January
On day 12 our short road trip ended and we drove down to Maputo, a total of 10h with traffic. We arrived exhausted but grateful to see the beauty in our country.
This collection is a culmination of the things that inspire me the most, the feminine spirit and Mozambican landscapes. The scarf is a clothing item that is very traditional and commonly used in Mozambique, worn by most women of all traditions and ethnicities, as a way to protect their hair. The abstract paintings I made were a great way to escape portraiture when the places I visited were overwhelmingly beautiful and I felt I had to capture the moment. 
Discover Mafalda's latest collection 'Diary of Mozambique'
FOLLOW MAFALDA: