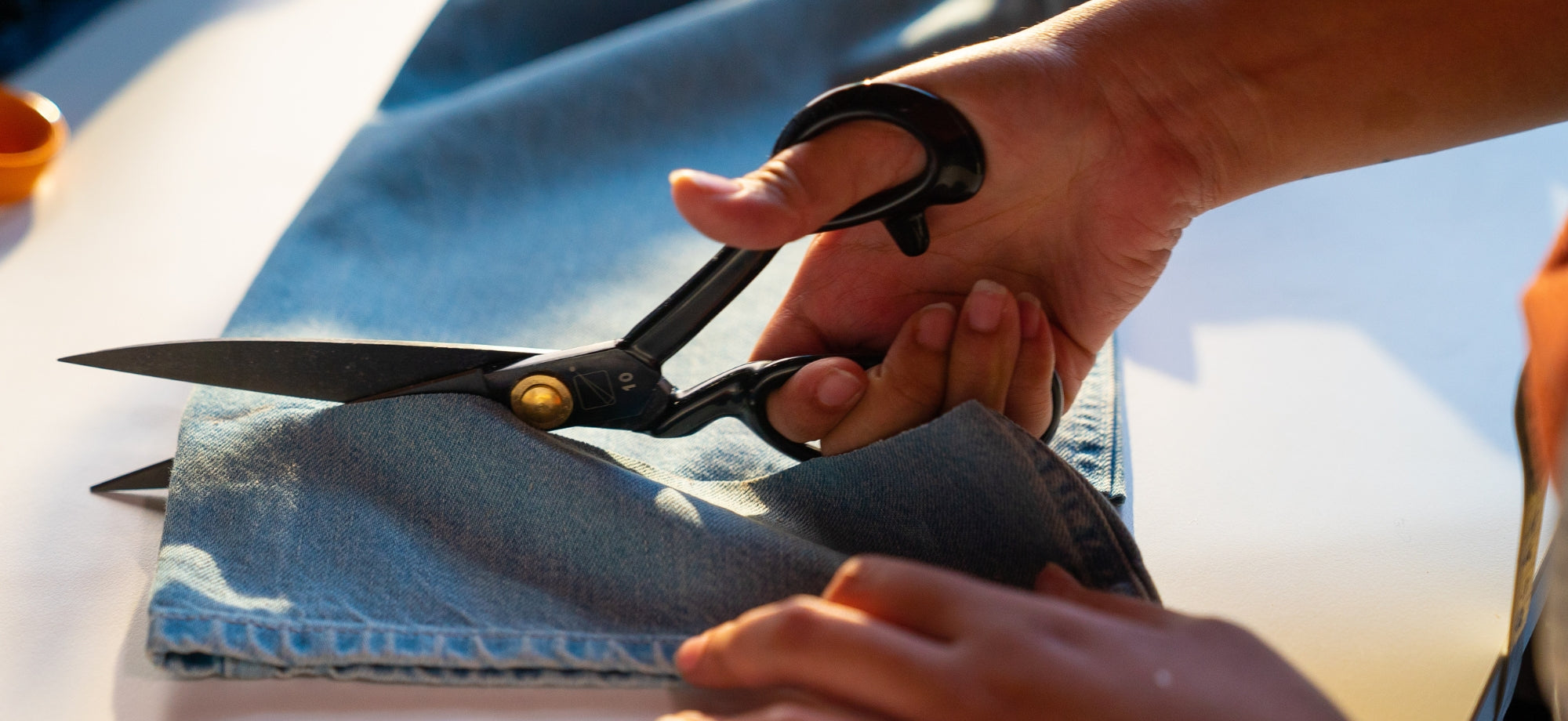 Founder & CEO of SOJO
86/ The Pioneer: Josephine Philips
To celebrate Earth Day we speak to the trailblazing entrepreneur, founder, and CEO of SOJO, Josephine Philips. 
Defining themselves as "the clothing alterations and repairs platform for brands, people and planet", their works shines a light on the serious environmental and consumerist problems we're facing, while helping to build sustainable wardrobes all around the UK.
Here we chat to Josephine about the beginnings of SOJO, the challenges she's faced along the way, and many other voices that we should pay attention to.
Photography by Issey Gladston
Can you tell us a bit about you and how SOJO came about?
Like most university students, I was a fast fashion shopper, but soon realised just how unethical and exploitative the fashion industry can be. Especially when thinking about the garment workers, many of who are women of colour - I couldn't continue supporting fast fashion as it fundamentally didn't align with my views on gender equality.
When I quit, I started thrifting and shopping second hand which highlighted another problem for me as I would find really great, one-off pieces that didn't fit or had something small wrong with them, but I didn't know how to sew and the process of going out to get them tailored or repaired was a really fractured experience. I founded SOJO straight out of university not only as a solution to my personal problem and also as part of the solution to an industry-wide problem - we should all have clothes that fit us perfectly and last lifetimes.
Photography by Celia Hodgson
What was the biggest challenge you faced when creating SOJO?
We're really focused on shifting perspectives and attitudes towards clothing which, when you think about it, is quite a big task! Our relationship with our clothes is so personal and trying to negotiate that can be difficult, especially in a culture that promotes overconsumption and a throw-away mentality. Convincing a large enough number of people the true value of their clothes is really how we're going to make an impact and though it's a massive challenge, it's one we're hugely devoted to.
SOJO has an in-house team of tailors. How do you think sharing their stories and faces impact the consumer's decisions?
Our tailors are all highly skilled and are often featured on our Instagram feed working on orders, I think this shows customers that we're just as invested in their pieces as they are. All items that we tailor or repair are returned to customers with a label signed by the tailor who worked on the piece and our hope is that it builds even more of a connection between the owner of that item of clothing and the people involved in the making and fixing. Garment workers are so often invisible or forgotten when we are thinking about the clothes that we wear, remembering the human(s) behind the clothes re-establishes the true value.
Photography by Daphne Milner
What excites you about SOJO's future?
We are in the process of onboarding new brand partners which we're really excited about as we think that's where the scale is to really move the needle. GANNI was our first partner to offer free tailoring and free repairs to all their customers and it's so incredible to see SOJO's services embedded so seamlessly into their customer journey. I think this is so important for changing how we think about our clothes on an industry-wide scale and I'm really excited about the role we'll have to play in a wider cultural shift.
Are there any figures talking about sustainable and slow consumption in fashion that you'd like to shout about? 
So many! Venetia La Manna creates really brilliant, snappy yet insightful content on Instagram and Youtube, Aja Barber is incredibly inspiring, Dana Thomas, Clare Press, Aditi Mayer the list goes on.
What's the most valuable piece of advice you can pass on to anyone striving for a greener future?
Value what you own - financially, physically, emotionally, and environmentally.
Photography by Daphne Milner
QUICKFIRE ROUND:
 Favourite doc/film on sustainable fashion? Fashion Reimagined
A place you go to for inspiration? The countryside 
Your muse? Josephine Baker
What does a SOJO workshop sound like? It sounds like change! 
Favourite textile artist? Faith Ringold
FOLLOW JOSEPHINE & SOJO
@josephine__philips
@sojo.uk
sojo.uk
Get 10% off your first order at SOJO with the code EDITIONS10
Photography by Issey Gladston, Daphne Milner, Celia Hodgson
Josephine Philips' Curation
Compliment 3

Sold

I really liked this for two reasons - the first being that I love how it's unpacking catcalling and the objectification of women and the second is much more superficial in that I'd thoroughly enjoy the daily reminder that I do indeed have 'nice legs'.

Bead Moon

Sold

I'm always drawn to artwork that embodies sunrises because I'm an early bird and it's one of my favourite times of day.