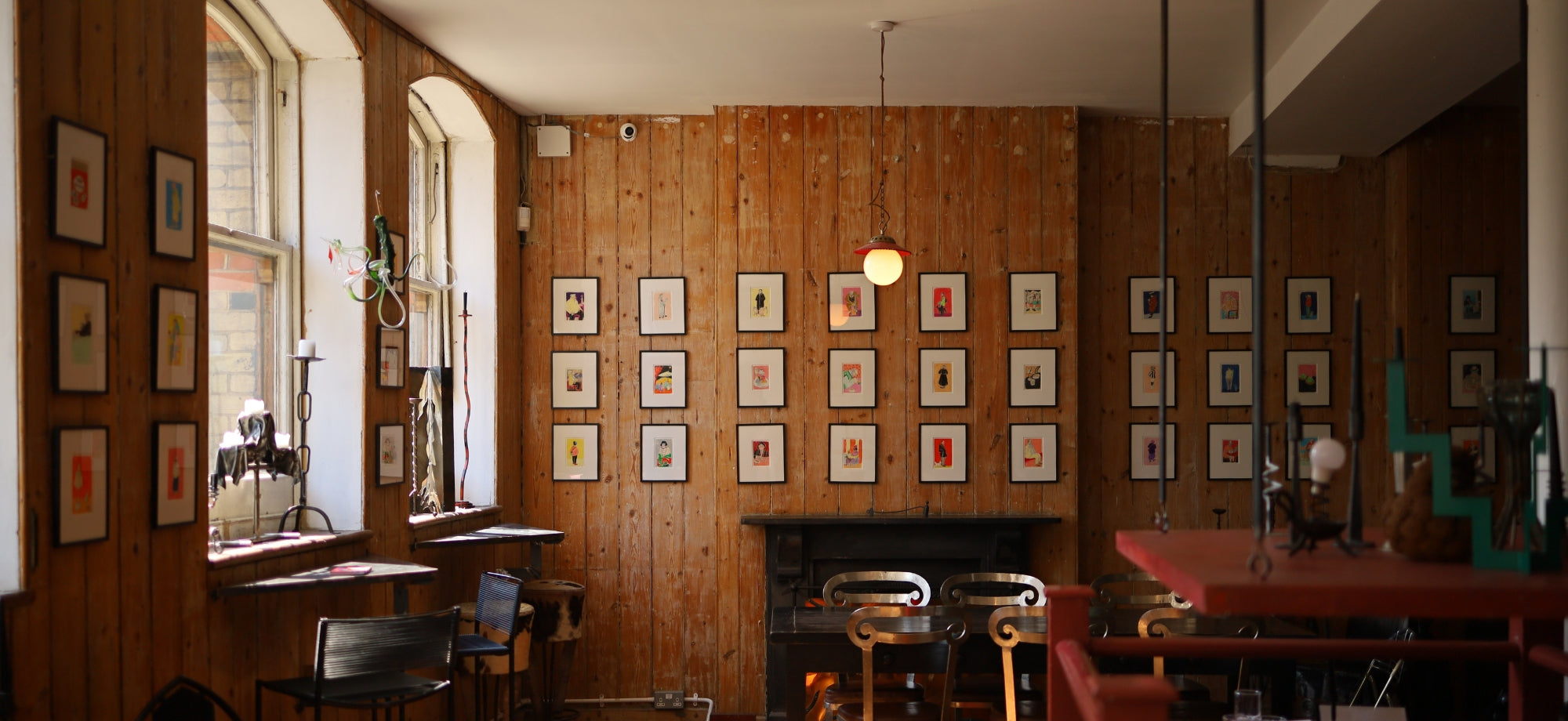 DIRECTOR OF LANT STREET WINE
93/ Wine Pairings With Ben Wilcock
This past week we've had the pleasure of taking over the stylish Borough wine shop and cafe, Lant Street Wine. A nod to the theme, the exhibition 'Cafe Culture' by Isabella Cotier welcomed people to enjoy a drink surrounded by art.
Behind the independent wine merchants is director Ben Wilcock, whose charming story, passion for finding and importing interesting wines, and his partnership with artist and designer Jermaine Gallacher for the decor of the bar, have transformed the space into a hub for wine lovers.
Here we chat with Ben about his beginnings at Lant Street Wine and he finds the perfect wine pairings for his favourite Isabella Cotier artworks from the exhibition.
Can you tell us a bit about yourself and how Lant Street Wine came to be? Were you always interested in wine?
I left college, bought a white van, and was just couriering wine around for a while. If you stick a case of wine in a normal van in the UK it will inevitably get broken, so I was just trying to fill a niche by doing a better job and I didn't finish university or anything so I wanted to find something for myself.
In 2006, my dad (David Wilcock) phoned me. He was the director at Waterloo Wine. He told me that the delivery guy and warehouse guy had both left on the same day and asked if I could come and help out with some deliveries. From then I started working more and more for them. Then in 2015 we ended up buying the business and changing the name to Lant Street Wine.
And yes, I love wine. But I really loved driving.

The couple in 'Purple Chiffon' look like they need something refreshing,
for that a Provence Rosé, Domaine de Le Pertuade, is perfect.
The two glasses of wine in 'Vino Rosso e Crema' have to be a Beaujolais Chateau de Javernand.
The Beaujolais is perfect drunk chilled on a hot summer evening.
I'd pair 'Cafe Machiatto' with something bubbly, maybe a Crémant d'Alsace. I like to recommend a crémant because people always think they have to go for champagne but that isn't the case!
LANT STREET WINE
59-61 Lant St, London SE1 1QN
Visit 'Cafe Culture' by Isabella Cotier' at Lant Street Wine from 15th to 18th June & shop the collection. 
Ben's curation