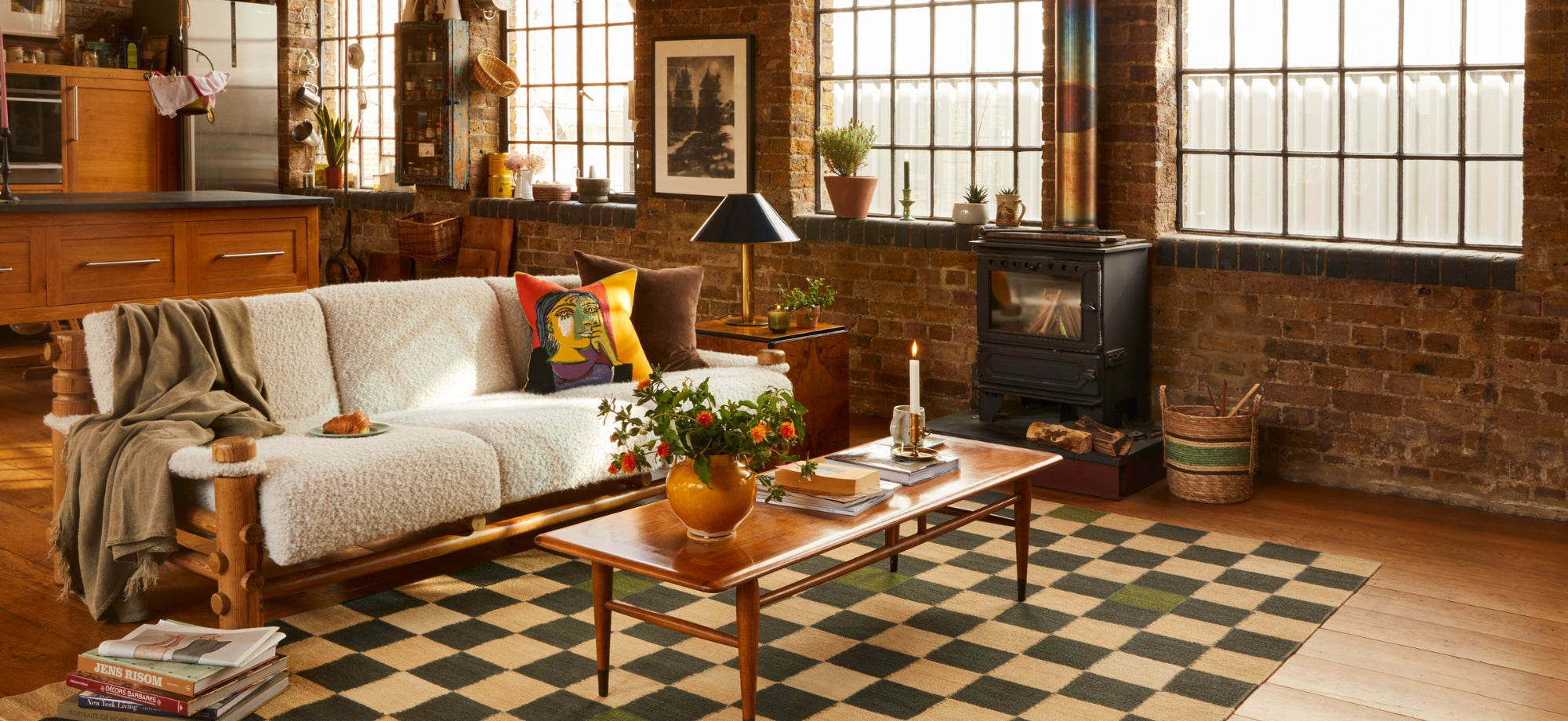 Co-Founder & CEO of Vinterior
87/ The Pioneer: Sandrine Zhang Ferron
For our latest Pioneer journal, we have the pleasure of speaking with tech entrepreneur, co-founder, and CEO of Vinterior, Sandrine Zhang Ferron.
After many trips to antiques markets and independent sellers struggling to find a Poul Volther chair with yellow upholstery, Sandrine sought the opportunity to create a marketplace where finding your dream vintage piece is easy, fun, and time efficient.
Here she gives us advice on how to buy vintage, tells us about her favourite part of her job, and runs us through her collection of Partnership Edition artworks.
Tell us about yourself and how Vinterior came about.
My parents grew up in Communist China and experienced the Cultural Revolution and I was born there. We moved to France when I was young but as first-generation immigrants in the 90s the concept of design still felt alien and 'bourgeoisie' to them. I discovered design and the value of marrying function with an aesthetic viewpoint later in life as I was exposed to designs from different cultures and eras.
As part of that education, I fell in love with Poul Volther a Scandinavian designer and wanted to find a Poul Volther chair with yellow upholstery to match my cat's eyes, I spent weeks scouring dealers and markets and though I was eventually successful I realised there was a real need for an online marketplace where time-stretched people could much more easily search and buy pre-owned furniture and homeware.
Vinterior holds an incredible curation of antique furniture, art, and decor from different eras and movements. How would you describe your personal style?
I would say I have an eclectic taste, I like combining styles and eras, for example, a mid-century chair in a living room with an antique mirror or a farmhouse kitchen table with brutalist chairs, it's about playing around with what works in a space. A few years ago, I really loved designs from the 50's and 60'. Nowadays, I am more into Art Deco and the 70s.
What's an item from your personal Vinterior collection that stands out to you and one that's on your wishlist? 

The yellow Poul Volther chair I mentioned will always be a favourite along with my Togo sofa which is so comfortable for reading, watching TV, or having a nap (when I rarely get the chance). I am now looking for a vintage brass Palm lamp for my primary bedroom renovation.
What's your favourite part of your job?
Building a team of talented, engaged, and passionate individuals is one of the most rewarding parts of my job. Excellent hires are also people I can learn from and help me grow as a leader and I am really grateful for that. Seeing the joy that finding the perfect piece of furniture can bring to our customers is also very gratifying.
What challenges have you faced during your journey at Vinterior?
The scaling pains that come with a growing team are also definitely one of my biggest challenges so I suppose it's one of my favourite parts because it's so rewarding when it works but can also be one of my biggest challenges.

What advice would you give to someone buying vintage for the first time?
Follow your instincts, if you love something, buy it. There's nothing worse than falling for something and finding out someone else got there first. With pre-owned if you delay you may miss your chance.
Don't be afraid to mix and match different styles. Mix designers, eras, and materials to add character rather than having everything, in say, mid-century teak.
Look for quality, named designers can be great for initial purchases if you don't feel as familiar with the product and want to ensure the piece will be reliable. As an example, Robin Day is a great place to start for British mid-century modern design.
Investing and collecting items over time means you can find those special pieces that show off your character and will age well.
Is there anyone who has acted as a mentor or a huge influence in your Vinterior journey?

Reading 'The perfect store: inside eBay' by Adam Cohen made me obsessed with the two-sided marketplace business model.
What advice would you give to someone starting their own business in interiors?
The best advice I received from a VC friend when starting Vinterior was to learn to code so that I could understand the business from the inside out. So it's that same advice I would pass on, whichever space your business is in. This approach has also stood me in good stead when it comes to growing the wider team, I am constantly learning and up-skilling so I can continue to understand all aspects of the business and ensure I can ask the questions that need to be asked. I won't always be the expert, but I want to ensure I can be involved in the conversation and challenge a decision when needed.
You have a few Partnership Editions works in your collection, can you tell us a bit about what drew you to them and how you've incorporated them into your home?
Klara and the Sun by Chelsea Vivash - I was attracted by the soft color palette and though it would work well in my sitting room, above our art decor bar cabinet. I also liked the fact that it was in marquetry. I was also attracted by the name, as I had read the bittersweet book Klara and the Sun by Kazuo Ishiguro. When I received it and tried to position it in the room I immediately felt that it would work better as a pair and I bought Arranging from the same collection.
The Garden by the Sea - we wanted a larger statement piece for our TV room and my husband picked this one. I loved the vivid and joyful colors and the size was a perfect fit for the space, in between our pair of Murano sconces.
QUICKFIRE ROUND

Favourite London spot for interiors? I mostly buy online. Offline, you can find great deals at Kempton antiques market

Something you can't live without? My phone, my bed, and coffee

Who is a pioneer that you take inspiration from? Yayoi Kusama

Favourite interiors account to follow? @vinterior, of course!
FOLLOW VINTERIOR
Sandrine Zhang Ferron's Curation
Yellow Leaves

This selection for my daughter who loves yellow :-)

New Book

Sold

I think there is something very peaceful about this piece. I can see it in a reading nook, as an invitation to switch off phones and laptops and immerse myself in a good old book.

Pineapple and Bananas Print

This piece makes me think of my 2-year old daughter, as her preferred fruits are bananas and pineapples, and it's a joyful composition.