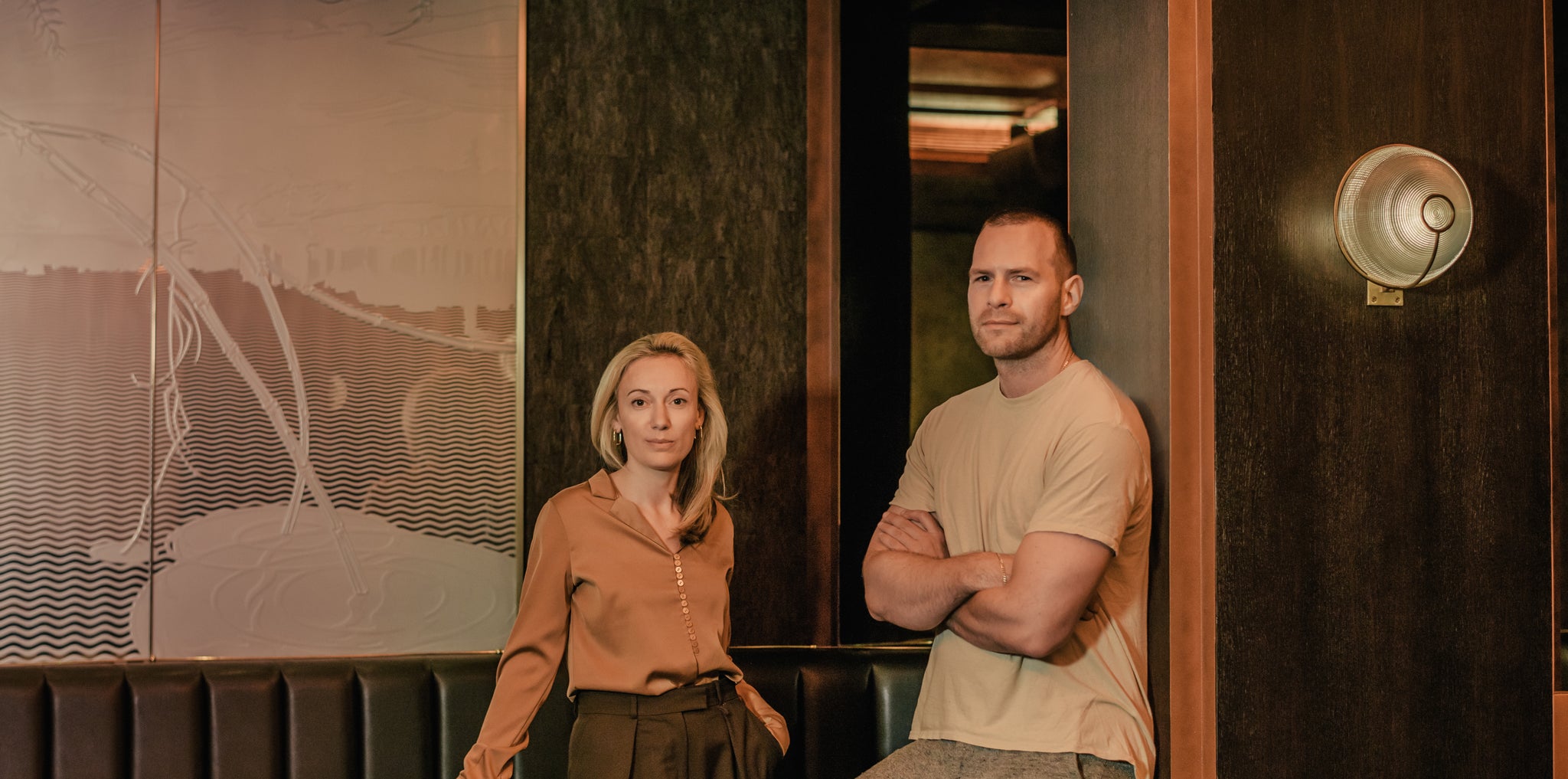 Emily Potter & Iwan Halstead, Founders of Daytrip Studio
98/ Trade Secrets: Daytrip Studio
Daytrip Studio, an East-London based design studio specialising in architecture and interiors, is known for its considered use of materials, tranquil designs and a keen awareness to the history and use of a space.

In this month's Trade Secrets, the co-founders of Daytrip Studio, Emily Potter and Iwan Halstead, tell us about taking a sustainable approach to their designs, adding character into a space, and how to be both playful yet thoughtful with your interiors. They also share with us their current favourite artworks by our artists.

| | |
| --- | --- |
|  PHOTOGRAPHER: JAKE CURTIS | PHOTOGRAPHER: PIERCE SCOURFIELD |
If you could have any painting in the world in one of your interiors, which would it be?

Emily: A key theme to our designs is the play of light and how it changes the mood. I can think of lots of artists with the same fascination but perhaps J.M.W. Turner is the master. And if not a painting then a James Turrell skyspace would be nice!

Iwan: The paintings of Giorgio Morandi always create a stillness and calm to interior spaces. The soft, pale colour palette often influences our material and finishes choices. I am also fascinated by Gerhard Richter's ethereal process paintings. The contemporary approach adds a dynamic twist which is mesmerising.
What are your favourite tips for adding character to a client's home or a commercial interior?
Emily: To make a space memorable, somewhere you want to spend time, involves lots of interesting moments. I like spaces to feel animated and playful, for example when joinery and furniture have a dual-function - a wall unit which folds down into a desk. A tip to create interest is; add layers, bring furniture away from the walls and try grouping items together to discover what you like, have the confidence that nothing needs to be permanent.

Iwan: I always think about contrasts and dialogues. If you are pursuing an ultra modern, minimal interior then think about something completely opposite in furnishings - antique and vintage pieces can work incredibly well in this context. It also works in the opposite format, a period property with traditional architectural detailing can create a beautiful backdrop for a slick, contemporary stainless steel kitchen for instance.

PHOTOGRAPHER: MARIELLE LIND HANSEN
Your interiors have such a focus on materiality. What is a material you think is always worth the splurge, and where do you turn to more accessible materials?
Emily: We are drawn to materials and also how they can be treated to accentuate certain qualities. I like materials with nuanced-random qualities. Glass is a nice example of this, when it is blown or cast as a hand-made process, it's worth investing in this. For more affordable materials we look at reclaim or visit builders merchants for inspiration. I recently found a material called Viroc which is a composite cladding sheet that we decided to bring into a commercial interior setting. Another low cost material we like is cork, it's sustainable and comes in the pattern similar to burr timber.
| | |
| --- | --- |
|  PHOTOGRAPHER: JAKE CURTIS | PHOTOGRAPHER: PIERCE SCOURFIELD |
Speaking of materials, how do you factor sustainability into your projects? Is it a consideration from the very beginning?
Emily: We prefer working with sustainable suppliers and favour their materials. We also find clients are increasingly aware of how important it is for them and their customers, so sustainability and renewable energy are increasingly in our original brief.

Iwan: Understanding the material choices is important. Honest materials that come from local resources are prioritised, the longevity of a solid timber or stone is more desirable than a veneered panel, it will stand the length of time and look better with age.
 PHOTOGRAPHER: PIERCE SCOURFIELD
What motto does Daytrip live by?
Iwan: I think a Daytrip interior often stands out as it strikes a poetic balance of calm and considered design that isn't afraid to feel playful or unique with clever twists of contrasts or even the ugly!

Emily: We try to avoid popular design trends. We are magpies for every kind of design, we probably like too much, but we actively avoid over-exposure from social media, by staying original we create designs with longevity for our clients.

| | |
| --- | --- |
| PHOTOGRAPHER: MARIELLE LIND HANSEN | PHOTOGRAPHER: PIERCE SCOURFIELD |
How do you bring modern and contemporary design to older buildings?
Iwan: Old buildings are often designed for old methods of living. We often start by looking at how new users will use the space, opening up zones and remodelling the internal set-up for a contemporary use. This can often have quite striking architectural results and can lead our design thinking.

Emily: We tend to enjoy contrasts and setting new within old instantly looks powerful, in fact working in older buildings is a gift for contemporary design! Sometimes it's the not-quite-modern spaces that are harder to work with, in these spaces we might look to add traditionally inspired details for a balance.
| | |
| --- | --- |
|  PHOTOGRAPHER: JAKE CURTIS | PHOTOGRAPHER: JAKE CURTIS |
What would be your dream project?
Emily: The majority of our residential clients are London based, I'd love to work on a project set in an incredible landscape with wide skies and terrain. We'd have a chance to respond to these surroundings with a palette, source locally, and to define journeys and moments framed by the scenery beyond.

Iwan: The most unique projects come from being challenged as a designer. Alternative typologies of buildings excite me, as do their locations. Innovative clients, willing to push the boundaries are a joy to work with. I guess right now a sustainable hotel in a tropical climate would be ideal!

 PHOTOGRAPHER: PIERCE SCOURFIELD
FOLLOW DAYTRIP STUDIO
Emily & Iwan's Curation
Swift

Sold

The painterly style of Lisa Hardy evokes nature as an emotion as much as a subject. We like the subtle tones of Swift, it could work as a single study - something to find and spend time with - or as part of a series.

Stillness (Framed)

Sold

Even with the lightest of touches Soru Lee achieves a feeling of warmth and texture. We seek to bring these qualities to our own work so we admire it when we find it in others'.