PE x Reformation - The Skateboard Collection
For their London launch Reformation have teamed up with Partnership Editions and four female British artists, who together have created 40 original, hand-painted artworks on repurposed vintage skateboard decks. 
In their signature style Phoebe Collings-James, Venetia Berry, Christabel MacGreevy and Rose Electra Harris have painted these decks to create 40 unique artworks.
100% of the profits raised from the sales of the boards will be donated to Amazon Watch, a nonprofit organisation that resists the destruction of the Amazon rainforest by challenging disastrous development projects and natural resource extraction and by promoting indigenous rights.
A selection of the skateboards are currently being exhibited in Reformation's London store at 186 Westbourne Grove. All boards are for collection-only from Reformation's London store.
REFORMATION
Created in 2009 by Yael Aflalo, Reformation is a revolutionary lifestyle brand that proves fast fashion and sustainability can coexist. Their cult designs are created for women who want to look beautiful and live sustainably. A 100% carbon, water and waste neutral company, Reformation infuses green measures into every aspect of the business. From running a sustainable factory in Los Angeles to using deadstock and eco fabrics to tracking the environmental impact of every product, Reformation is committed to pushing the industry forward.
AMAZON WATCH
Amazon Watch resists the destruction of the Amazon by challenging disastrous development projects and natural resource extraction and by promoting indigenous rights. The Amazon is the world's largest terrestrial carbon sink and plays a critical role in regulating the global climate. Yet this global treasure is at great risk – already more than 20% has been deforested, and new fossil fuel extraction, mining, large-scale hydroelectric dams and highways cause even greater deforestation and run roughshod over indigenous people's rights and territories.
SHOP THE COLLECTION
ROSE ELECTRA HARRIS
Rose Electra Harris is a London based artist who works predominantly as a print-maker in her studio in Dalston. Growing up with an antique dealing father, Rose has always been surrounded and intrigued by antiques and textiles. Decorative objects such as vases, chandeliers and free-standing baths are common motifs in her work.
Rose is represented by Partnership Editions - view all of her artworks
PHOEBE COLLINGS-JAMES
British artist Phoebe Collings-James is a multidisciplinary artist, working in sculpture, painting and video. Collings-James chooses to use her whole body in the creation of her paintings, whether by using it to spread oil paint on an unstretched canvas, crushing eggs with her feet or stepping on ivory black pigment and tracing her footprints on it. Her work deeply explores the notions of violence, sexuality, desire, and beauty and she further explores feminism and contemporary art through her web project/ platform Cunt Today.
VENETIA BERRY
Venetia Berry is a London-based artist who trained at The Charles Cecil School in Florence, followed by The Leith School in Edinburgh and then completed a year at The Royal Drawing School, London. With a particular interest in the female nude, her languid forms drift across the page or canvas like apparitions or puffs of smoke. She paints the figure through an abstracted lens, simplifying the form using pure line, or reduced mark-making.
Venetia is represented by Partnership Editions - view all of her artworks
CHRISTABEL MACGREEVY
London born artist Christabel MacGreevy studied Fine Art at Central Saint Martins, London and Ecole de Beaux Arts, Paris before completing her Postgraduate diploma from The Royal Drawing School, London. She began her artistic career as a fashion illustrator doing work for LOVE magazine. 
MacGreevy has established a diverse art practice that incorporates sculpture, collage, print-making and textile work. Her drawings evoke an unusual mixture of classical myth and the 'kitchen sink', absorbing influences that range from folk art to art history to memory and personal iconography.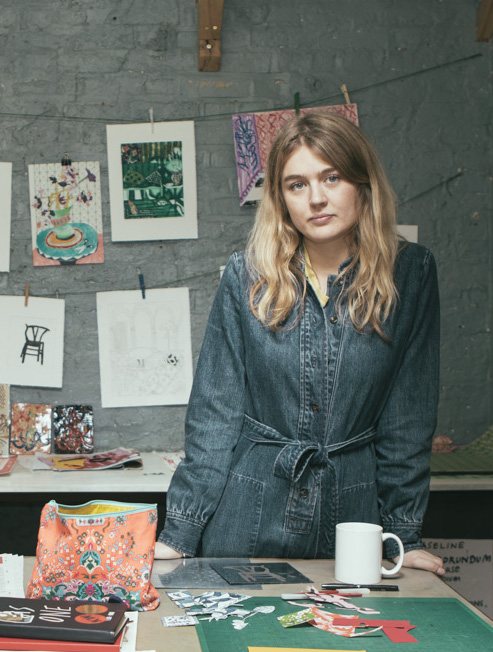 Newest First
Alphabetically: A - Z
Alphabetically: Z - A
Price: Low - High
Price: High - Low