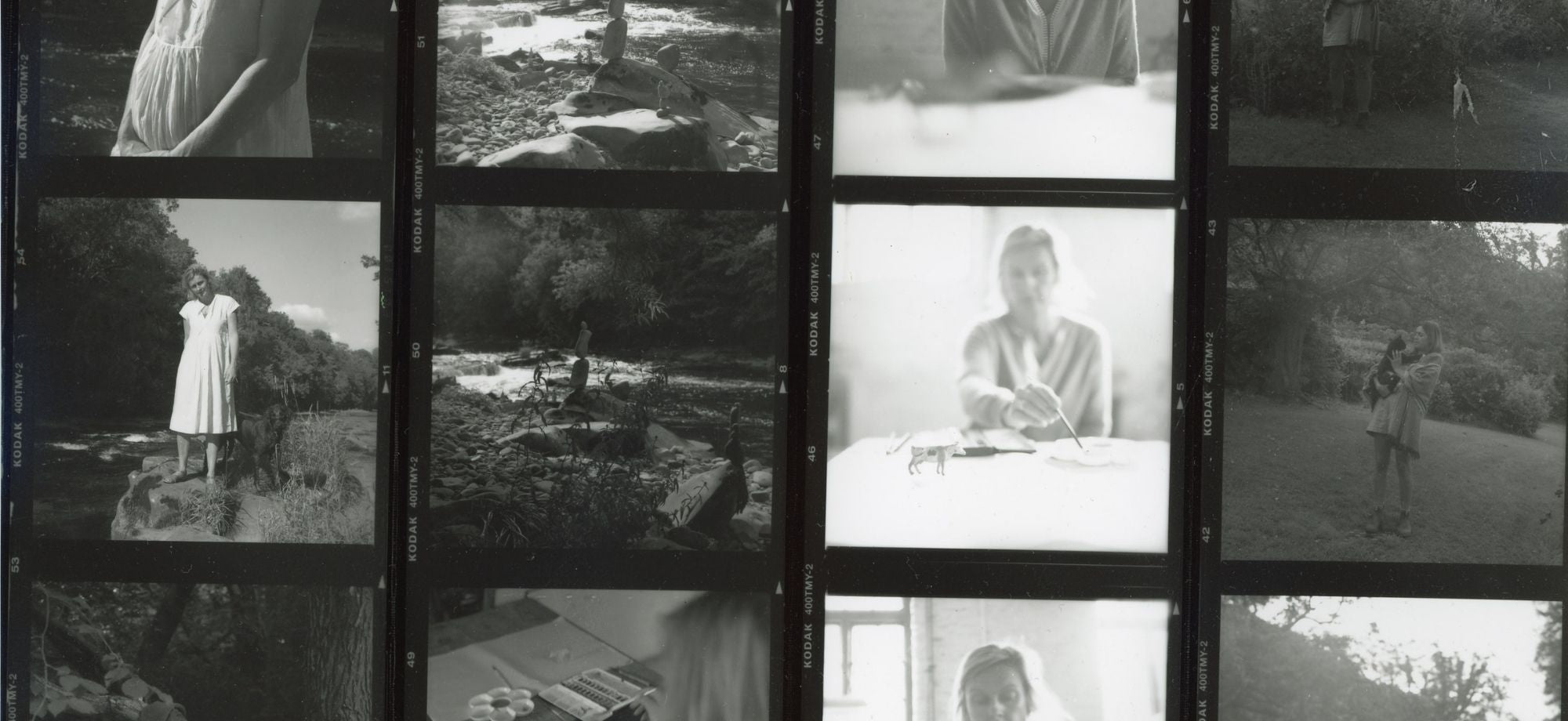 Photographer and artist
38/ In The Studio With Lottie Hampson
For this 'In The Studio With' feature we are so excited to present new Partnership Editions artist, photographer Lottie Hampson, who will be joining the team with the launch of her debut collection, A Sense of Place.
Here we get to know more about her and her practice, from her creative upbringing and training to her favourite processes and techniques. We hope you will love the addition of photography to our art range, and discovering the wonderful work artists like Lottie bring on.
How did you become an artist, what's your training and background?

I grew up with creative parents, and a very inspiring grandmother who was an art teacher and painter, so art was always part of my life. Growing up I made and wrote books, baked cakes, sewed tiny clothes for toy animals, painted… so I suppose I didn't really question it, I was just lucky enough to grow up in an environment that nurtured creativity. My grandmother used to run art classes for local kids at her house, so I would either join them or help out at them. She was a constant inspiration.
After years of loving art classes at school, in the sixth form, I was introduced to darkroom photography and I completely fell in love with it. The magic of developing your own film and printing in a dark room for the first time is captivating. I love to have an element of tactility in my work, so I experimented with printing on different objects and messing around with my negatives. I once buried them in the ground over a frost-bitten night before printing with them.
I ended up studying theatre and set design at Central St Martins, before realising how much I missed photography. I went on to Edinburgh College of Art to complete a degree in fine art photography, and I also studied abroad in Boston for a semester.
The Morning After by Lottie Hampson, 2019.
What are your influences - generally and specifically for this collection? Are there certain artists, subjects or movements that inspire your work in particular? 

In recent years, alongside my art practice, I have been working and living at artist residencies. I spent two seasons at Villa Lena in Tuscany, and recently helped set up the new residency programme at Casa Balandra in Mallorca. Because of the nature of this work, I am constantly meeting and engaging with creative people with different art practices. I'm inspired by all of them! Spending intimate time with them and understanding their process gives me a renewed sense of wonder and excitement about art in all its forms.
Recently I've found that I can't stop staring at photographic botanical studies; particularly the photos of Karl Blossfeldt, Charles Jones and Imogen Cunningham. There's a great exhibition on right now at the Dulwich Picture Gallery showing some of these- they're just so beautiful. So, gardens and plants have been on my mind a lot and I think that comes across in this collection of work.
I do still get goosebumps when I look at the photography of Francesca Woodman… and more and more I think I'm harking back to the paintings made by my grandma. And also her little garden, I think about that a lot.
 River Usk, 2016, and Red Valerian, 2018, by Lottie Hampson.
What does your process look like? Why do you choose to work with this type of photography?

My process is quite flowing, I don't tend to work on specific projects, so as I move around taking photos they tend to mostly fall into this 'sense of place' project. I also draw and make books and photo etchings. I'm a bit of a wanderer… Since leaving university in 2016 I'm not often in one place for long, so this way of shooting suits that lifestyle. It almost acts as a diary. I'm also a very indecisive person, so that probably informs my process a lot. I can never decide what I want to do, and I'm excited about a lot of things, so there is a regular change in direction! 
I have a few cameras that I switch between, and once I have developed film I'll either try to print it or turn it into some sort of small series. I much prefer shooting on analogue. It means there is more of a process, and I would miss that in digital photography- its not nearly as satisfying or exciting.
What emotions or response do you hope to create for the viewer with your work?

This is a hard question to answer because my work acts as a visual diary for me, but I hope that they would evoke a sense of calm for a viewer. I like my photos to look timeless, so they can provide a view into a world in which viewers could imagine themselves.
Flowers In The Window 1 & 2 by Lottie Hampson, 2015.
Can you tell us a bit more about 'A Sense of Place'?

These photos are all a continuation of a project initially titled Still Here. This explored similar themes, but was set firmly in South Wales in a place I revisit time and time again to take photos. Whilst this collection of photos includes a few of these initial images from Wales, the project has extended as I travelled further afield since graduating, and made work that I still believe has a similar tone and style. This is where the title 'A Sense of Place' comes from. Actually, I hope to continue working in this way for as long as I can, and I hope that these photos can do just as the title suggests; building a sense of place through observations of light, landscapes, and fragments of the people and creatures that inhabit them. They are an exploration of time passing; a quiet meditation on the relationship we hold to our encompassing environments.
Horse In Tarifa by Lottie Hampson, 2017.
FOLLOW LOTTIE:
A Sense of Place by Lottie Hampson