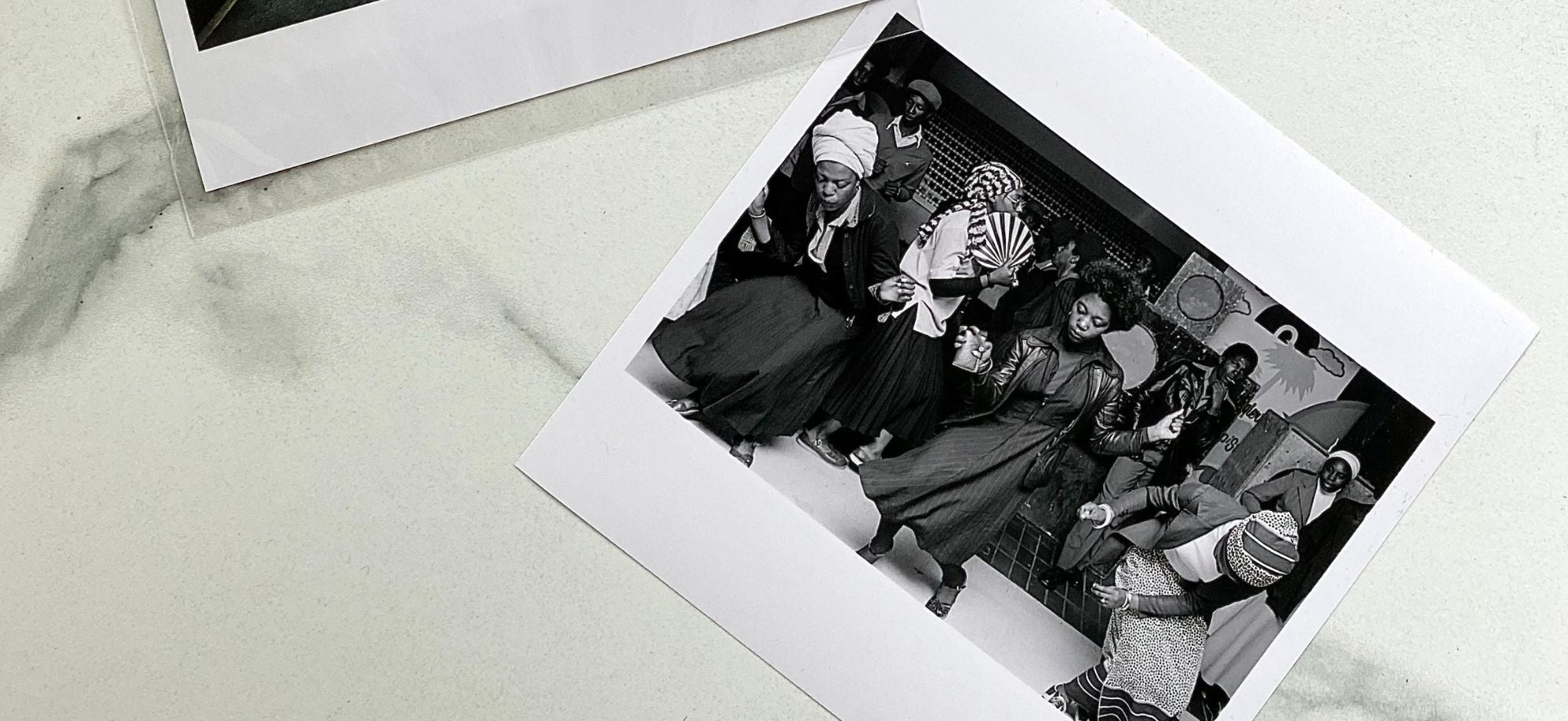 Stylist, Art Director & Consultant
42/ Hang With Des Lewis
For this Hang With piece, we are stepping into the chic contemporary home of stylist, art director and consultant Des Lewis. Here, Des shows us around her East London Victorian terrace house, where she lives with her husband, daughter and dog, and she runs us through her incredible photography collection and treasured art coffee table books.
Des Lewis by her daughter, Missy; Blue Forms I by David Hardy; Martino Gamper Arnold Circus Stool (seen as table) from TwentyTwentyOne.
I live in… A Victorian terrace house in Walthamstow, East London with my husband, 9-year-old daughter and our dog. I'm a born and bred Londoner and grew up in Shoreditch and Bethnal Green (way before they were trendy), I went to school on Columbia Road and always loved the immediate surrounding streets of period properties, they were the antithesis to the numerous estates in the area that were built after the bombing during the war.
We moved to Walthamstow from Hackney 7 years ago, we lived close to Victoria park and were very reluctant to leave but we wanted a house and our budget would not stretch to Hackney prices! It didn't take us long to begin to appreciate our new area, it has the benefit of still having that inner-city edge whilst being really close to the nature and beauty of Epping Forest - a place we really came to appreciate on our daily walks during lockdown. 
Alexander Calder Mobile Print
Working from home… took some adjustment when I first embarked on a freelance career 4 years ago, after many years of working at fashion magazines and being in an office with a team.  Getting used to the solitude and learning to motivate myself and organise my day so that I am as productive as possible took a bit of getting used to, but it became second nature soon enough.  I discovered that I am happy in my own company and because I have a job that doesn't require me to sit at my desk every day, I still get the experience of being part of a team when I'm on a shoot. I appreciate how lucky I am to have the option to work from home and enjoy the flexibility of lifestyle it affords me. 
| | |
| --- | --- |
|  Sisters by jim Britt | Venice Beach Festival by Dennis Stock |
My first art purchase was… Actually wasn't purchased but were given to me and my husband 18 years ago as wedding gifts; one is a Kate Moss original photograph by the fashion photographer David Sims taken for an iD cover and the others are two limited edition Banksy prints, one of the Queen as a monkey and another of Winston Churchill with a Mohican - we obviously didn't know at the time how famous Banksy would become so quite chuffed to own art by such a renowned and formidable artist. 
| | |
| --- | --- |
| Kate Moss by David Sims | Monkey Queen and Turf War by Banksy |
If I could hang any artwork in my collection it would be… A total dream and never to be a reality, of one of Lynette Yiadom-Boakye's beautiful portraits of Black figures, in particular 'A Passion Like No Other' or '11pm Tuesday'. I went to see her exhibition Fly In League With The Night at Tate Britain earlier this year and it is definitely in my top 5 favourite shows to date. 
 Lynette Yiadom-Boakye, A Passion Like No Other, 2012. Collection Lonti Ebers © Courtesy of Lynette Yiadom-Boakye
My prized possession is… Our collection of photography and art coffee table books that we have accumulated over a period of 25+ years and would be pretty hard to replace, (especially as some are now out of print). 
Photography is probably my favourite art medium (I actually studied it as I wanted to be a photographer but I got sidetracked)! So I am extremely happy that PE has launched photography as part of their curation.
One of my favourite photographers is Malick Sidibé, his images celebrating Black joy in the form of dancing are so uplifting, we have a print of Nuit de Noël (Happy Club) which never fails to make me smile.
I have photographer friends and I am lucky enough to have been given some beautiful prints over the years. A particular favourite is of Le Corbusier Hotel in Marseille by Tara Darby. We stayed at the hotel for a night on a holiday a few years back and it was really special. My husband is a brutalist architecture fan so it was a major highlight for him. 
| | |
| --- | --- |
| Le Corbusier Hotel Marseille by Tara Darby | Nuit de Noël (Happy Club) By Malick Sidibé |
We also own another Kate Moss limited edition print by Corrine Day, it was sold as part of a series in 2008 that helped raise money for the Save the Day campaign to help pay for specialised cancer treatment for Day, which she sadly later died from. 
A source of great photography prints is Magnum who have regular sales of iconic and lesser-known prints. My first purchase was Venice Beach Rock Festival by Dennis Stock.  I recently purchased a Bruce Davidson Subway print and was also given a Chris Steele-Perkins Disco print by a friend for my birthday, both are waiting to be framed. 
| | |
| --- | --- |
|  Kate Moss by Corinne Day | Subway by Bruce Davidson & Disco by Chris Steele-Perkins |
When decorating my home I like to buy from… eBay when searching for mid-century pieces as well as shops that specialise in that era such as Two Columbia Road.  One of my favourite design stores is SCP,  I also love  TwentyTwentyOne in Islington, Labour and Wait in Shoreditch and the Scandinavian store, Frama. 
| | |
| --- | --- |
|  String shelving from SCP | Light shelf by Frama |
My recipe for a happy home is… Family, friends, music, good food, fresh flowers, laughter and a dog - all things that can help to relieve any of life's stresses. Lockdown proved to me that it really is the simple things in life that are the most important.
I spend most of my time at home… Planning, pottering and listening to Radio 6. 

I've currently got my eye on… A Matthew Hilton sofa and a Varier Ekstrem chair. 

I couldn't live without... Chocolate and music, preferably to be enjoyed together!