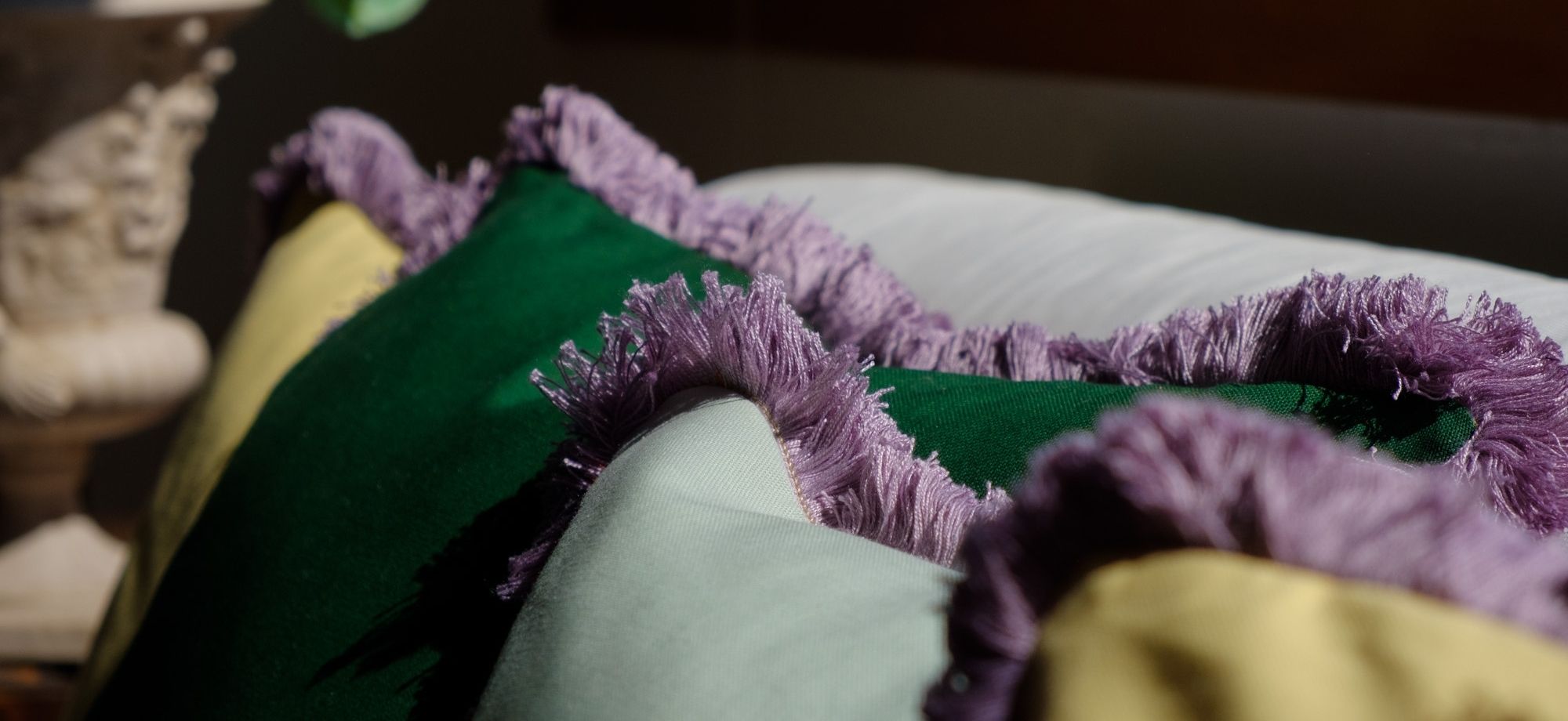 Craftsman, Designer and Founder of In Casa by Paboy
50/ The Tastemaker: Paboy Bojang
To celebrate our 50th Journal we have invited a very special tastemaker, the craftsman and founder behind homeware brand 'In Casa by Paboy', Paboy Bojang.
Paboy is not only influencing the creative industries with his unique and colourful designs but also with his drive to make a change for refugees and asylum-seekers all over the world.
Here he gives us some insight into the tough and formative journey that has lead him to create his namesake brand, the art that inspires him, and the hopes he has for 'In Casa' and the people around him. 

 Paboy by Giuseppe Attanasio
Can you tell us about yourself and how 'In Casa By Paboy' came about?

My name is Paboy Bojang, I am an asylum seeker and I have been living in Naples for almost six years now. I arrived here by boat, having lived on the streets of Tripoli in Libya for two years and having undertaken a long journey across West Africa and the Sahara desert.
Before you arrive in Europe you have this idea that there are many opportunities and that you will find safety but actually it is quite different from that. I have lived in so many terrible refugee camps and experienced the worst of human behaviour and inhumane conditions. The system is set up so that if you are without papers they don't allow you to work and this means you end up working on the black market and being paid slave wages for long hard days in the cellars of kitchens or out in the fields picking fruit. 
For me, In Casa is a reaction to all of this. I want people to feel happy, to accept everyone from all backgrounds and for my studio to be a loving and supportive environment where everyone is happy and looked after. I am very proud to have been able to give all my employees fixed contracts which can allow them to get the papers they need to stay here and not fall through the cracks like so many. 
| | |
| --- | --- |
| Ruffle cushions | Fringe cushions |
What is your earliest memory of sitting at a sewing machine?
For the first thirteen years of my life I lived with my granny in the village side in The Gambia then I transferred to Serrekunda town and began working in my uncle's tailoring shop. I remember the first thing I ever sewed was a patchwork dress for a naming ceremony. It was on a heavy-duty mechanical Singer sewing machine, the one that you have to pedal to make work!
In Casa by Paboy F
ringe cushions
Who inspires you in your daily life?
I have a best friend from London called Sophia, we met five years ago in Naples and she has always wanted the best for me, finding me jobs and teaching me about living in Europe. She inspired me to start this business and she showed me that I could reach for the stars when I didn't know it was even possible in my situation! I can always rely on her for everything when things are hard and one day I hope to do the same for other people. 
| | |
| --- | --- |
| Patchwork with ruffle in orange and lilac | Ruffle mango tree green and mustard yellow |
Your handmade cushions are considered works of art, do you have a favourite artwork that you refer back to for inspiration? 
I don't have a specific artwork that I am inspired by though. Since being on Instagram I love to follow many artists… My favourite artist and designer is Yinka Ilori whose work I think is super incredible! I love his bold style and how he also fills space with colour. It reminds me of some of the art from my country.
For inspiration, I tend to look around my surroundings. Naples is full to the brim of beautiful buildings from all eras, painted in yellows and reds, and I love looking for colour combinations on the frescoes and mosaics of Pompeii.
 The Colour Palace by Yinka Ilori, hand-painted multicoloured pavillion.
What pieces in your home bring you joy?
I have to say that I have just moved into a new house and I am slowly making it nice… At the moment it is mainly filled with cushions I have made which I don't think are good enough to send out. I also have some lovely prints that Frances Costelloe sent me which was so sweet of her which I recently got framed!
| | |
| --- | --- |
| Ruffle and Patchwork cushions, In Casa by Paboy | Marylebone Tulips On Blue Table Cloth Print by Frances Costelloe |
What would you like people's purchases to contribute to their homes?
I am all about bringing joy and colour to people's homes. I want my cushions to feel nice to touch, to be comfy to crash out on and to bring a playfulness to people's homes.
| | |
| --- | --- |
| Cushion in Mafalda Patricio's Lisbon home | Ruffle, and Fringe and Patchwork cushions |
What do you wish to change in the interiors industry?
I am very lucky that people have been very supportive of my work and so I have no complaints but if I am being honest I would like to see lots more black designers breakthrough and shake things up a little bit!
In Casa by Paboy Fringe cushions
What are your goals and hopes for the future?
I would like to grow my company and make it work so that I can employ lots of asylum seekers struggling in Naples. I want to provide as many people as possible with a safe and secure future and to make a caring and loving environment to work in. 
| | |
| --- | --- |
| Ruffle cushion in mustard yellow and atlantic blue | Patchwork with Ruffle in sandy yellow & lilac |
What is a question you wished people asked you more?
What could they do to help and support other asylum seekers like me?
FOLLOW PABOY:
ABOUT PABOY'S CURATION OF ARTWORKS
I have selected these five works that all remind me of my home in The Gambia. I love that all these artists have lived in different cities and continents like me and depict characters and places in bold shapes and colours.
I love all of the artists on Partnership Editions though and think the diverse collections of artists is so inspiring. I want to buy all of them!