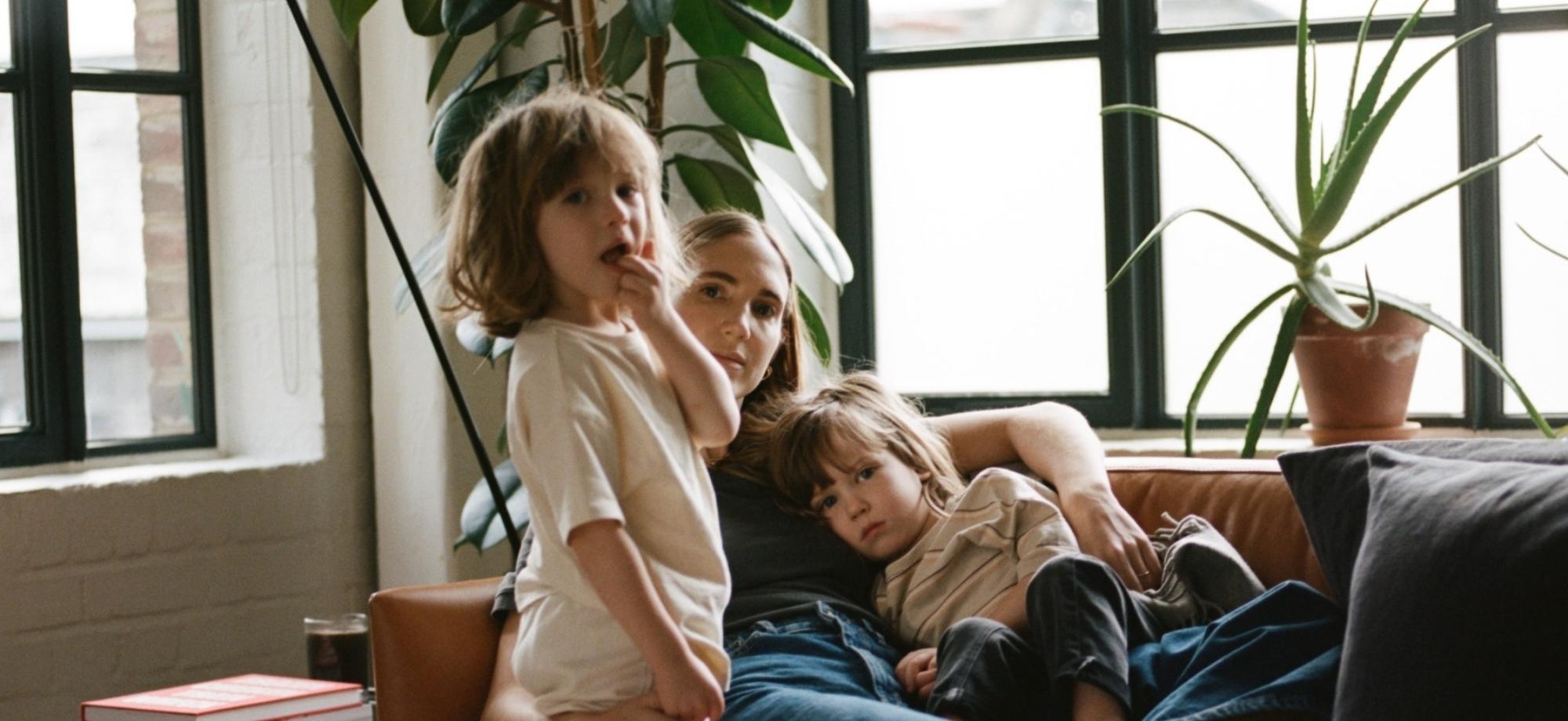 Film Director
58/ Reflections On Motherhood With Fiona Jane Burgess
In the lead-up to Mother's Day, we're honoured to talk to film director and image-maker, Fiona Jane Burgess. We admire Fiona's work in film for the way it empowers women and challenges the status quo, and in particular how it depicts motherhood with such honesty, showing realities of breastfeeding that have historically never been depicted in film and are therefore misunderstood or viewed as unnecessary taboos.
She said of her global campaign for Tommee Tippee, The Boob Life: "this was the perfect opportunity to be behind the camera using my experience of motherhood to create a piece of work that truly reflects the realities of infant feeding...this campaign is a battle cry for women and babies to feel confident about how they feed their babies."
Mother of twins herself, we chat to Fiona about her own motherhood journey and how she balances home life and her career and what tips she has for others who are navigating this juggle too.
How have your experiences of motherhood influenced your work?
I started directing at the age of 28 without going to film school and with 10-month-old twins. I was at rock bottom, with a total loss of identity and feeling like beginning a new career was so far out of reach but I knew I needed this change in my life. I needed to be behind the camera making images and telling stories.
Being a parent forced me to make decisions I wouldn't otherwise have made. It made me see the world (and the industry) from a very particular perspective, and it made me want to prove that it's possible to be a working mother in this industry. It also made me be very selective about the work I do, because anything that's going to take me away from my kids has to be something I really care about, so I don't take on a job unless I 100% believe in it.
How do you balance being a mother with directing?
It's a juggling act, and most days I feel like I'm failing at one of them. But the truth is, I need both in my life. I get so much joy and curiosity and awe from being a mother and watching my children grow and learn, but also being a director gives me an enormous amount of energy and it's where I can really let my curiosity come alive. So in a way, they feed each other. If I wasn't working, I'd be impatient and frustrated with my kids. And because I feel fulfilled creatively from my work, it makes me a happier person, which in turn makes me a happier parent.
That said, my brain is often being pulled in several different directions, from organising childcare to production meetings to grocery shopping to storyboarding. So I write lists, I write soooo many lists…
Your work champions real and honest representations of mothers physically and emotionally. What can we do to normalise these experiences so everybody can feel seen and heard?
What I've realised is that we desperately need more mothers both in front of and behind the camera - producers, actors, dancers, camera crew, choreographers, writers, editors, directors, creatives... Our voices matter. Our presence matters. We mustn't be pushed out of these spaces. Our stories need to be told by us, and with us, not for us.
We need to make a conscious effort to empower mothers in the creative industries, whether it means accommodating infants on set or in our workplaces, whether we commission more work about the reality of motherhood, whether it means creating forums that are designed for new and expectant mothers to engage and support one another. I hope that if I was starting out again today that I would feel like there was a seat for me at the table, and perhaps also a high chair...
What advice would you give to any woman starting out in the creative industries?
Even if you don't see someone that looks like you doing a job you want to do, it doesn't mean you can't do it. It just means there's an empty chair waiting for you to sit in it. There are still so few women working in many areas of the film and TV industry. There is a desire to work with more women, but so few are doing these jobs that it's hard to work with majority or even 50% female crews. We desperately need more female cinematographers, gaffers, camera assistants, steadicam operators, 1st AD's, grips, DIT's, editors, colourists. These are all really creative and technical jobs, and there is a huge shortage of women in these roles, so if you're curious or have an interest in learning about a craft then research it and try to connect with as many people in that field as possible.
| | |
| --- | --- |
| | |
Reach out to people, don't be intimidated or self conscious, everyone has to hussle so we all know how it feels to not get an email reply. But don't let that get you down, because the more connections you make the more experiences you'll get and slowly opportunities will come to you. You just have to be persistent.
What advice would you give to mothers trying to balance motherhood and a career?
Always focus on what's going to give you the most happiness. If you love what you do and it brings you joy, then recognise that that will have a positive impact on your children. If you are thriving, they will directly benefit from that, even if it means spending less time with them. I spent so long feeling guilty about working longer hours and arranging additional childcare, but what I've realised is that as long as when I'm with my kids I'm fully present, then they will feel happy, content and loved.
QUICKFIRE
:

Female figures  you admire in film? So many! Michaela Coel, Andrea Arnold, Jane Campion, Claire Denis, Celine Sciamma, Phoebe Waller-Bridge, Kim Gehrig, Greta Gerwig, Miranda July…
A film to watch this Mother's Day? Parallel Mothers by Pedro Almodovar
A mother's essential piece of kit is…self-love!
A myth about motherhood you'd like to bust…that women suddenly change when they become mothers
A mantra you want your kids to live by...treat others as you'd like to be treated yourself
FOLLOW FIONA
Fiona's Curation
Sisters

Sold

This painting captures the freedom and innocence of summer holidays as a child. You can almost hear the laughter, and the footsteps running on the sandy ground.

Best seat in the house 04

Sold

I love the intertwined bodies of mother and baby in this painting. The connection, the softness, the tiny feet…