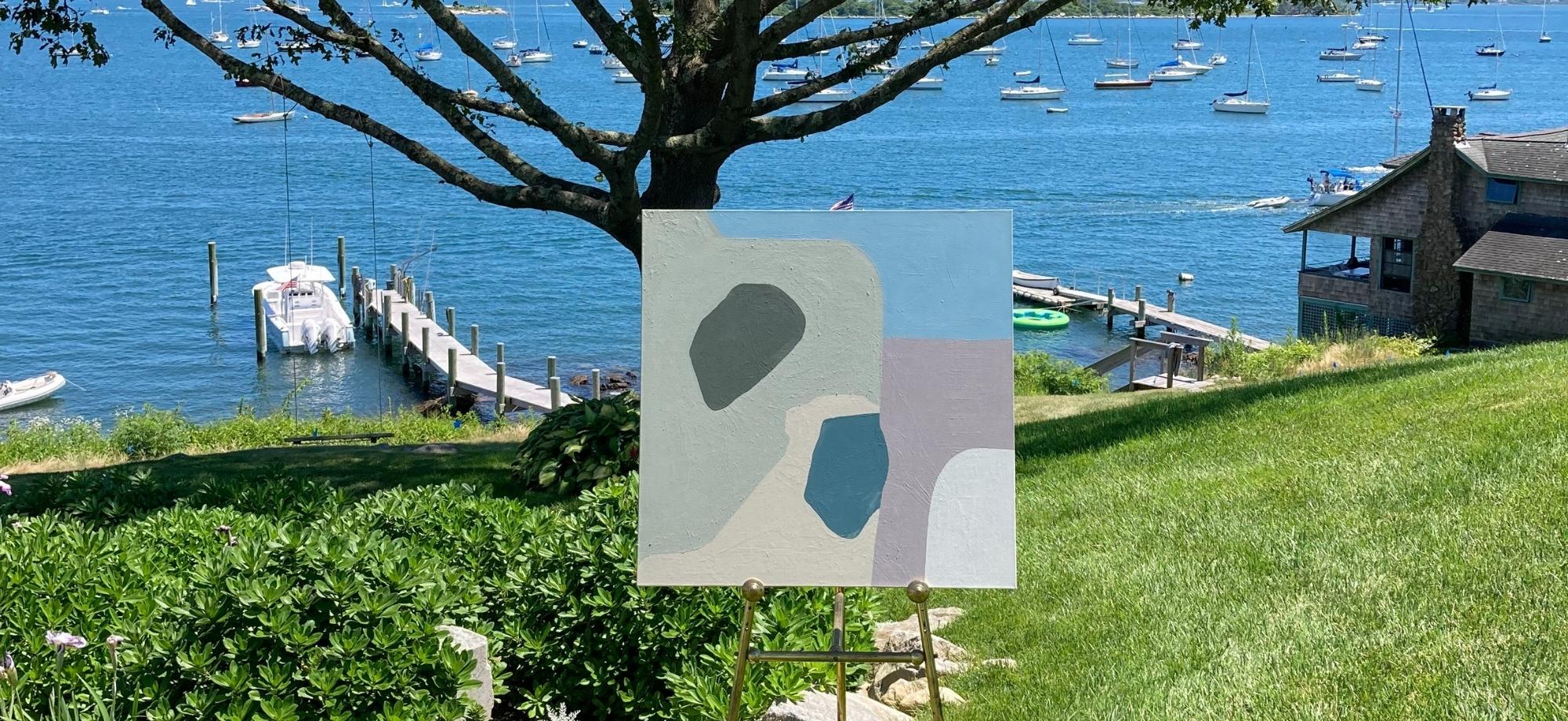 Artist
68/ Postcards from PE: New England with Terence Finch
For our second 'Postcards from PE' feature, we are transported to the quaint towns and picturesque beachside retreats of New England. 
Like so many artists, Terence Finch uses New England as background for his work. Here, he takes us on a tour of his town and runs us through its fishing, lobstering, and boat-building history.
Step into the small coastal village of Noank, founded in 1614 it was named "Point of Land" by the Native American Pequot people. Discover Terence's favourite spots and how his surroundings influence his latest collection 'East of New York', launching on 27th July.
You cant come to New England and not eat a lobster roll! It's like going to Cornwall and not eating a pasty from a bakery and I don't mean "Greggs"! Noank is famed for its lobster roll and the go-to venue is Fords Lobster shack. People travel from 'out of state' just to try their lobster rolls.
If you are looking for something more high end, I'd recommend the pan-roasted halibut with swordfish bacon, at Oyster Club. Far from me to recommend anywhere, just last week a very interesting article was written in Bloomberg about the thriving culinary scene here in Mystic - it makes for a very good read.
I'm very lucky that in Noank we have our very own Museum a few streets away. It's incredibly detailed and charts the rise and fall of the small peninsula. From its humble boat building beginnings to becoming, at its height, one of the largest boat building shipyards along the whole North East of the USA. There is a committee and full-time staff that curate and maintain the collection. Noank has had some very distinguished residents over the years, Aviator and American legend Amelia Earhart. She married George Palmer Putnam in Noank on February 7, 1931. Arctic explorer Peter Freuchen (1886–1957). Artist Henry Ward Ranger. Painter Robert Brackman (1898–1980). Painter Lars Thorsen (1876–1952) and of course myself!
It will be no surprise that the landscape and sheer idyllic beauty of the area would inspire one. In particular nautical charts inspire me. This whole collection was based on the idea of nautical sailing charts.
There are plenty of things that are synonymous with New England. For me, though it has to be white clapboard houses, picket fences, and huge blue Hydrangeas. From where I am all the way East, taking in Rhode Island, Cape Cod, Martha's Vineyard, East Hampton, and Nantucket (the list could go on) you will see those three things consistently.
Read; Little Women or Moby Dick Watch; There are too many good ones to list, 1988 coming-of-age film "Mystic Pizza" starring Julia Roberts in her breakthrough debut is very fitting as it was filmed all over Noank! Jaws, Good Will Hunting, or the new HBO mini-series "The North Water" starring Colin Farrell. Listen; To the sea and the gulls.
I should really say a painting from the new collection, however, when I think of New England I instantly think of Edward Hopper and his painting "The Long Leg" 1930.
"EAST OF NEW YORK" is my first collection since leaving New York City. All the paintings have been heavily influenced by the marine / nautical influence. Specifically, I drew a lot of inspiration from nautical navigational sailing charts for this collection. Those contours and shapes, I was able to visualize into a set structure of pattern and color that then translated to these paintings.
FOLLOW TERENCE
EAST OF NEW YORK by Terence Finch