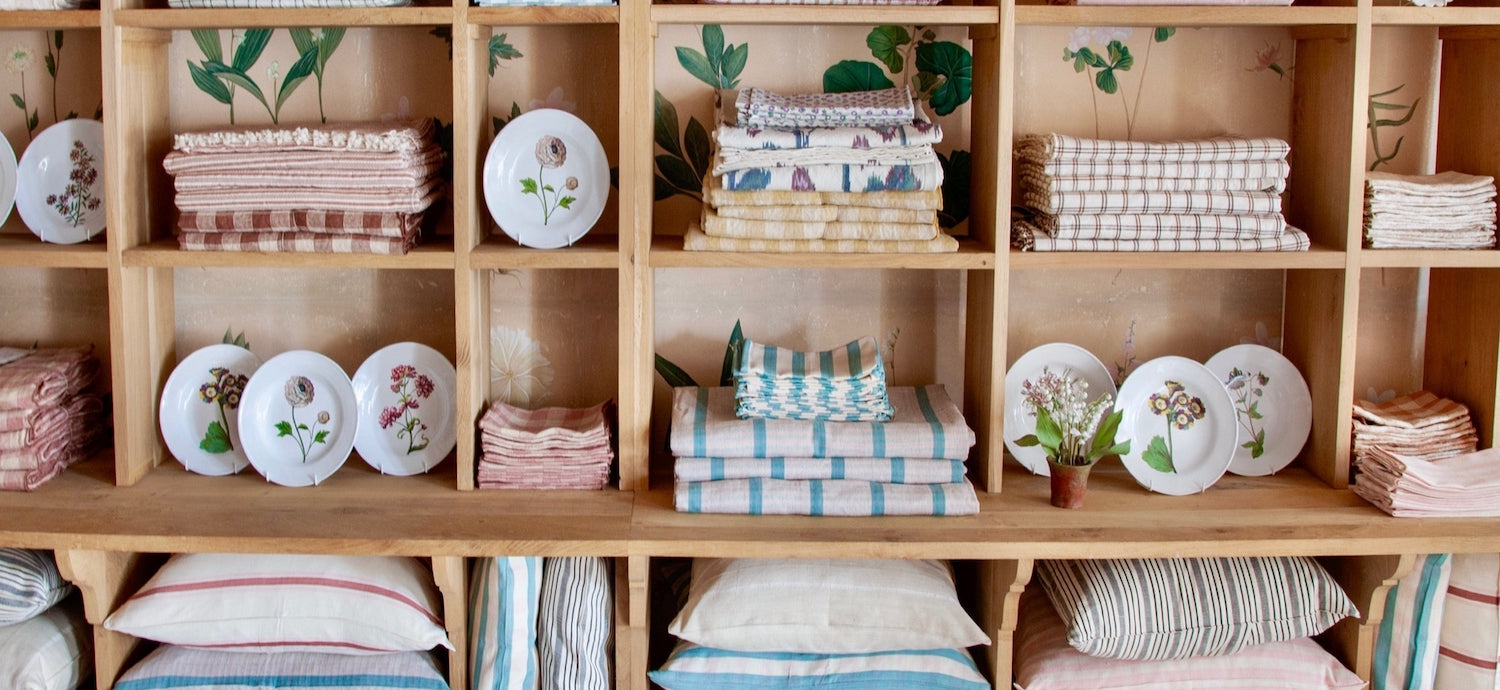 Founder of Cutter Brooks
83/ Trade Secrets: Amanda Brooks
For this month's Trade Secrets, we're speaking with Amanda Brooks, author, fashion journalist and owner of Cotswold treasure trove, Cutter Brooks. We love Amanda for her eclectic taste, eye for colour and support for British craftsmen and women. In this interview, she shares with us her love of an unexpected object in the home, her expanding notion of 'country life' and the important role it plays in her collecting, and memories of Cy Twombly in St. Barths.

When you first opened Cutter Brooks, what was the ethos that you wanted to live by?

I guess like most shopkeepers my primary passion is curating. I love selecting things and putting them together in a way that feels inspiring to me. The challenge is, of course, to maintain that personal feeling even when the company grows. The only real rule I have is that everything I chose feels right for country living. Although I am inspired by English country life most specifically there are lots of American, French, Indian, Spanish, etc. ideas and products included in the shop selection as well. At the moment I keep being attracted to surf culture as well, especially after a recent trip to Kerala, India. That's country life too, isn't it? So we'll see where that goes and how I can somehow make it fit into the mix.
What is something from American homes and interiors that you wish we had more of in the UK?

Oh, that's an easy one - closet space!! I guess the English aren't as much clothes-hoarders as I am. I spend my life here moving clothing in and out of storage.
Favourite tips to add a personal touch to a customer's home?
My mother, an Interior Designer herself, always told me how important it is to have unrecognisable pieces in my home - found objects, things from the flea market, old fabrics, pieces I picked up on my travels. It's great to use wallpapers and cloth from celebrated designers but you don't want to look around a room and be able to identify where everything came from. I also like when people use a few well-placed decorative things in a minimal space or vice versa, that always feels unexpected. Context is a great way to re-invent things.

We absolutely love the 19th-century quilts you source for Cutter Brooks, could you tell us a bit more about these pieces and how you came to start collecting them?
They all come from one dealer, and I keep her top secret. She is in her 60s and has a wonderful home in rural America. I went to see her in person before I opened the shop and bought my first selection there. Now she sends me pictures. I think she must be the best collector of quilts, folk art, and vintage jewellery ever. I'm overdue another visit to her. Her house is just filled with old chintz fabrics, rag rugs, homemade sculptures, all sorts of amazing things, and then a whole garage filled with quilts. She knows every one of them like they are her children. And she's a total character. Finding people like her is the reason I love having a shop. All that said, my selection is carefully curated. I'm very picky, so I'm grateful she puts up with me.

If you could have one work of art in the world hanging in your Cotswolds shop, which one would it be?
One of Cy Twombly's photographs of tulips. My first job after college was at Gagosian Gallery, and I was incredibly lucky to get to spend some time with Cy both on his holidays in St Barths and also in his hometown of Lexington, Va. We used to drink iced tea cocktails over lunch at the Palm Parlour, his local diner. And he loved walking around his alma mater Washington & Lee University and telling me about his teenage years. I was so fond of him. So it would be an absolute dream to have a piece by him in the shop.
What are some rules you live by for being a good host and creating a welcoming home?
I really love to cook but I can't cook and socialise at the same time, so I do everything I can to get all the prep and most of the cooking done before my guests arrive. I want to be relaxed and give guests my attention instead of being distracted. I always prefer to do as much as I can myself. I enjoy settling the table and serving my guests, but quite happy to leave the cleaning up to my husband. When I have guests to stay, I try to avoid over-planning. I'm always so relieved when a houseguest just does their own thing and helps themselves in the kitchen. The more they feel at home the more I enjoy their company.
FOLLOW AMANDA BROOKS