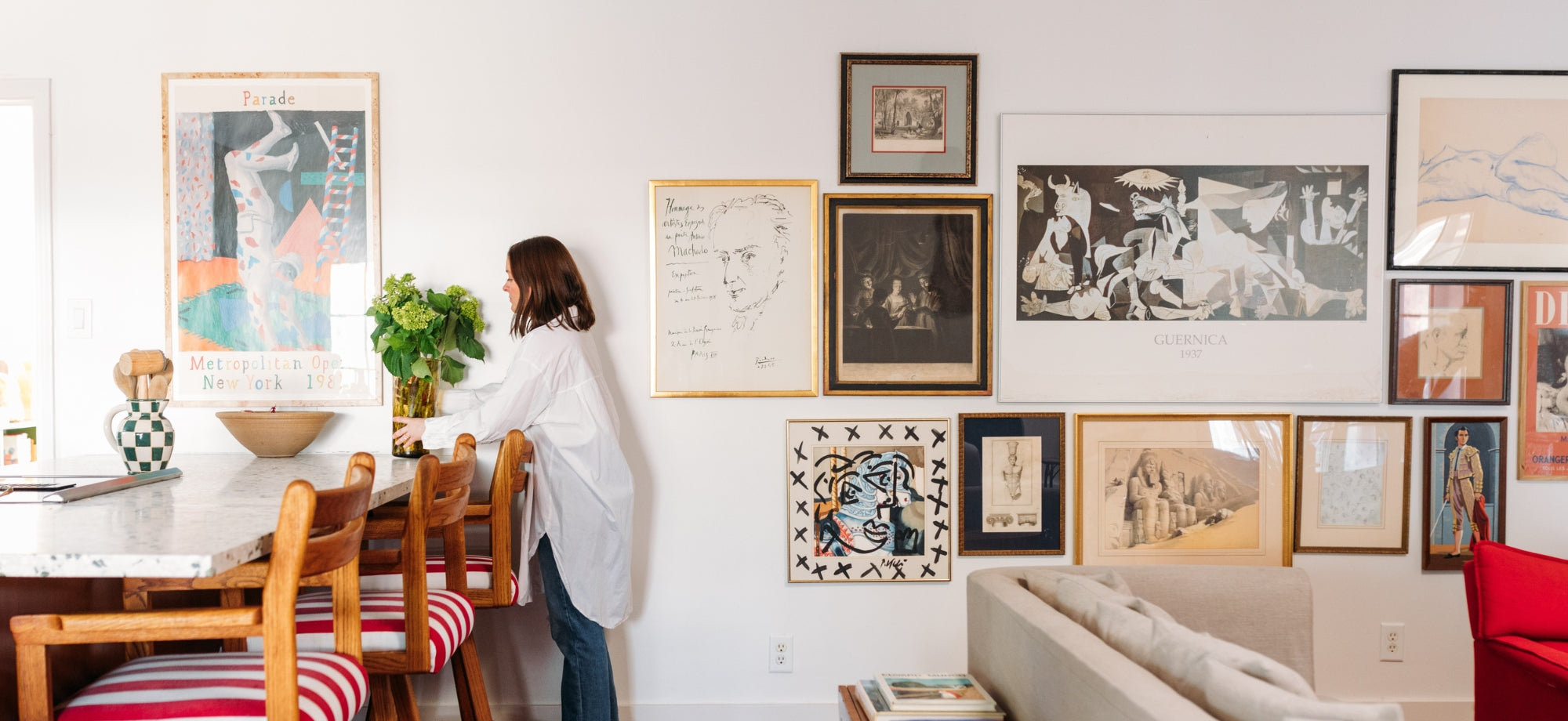 Brand designer, art consultant, stylist, and curator
85/ The Tastemaker: Kaitlyn Coffee
We first came across Kaitlyn Coffee's curatorial eye through a post of her own gallery wall on her viral account Harris Vintage. We were immediately hooked to the effortless, classic, and playful style of the Dallas-based creative, whose home has become a personal gallery of second-hand decor displaying a range of unique pieces from antique prints and art books to masks, statuettes, and Asafo flags.
Having been endlessly reposting her curation of recent projects and inspiration, we had to invite her to be a guest in our journal. Here we chat with her about the origins of Harris Vintage, how art influences her work, and where she gets her inspiration.
Discover Kaitlyn's art curation

Tell us about yourself and how Harris Vintage was born.
Hi! I'm Kaitlyn and I am a creative living in Dallas, TX, with my husband and two sons, and I love to scour near and far for vintage art and decor. Harris Vintage was born 6 years ago out of a need to clear out my house of some of the vintage I had been hoarding and make more money to feed my vintage shopping habit :)
I started it 3 months after having my first son, hence why it is named after him (Harris). It has since evolved to a space where I share art, movies, and people that inspire me as well as a place to post my recent projects, my house, and houses I wish were mine! I also post stories of my estate sale, thrifting, and antiquing adventures.
You wear many hats as a brand designer, art consultant, stylist, and curator - which aspect of your work enables you to be most creative?
I would say styling is the aspect that enables me to be the most creative. I love creating a scene from objects I have found that people would never think go together but they do. I like to think of people's homes as movie sets almost, what reflects the people who live here? I love the storytelling a house can do through styling and decor.
How does art influence your work when working for brands and styling for yourself?
Art has a huge influence on every part of my work. Be it searching the MET archives for research when starting a branding project or obsessively collecting folk art to use for styling.
I also collect art books I find at estate sales and when I'm not at my computer working you can usually find me reading one of them. The way some artists use color is a huge inspiration for me in every aspect of my work. A recent one I received for Christmas is the full record of Peggy Guggenheim's collection in Venice.
Harris Vintage is a treasure trove of fun and unique interiors, where do you go to for inspiration?
Movies…Artists' homes, books by Stafford Cliff like "The Way We Live"…estate sales! I read design books from the 90s for inspiration and I've mastered Pinterest and still use it for inspiration daily. I also love Atlas of Places.
I also love T Magazine for inspiration and subscribe to the New York Times just for that! They are top of the game in terms of seeking out and telling stories of collected homes of creative people.
How does your work inspire your personal style?
Well…I think my personal style is really similar to my interior style...vintage, second-hand, relaxed, sticks to a color palette (which is important because it makes thrifting easier for home decor and clothes.) I create color palettes for brand clients all the time so making them for a home or my closet comes without much effort cause I've been doing it for so long and know its value!!
If you could live in anyone's home who would it be?
Any of Ernest Hemingway's houses. They all have a perfect balance of masculine and feminine and are very collected and have lots of books! I also love the floors and color palette of them all.
What is something you can't live without?
Music and my kids…I also can't live without being surrounded by beautiful, interesting, and visually stimulating art and objects. I have had to live in a very sterile gray environment somewhat recently and it literally altered my mood!!! 
QUICKFIRE ROUND
Style muse? Depends on the day ;-)
Song on repeat? Only You Know by Dion 
Favourite interiors piece in your collection? A folk mask from Mexico
Favourite item in your curation? Sunset Snake Pit by Colette LaVette
Favourite movie for its set design? Anything by Eric Rhomer or Call Me By Your Name


FOLLOW KAITLYN
Photography by Kelly Christine
Kaitlyn Coffee's Curation
Table of Tomatoes

Sold

I love food in art, especially when it's tomatoes…I also love the naivety of this style of art.

Fired Earth

Sold

That red orange color will now live in my mind forever…

A moment 02

I'd love to see these all framed together in one big square frame :)