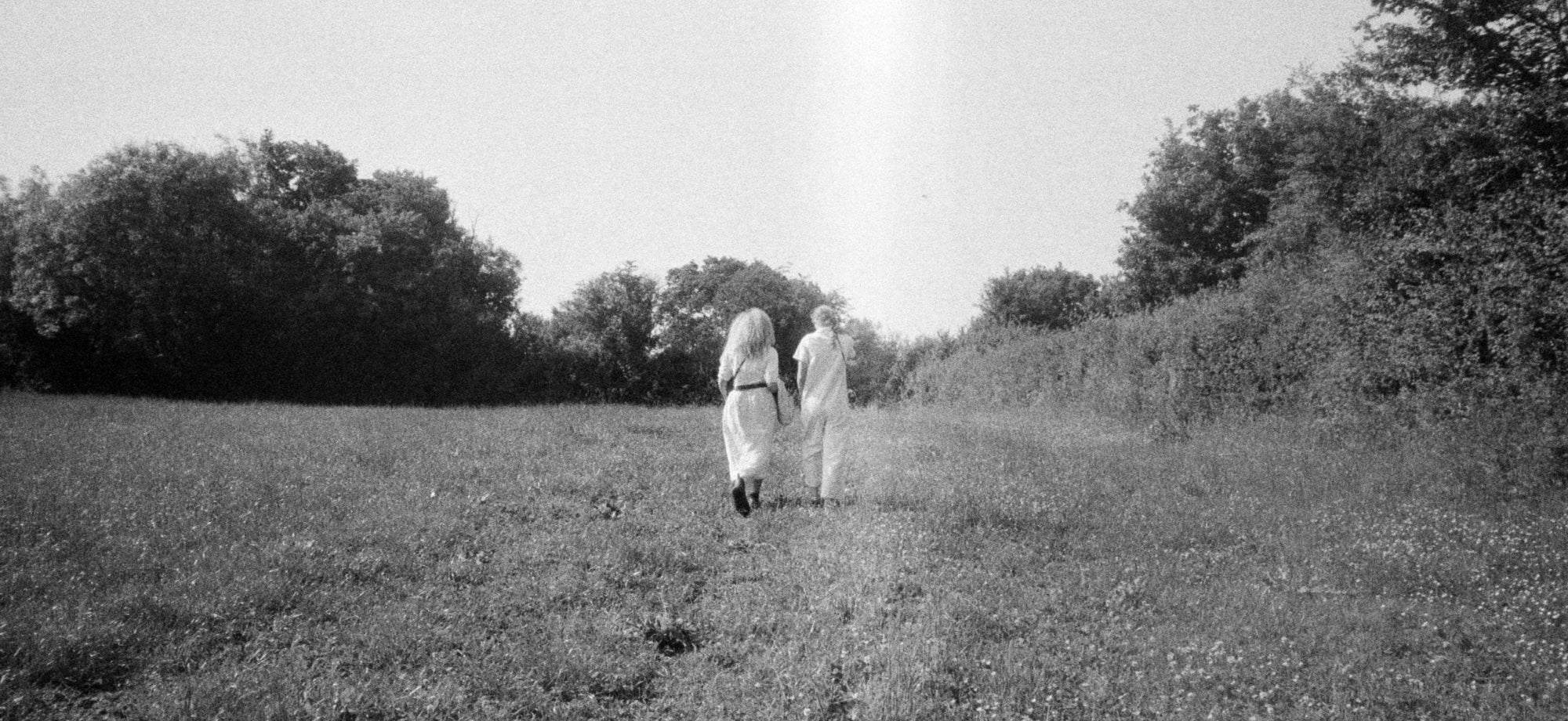 Photographer & Florist
92/ Conversations with Friends: Lottie Hampson x Kitten Grayson
This week we were given the absolute pleasure of listening in on a conversation between Partnership Editions artist and photographer, Lottie Hampson, and florist and grower Kitten Grayson.
The two met last year during a sunny summer's day in Kitten's garden in Somerset, where they worked together on a campaign and film for Marazul highlighting both of their work. 
During this visit, Lottie captured the sea of white and pink foxgloves in full bloom that surrounded them on that day, which became the inspiration for her latest collection of photographs and drawings, 'Foxgloves'.
Here, accompanied by Lottie's ethereal photographs, the two discuss taking inspiration from the natural world, their shared love of the foxglove, transience, and how to capture fleeting time. 
Kitten: I love how you always seem to capture the atmosphere and a sense of time - even the temperature and the sounds of the place seem to be caught in the moment. What does your process look like in order to capture this? Is preservation of this moment something that informs your creative process?

Lottie: Thank you, Kitten! It's interesting that you say my work captures a sense of time because I think I am often trying to stop the feeling of life passing too quickly by documenting it; freezing moments in a frame so that they become timeless. There definitely is a diaristic aspect to my work, and I am a very nostalgic person which winds up in my constant desire to capture and preserve.

Photographing almost exclusively on film forces slowness and a certain level of consideration for what I decide to capture. There is a physicality to the process that you don't get from working digitally, also for the fact that you end up with an artifact from the photoshoot. A tiny image of the captured moment etched with light onto a roll of film. It's a process of precious preservation.
Kitten: What climate and landscape has really inspired or captivated you in the past and what was it that drew you to it?
Lottie: I've been fortunate to spend lots of time abroad, and I love seeing new places with fresh eyes. But I tend to find that the landscape of home is the place where I feel the most urge to pick up my camera. I suppose the familiarity of it allows me to comfortably explore it in depth.
My mum's side of the family is from South Wales, and I've spent my life going to that area- the valleys, the Black Mountains, the Brecon Beacons… I've made lots of work there, for the most part, because I want to explore the presence of my female ancestry in the landscape there. More recently, I have spent lots of time in South Devon, on the River Dart. There is a sense of abundance in the landscape which feels otherworldly. Trees and hills and hedgerows combined with rivers which lead out to the sea. When I think about it there I picture dappled light on the water's surface and it's a space that feels safe. I've never been a big fan of wide-open spaces because I don't know what to focus on.
I was about to say that I can't imagine a more magical time than this time of year in England- the end of May, early June - when everything is green and wild and the hedgerows are exploding. But… if you ask me in September or October I can guarantee I will be gushing about how obsessed I am with Autumn and all that it brings. I'm indecisive!
Kitten: We started our conversations about foxgloves. Can you tell me what it is about the foxglove that you love? Is it the form, the colours, the folklore, nostalgia? Are there any other flowers that you find particularly inspiring, or do you have a favourite flower to photograph?

Lottie: Yes! I can't tell you how much I think about that day we spent in your garden with the foxgloves. I think I'm a bit like you Kitten, in the sense that I always loved fairy tales (and the flower fairy books!) so I can't deny that there is an element of the fantastical in my love for flowers. When I was little I spent hours building houses for fairies in the garden out of petals, leaves, and twigs. Foxgloves feel particularly magical with their towering stems, pastel-y colours, and speckled interior.

Also, my grandma Sandra, who was from South Wales, loved foxgloves. When she lived in London she had a tiny garden, and in my memory, I remember it being filled to the brim with foxgloves and lupins, alongside her roses. Foxgloves grew in planters along the windowsill of her home too, and she made paintings of them, often alongside foxes. Foxes get a bad rep, but Sandra loved them – a love I inherited. Like foxgloves, they are wild and beautiful, and mystical.

And regarding other flowers, I do love photographing dahlias. They have such a satisfying velvety roundness, and they persist as we move into the colder weather of October, after lots of other flowers have given up.
I'd love to see your dahlias this autumn… maybe another photoshoot is on the cards...

| | |
| --- | --- |
| | |
Lottie: Okay I'm starting with a basic one - what is your favourite flower and why? I feel like this might be a hard one to answer…

Kitten: This is a very hard question, I have such different deep connections with so many, and they all lead me to different feelings and emotions. Many of them open gateways and tell such different stories. There is so much folklore and healing around each of their essence that is very hard to pick one, and each season brings new beauty. This spring I have been spending a lot of time with the Hawthorn tree. She is so generous with her clouds of blossom for the bees, a wise real beauty amongst the hedgerow.

I also love the wild dog rose, with her armour of thorns. She has a sensitivity about her. The presence of the rose is also very good for the heart, a healer.

The foxglove is of course very special to me also. Also known as fairies Fairy Caps, Fairy Gloves, Fairy Thimbles, Fairy Herb, Fairybells, Fairy-fingers, Goblin Gloves, Fairy Petticoats, Fairy-weed. They have a real mystical feeling about them which I love and look forward to every year on the farm.

Lottie: Where do you find inspiration for your garden and flower installations? Is it from other gardens or artworks you've seen or maybe from your imagination?

Kitten: For me, inspiration comes from immersing myself into the awe and wonder of what Mother Earth has given us. Growing flowers and plants keeps me so connected to the outside world, the changing of the seasons, and the wheel of the year with its reliable rhythms and cycles. All the folklore, the stories, the imagination are all weaved together from that natural rhythm.

Imagination has a huge part to play. I have always loved fairytales, folklore, stories of Greek gods, and starry skies. Our creations in the studio are continuously inspired by this rich inner world, which plays like scenes of an old film in my imagination, worlds of forever evolving landscapes and gardens. Forests, streams, mountain tops, rivers, meadows; it all just moves and changes shape depending on the inspiration and needs of the client.
Lottie: I loved photographing your foxgloves (and other plants for that matter) because I have an urge to preserve. I'm always in pursuit of the seasons and trying to capture them but of course, they're transient and I'm always left wishing I had made more of the daffodils and the dahlias, the elderflower and the foxgloves… I guess that's why I'm drawn to photography as a medium. How does it feel knowing that everything you grow is ephemeral?

Kitten: I think there is such a deep beauty to be found in the ephemeral. Fleeting beauty wraps its arms around you and when it's ready slowly lets you go. The delicate blooming of a flower is here to remind us of the fleeting beauty in life, and in its constant rhythms and cycles. Beauty sustains us, it visits us in flurries and we feel most alive in its presence. I believe that having this deeper connection to beauty and its ephemeral nature is calling you home to the inner world that is in all of us.

My everlasting installations attempt to capture that fleeting moment of beauty within the season, preserved in time. Flowers are transformed by natural drying processes, evolving into new, beautiful forms. These create living pieces of art bringing nature's wild beauty into manmade spaces.

| | |
| --- | --- |
| | |
Lottie: Do you talk to your flowers?

Kitten: Yes I do. I have always had a very otherworldly connection and dialog with flowers, plants, and trees.
FOLLOW LOTTIE & KITTEN
Discover Lottie's latest collection 'Foxgloves'
Black and white photography by Rob Thorogood
Foxgloves by Lottie Hampson