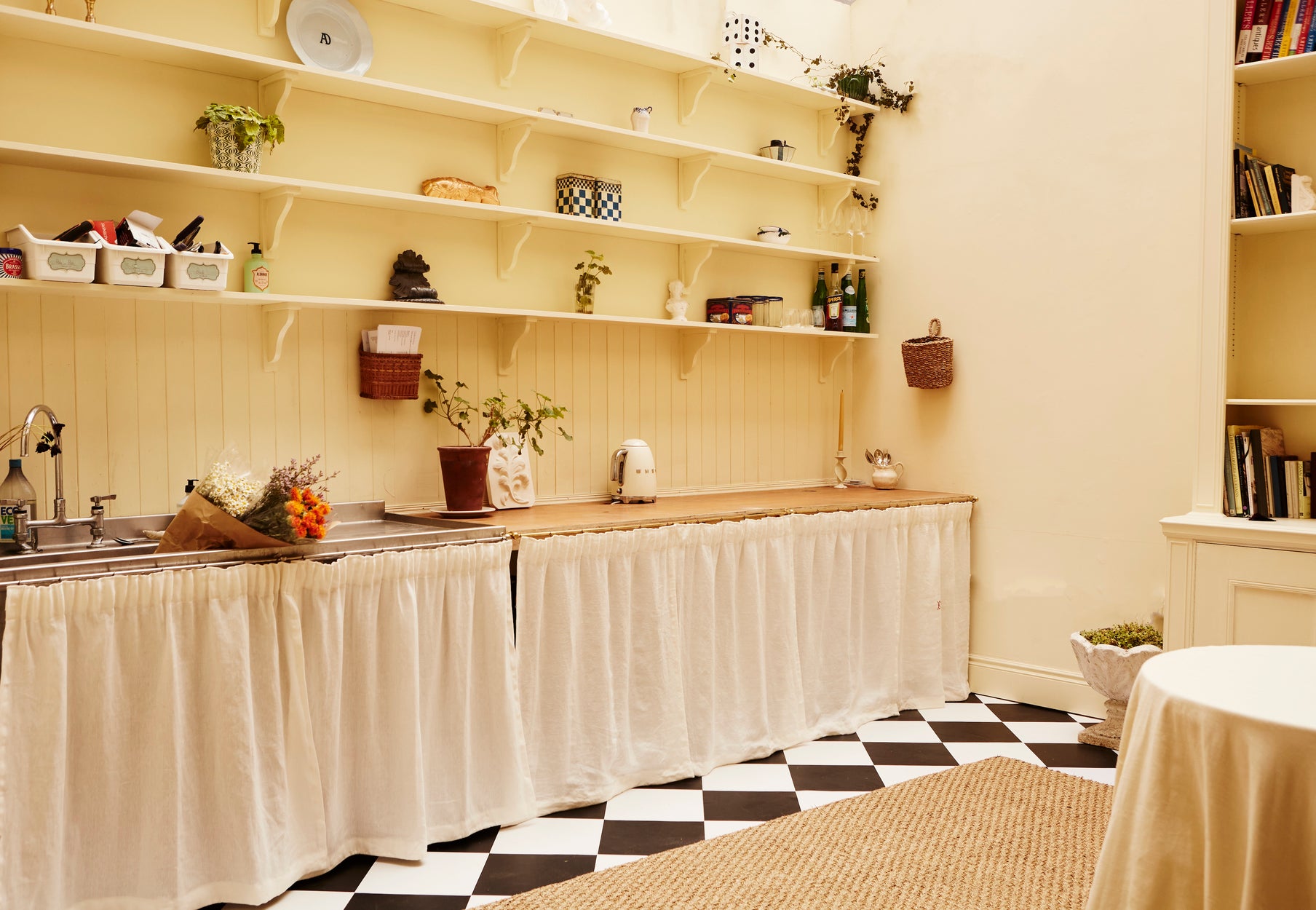 Founders of East London Cloth and Gracious Spaces
94/ Trade Secrets with Gemma Moulton and Grace Wasyluk
June's Trade Secrets is with Gemma Moulton of East London Cloth and Grace Wasyluk of Gracious Spaces, who teamed up earlier this year to offer interior design consultancy from East London Cloth's beautiful Vyner Street home. The delightful pair tell us about how they both got started, together and apart, and how they use textiles to elevate interiors. They also share with us their favourite spots in East London for a bit of interiors shopping. 

Gemma, firstly, how did East London Cloth come into being? 
I had decided to retrain in traditional upholstery and soft furnishings in 2015. Although I loved the nature of the work, I found making things to other people's specifications creatively unfulfilling. I had always wanted to move away from maker and more towards retailer, but struggled to find the time. When covid hit in 2020, a few cancelled contracts gave me the time and push I needed, and East London Cloth was born. 
How did you both first meet and how did you decide to work together? 
I discovered Gemma on Instagram in August 2020, recently after East London Cloth was established. I was working on a large house in West London and was sourcing various window treatments and textiles. After numerous emails we finally met up to discuss fabric options on a bench in the middle of De Beauvoir square - COVID times! Gemma's passion for fabric was palpable and we were aligned on many of the stylistic ideas and executions such as sheer linens/curtain pleats/types of poles.
We worked on a number of projects together and then as East London cloth developed I was able to use their off the shelf products and made to measure items. Gemma and I remained a sounding board for each other whilst developing our own brands. The opening of the studio was a natural segway to find a way to work together once again. 
Grace, what are your favourite ways to be inventive with textiles in an interior? 
I've always had a passion for textiles, my Dad was a textile agent and my Mum was a fashion designer so subconsciously the importance of fabric resides in most schemes that I design. 
Many of my clients need to adhere to a "sensible" budget so I need to be inventive on where and how we can use textiles for maximum impact; where to splurge on fabric in a scheme or to save. Bespoke curtains are an investment but if the budget is tight we may use a more cost effective fabric for the main body and then embellish with a braid or trim to elevate and add a personal touch. Likewise, I always encourage my clients to purchase antique chairs which we can then customise using fabrics, not only does this create a unique piece but it's also sustainable and supports small dealers & artisans. Fabrics and how they are used also enable you to elevate the practical items which are key to the useability of any space, divan storage beds can be transformed by a valance and an upholstered headboard. Fabrics and how they interplay with the other pieces in a room can generate such pleasure and convincing clients to use them is a joyous part of the job. 
| | |
| --- | --- |
| | |
As fellow East London residents, we'd love to know, what's your favourite local spot for interiors or textile shopping in East London?
Claybrook Studio on Curtain Road is beautifully designed, well crafted tiles at competitive prices with super helpful staff 
JH Lee on Columbia Road is a treasure trove of unique pieces from artwork to unusual objets, I always lust after something whenever I visit this shop! 
Otto Tiles on Ash Grove offer a superb collection of Encaustic and zellige tiles with divine colour pallets 
Floor Story is East London's friendliest rug dealer, offering a vast array of handmade custom rugs which include some exciting collaborations with new design talent. Their new showroom in Shoreditch is definitely worth a visit
Straw on Columbia Road is an independent shop owned by a husband and wife duo championing makers & artisans countrywide, speciailizing in vintage straw, wicker and crochet 
Mason & Painter on Columbia Road, a delightful emporium that mixes vintage furniture and homewares with plants
Common Room in Hackney Downs Studios sells artist designed wallpaper, art and homewares. When you buy a CommonRoom wallpaper, you're supporting a small business, British industry and artists too
Favourite tips to add a personal touch to a client's home?
Really focusing on the person/family that's living there - actually viewing things from their perspective. If they are not the tallest person then don't hang art or mirrors too high and don't build impractical storage that they can't reach! I always strive to include little touches that will make my clients lives easier like a well organised utility cupboard. It goes without saying that books, antiques and artwork are imperative to add a personal touch as these are individual. I enjoy the challenge of having to include sentimental items that may have been passed down or those pieces that have a story as they bring authenticity to a room whether that's a children's drawing or pieces collected on their travels.
If you could have one work of art in the world hanging in your Vyner Street shop, what would it be?
St. Francis and the Birds by Lenore Tawney
FOLLOW GRACE AND GEMMA

Grace and Gemma's curation