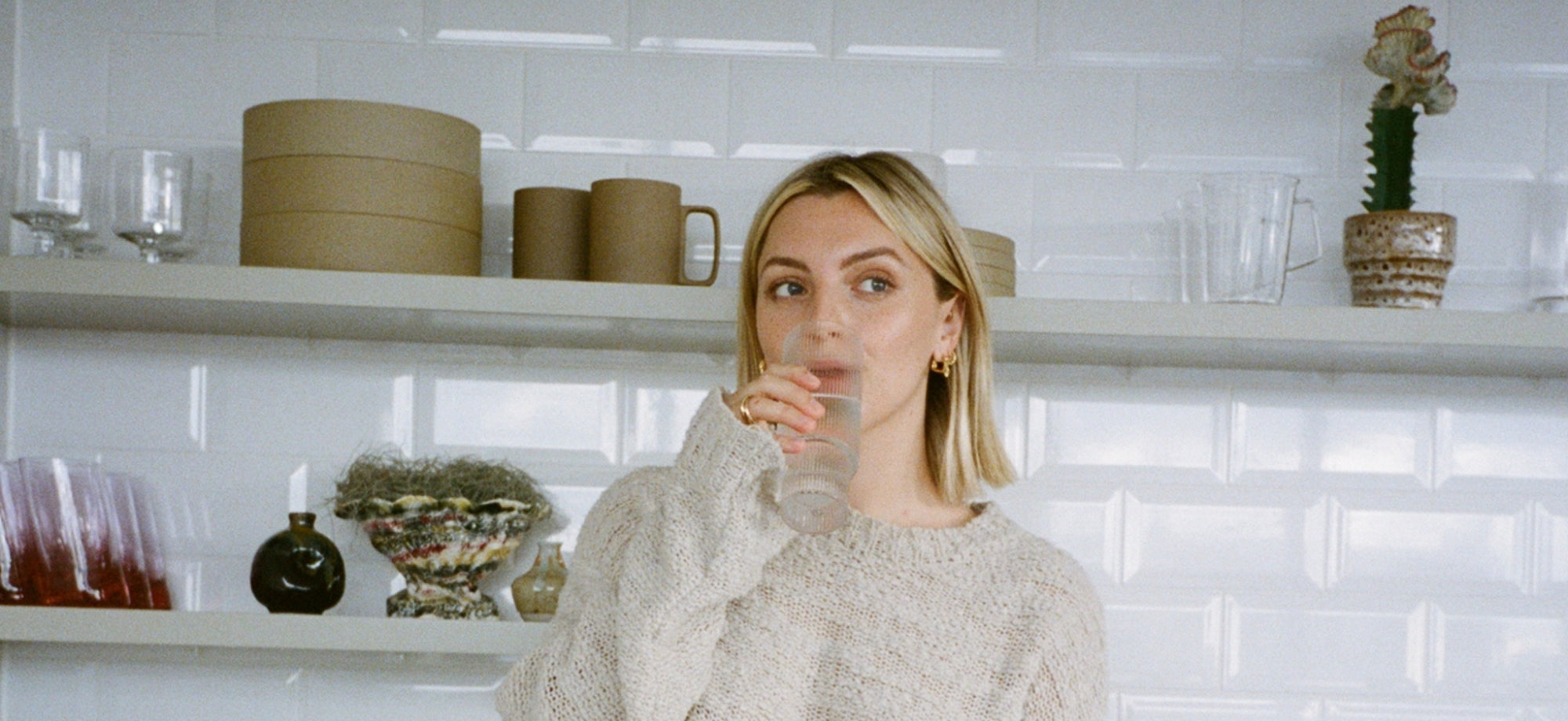 Founder of Mirror Water
97/ The Guest Curator: Estée Lalonde
In 2021 we had the pleasure of talking to Estée Lalonde about the recent launch of her lifestyle community, MIRROR WATER. Two years, and with a full range of body and self-care products later, we're excited to catch up with her as she becomes one of our first Guest Curators.
Here she shares a tip for anyone starting their self-reflection journey and her favourite places to go for inspiration and a summer dip.
To celebrate Estée's curation inspired by bathing and self-reflection, we're giving away a bundle featuring Josephine Birch's 'The Swimmer Print' and MIRROR WATER's Set The Mood Set and Journal. Find the full details on how to enter at the bottom of the piece.
 PHOTOGRAPHY BY REBECCA MUNROE
If Mirror Water was an artwork it would be...
We'd be "Wetlands" by Cecelia Reeve! To me, this work feels like a grounding bath that brings you into nature and forests… basically, everything I want MIRROR WATER to represent.

Favourite spot for a summer dip?

Lisbon – I went surfing there for the first time ever this month and had the best time… otherwise, my bath! Surprisingly it cools you down when it's hot outside.
Could you share a tip for anyone starting their self-reflection journey?
Don't put pressure on yourself to achieve everything right away. I always say to just check in with how you're feeling and listen to what your body and mind needs in the moment – whether that's cancelling your evening plans to soak in the bath, going on a walk in nature (even if it's quick), or having a cheeky glass of red wine after work.

Historic narratives of wellness that push things like hyper-productivity and presenteeism don't enrich us, it's more about reflecting on what you need right now.
What is your favourite way to decompress?
Taking a bath – especially with MIRROR WATER's SOAK Bath Salts. During the pandemic, I took a bath every single day to decompress, reflect, and cope – it was such an important space for me to process what was going on in my life, and ultimately led to me creating MIRROR WATER.
Where do you go for inspiration?
As a child, my mom always told my brother and I to go on walks when we needed to think. Now – whether I'm going on a longer walk in nature or just a quick walk with my dog Effie – I always find myself thinking of new ideas or inspirations while I'm out walking.
FOLLOW ESTÉE & MIRROR WATER
@esteelalonde / www.esteelalonde.com
@mirrorwater.earth / www.mirrorwater.earth.com


Enter the MIRROR WATER x Partnership Editions giveaway

WIN:
-The Swimmer Print by artist Josephine Birch
-Set The Mood set: SOAK Bath Salts & SMOOTH Body Oil
-The Mirror Water Journal 

TO ENTER:
1. Follow @mirrorwater.earth & @partnershipeditions on Instagram
2. Sign up for our newsletters - MIRROR WATER & Partnership Editions