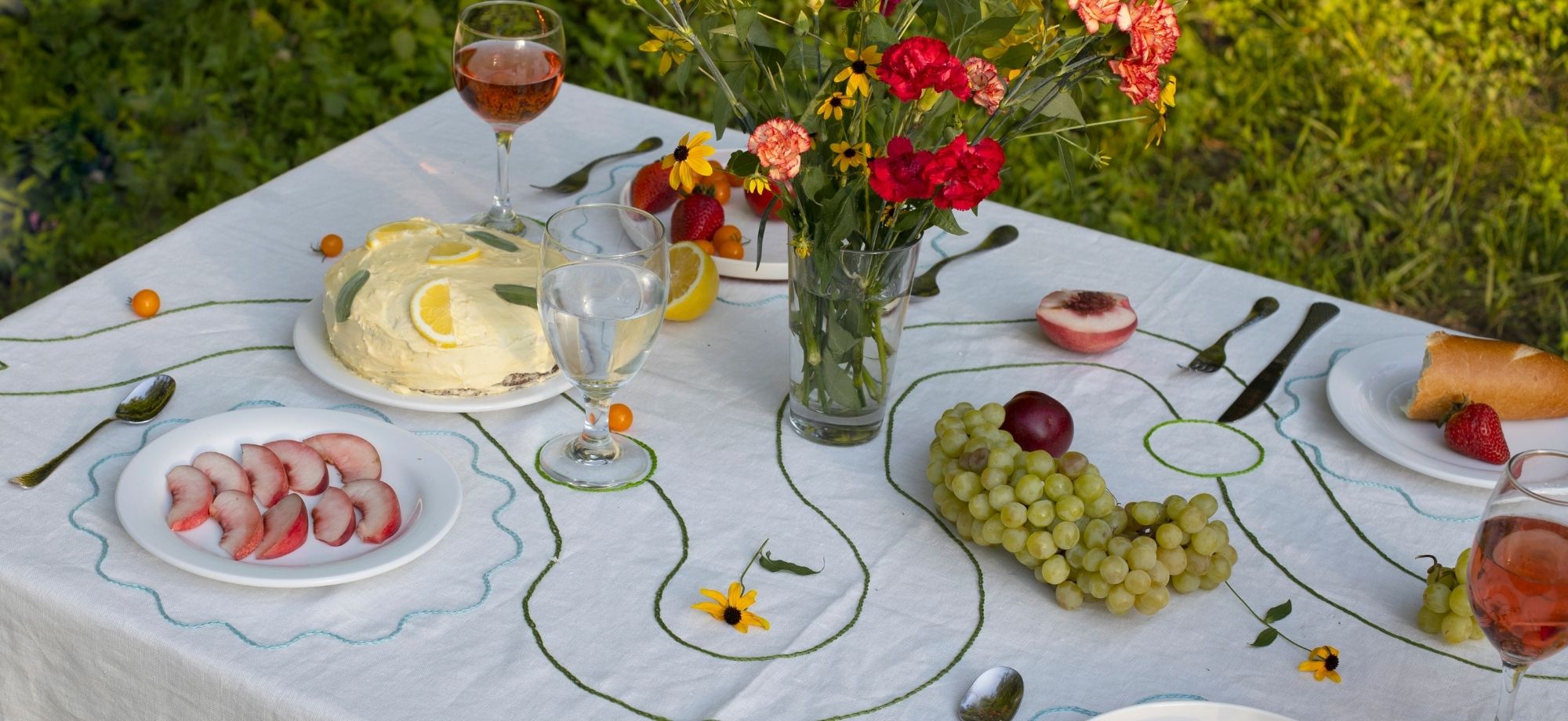 Collage artist and interior designer x photographer and set designer
12/ Conversations with Friends - Ruby Kean x Jill Burrow
Introducing Conversations with Friends - a new journal series inspired by one of our favourite authors, Sally Rooney. Rooney's work is known for its honesty and stark reality, and in the same vein of honesty and reality, we hope that this series will be a departure from the standard interview questions that artists and interviewees tend to get asked. Here, we invite a Partnership Editions artist to choose a friend, muse, fellow artist or family member with whom they exchange questions and dialogue, giving you a totally fresh and intimate insight into the work and lives of both.

Kicking off the series is collage artist and interior designer, Ruby Kean, who has selected photographer and set-designer Jill Burrow. The pair had been long time fans of each others work, and recently collaborated on a photoshoot that depicted dream-like picnic scenes that were the perfect form of escapism in lockdown. The imagery (featured throughout this piece) displays Ruby's hand-stitched table linens, which are seen adorned with Jill's signature playful food installations that you may well recognise from her cult instagram following. 
We invite you to pull up a seat at their table, and listen in to a conversation between two friends...

Ruby Kean is a New York-based artist, living and working between New York and London, her hometown. Working predominantly in 3D collage her 7-year career in Interior design has informed a style which encompasses space, depth, and texture. Ruby's work is both charming and intriguing as she combines a vast array of elements and materials with a strong sense of design.
Jill Burrow is an American photographer, set designer, and mother of two based in the Midwest. Her work ranges from still life to fashion. Jill seeks to intrigue observers by teetering the line between reality and surrealism. In her imagery, she combines the ordinary with the uncommon while using beauty as an anchor to tell a story.
JILL'S QUESTIONS / RUBY'S ANSWERS
Jill - How did you get started as a creative, as an artist?
Ruby - I have to say I'm not really sure. I've always made things and needed creative pursuits to feel sane.  Alongside my career as an interior designer, I think it happened quite organically.
Jill - What does an average day look like for you? I want to know it all!
Ruby - I like to wake up early and write for the first 20 minutes of the day. This is a very new practice for me but something I'm really enjoying. I usually have 2 breakfasts - a bad practice but also heaven because it's my favourite part of the day. Typically tea and toast for first breakfast and chunks of papaya and lime for the second.
Work begins around 8 AM if I'm working from home. My dining table is my desk and I like to sit by the window and watch the scenes of East Village New York unveil throughout the day.
I take a walk at lunchtime and sit in the park with a matcha or a pal, flicking through World of Interiors or whatever book I'm reading. In the evenings, I'm at my ceramic studio or working on collage commissions or my latest Partnership Editions collection.
I then head to dinner around 8; somewhere cute and local like Sake Bar Satsko. I'm really lucky to live just around the corner from one of my favourite New York jazz bars, Rue B, which is usually where I end the evening.
Jill - If you could spend a day with any artist/photographer/designer from the last 100 years who would it be?
Ruby - Interior designer Axel Vervoordt.
Jill - How do you stay inspired? What do you do to get out of creative ruts?
Ruby - I scrapbook endlessly. It's a great tool for revisiting old inspirations or resources I have saved. Flicking through past sketches or notes always helps to get me out of a creative rut. If that doesn't work, I try to just let things flow in a less pressured way. If I'm creating something that's just for myself it becomes very instinctual and playful and it usually pushes me out of a creative jam, so I can get back to a project. Long early morning or evening walks are also a must!
Jill - If you could travel anywhere in the world right now where would you go?
Ruby - Brienzer Rothorn Mountain in Switzerland or the Lowland Forests of Madagascar. 
RUBY'S QUESTIONS / JILL'S ANSWERS
Ruby - Working with you is such a pleasure - I learnt your process moves between a highly curated and thought and process juxtaposed with creativity that's entirely instinctive - which would you say is most important to you?
Jill - Thank you. :) Over the years I've learned to become best friends with a methodical process in order to really utilize my skills for client work. It's been important to have a set process going into each project because it ensures deadlines and objectives are met but this instinctive creativity, as you put it, is what creates the magic. Sometimes it gets difficult to have a perfect balance between the two because I really have to bring myself to a place of peace and clarity to give room to the deep, beautiful art but not go so deep into my creative brain that I forget the deadlines and work aspect if that makes sense. It's a beautiful dance that I'm continually moving through.
Ruby - Where do you find inspiration?
Jill - I find inspiration in nature and the sun's gentle presence in the evening. I also find inspiration in resistance. I've gone through my own journey of resistance against life as I knew it growing up and one of the strongest forces in my work is resisting the status quo. I try to see the world for how it could be not as it is.
Ruby - I adore the locations you chose in your work - I think they are so indicative of your aesthetic. Do you have lots of fun scouting special spots for your shoots? 
Jill - I have a lot of fun scouting locations, it's nice to be able to dream up a scene in the spaces I visit. It's almost a moment of peace and tranquility before the storm that happens when setting up.
Ruby - You work with a variety of mediums, which is your favourite to work with?
Jill - Hmmmm I would say my favorite medium to work with is food, specifically fruits and vegetables. Food from the ground is so vibrant and full of energy, no wonder it is magic in front of the camera.
Ruby - If you were stranded on a desert island, what luxury item would you want to have with you?
Jill - Without a doubt I would choose a bed. Give me a good night's sleep and I can conquer anything! haha 
Ruby and Jill 's curation
Summer's Sunday I

Sold

"I adore how architectural Emily Forgot's work is - to me its just magical - this one has to be one of my favs." - Ruby Kean