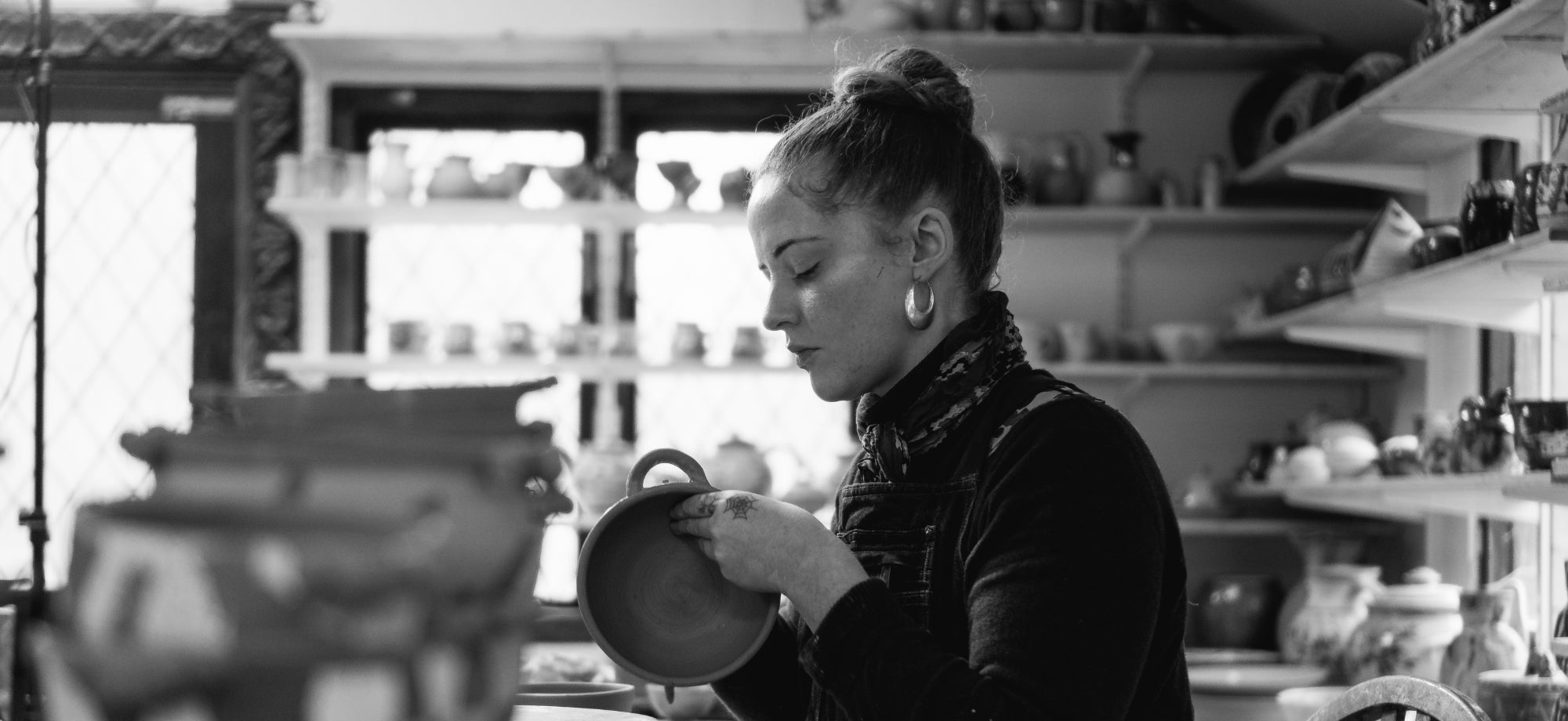 Sophie Frost is the founder, maker, and creator of "Dea Domus". A multi-disciplinary artist specialising in; ceramics, sculpture, and furniture, whilst working through the boundaries of fine art, design & craft.

Sophie's visual language evolved and was explored through her formal fine art training at the Slade School of Fine Art, which led to her interest in ceramics as a way of marrying the two specialities. After graduating, she undertook a formal studio pottery apprentice role which led her to create her own multi-disciplinary studio.

Aiming to blur the boundaries between form and function. Creating one off pieces by hand in ceramics and wood, Dea Domus pieces are often emulated from drawings and the artists visual language of shape and mark making.
Read more
About Dea Domus' Practice
Sophie works traditionally on the wheel and makes her glazes and decorating materials from recipes developed over time. She works with clay for the freedom she finds when executing imagined shapes and forms on the wheel. She connects to curves, domes and spheres which are the most instantly gratifying for her to make on the wheel.
Working on collections, she responds to concepts response through different shapes, naturally thinking about form with a desire to experiment.
Sophie is influenced by the Avant guard group of Italian designers from the 1980's, known as Memphis. Their ethos with testing the objects role and esthetical conditioning within society is what really fuelled her designs for her debut lamp series for Partnership Editions.
"I hope my work sparks imagination, as I work in a traditional process but the work is often playful and explorative of forms outside of the traditional. Often my shapes and ideas are in response to Neolithic artifacts that are so complex that it is hard to understand how it was made thousands of years ago. I hope to evoke that kind of intrigue with my work and the viewer's connection and understanding to pottery and ceramics in general." - Dea Domus
Shop by Collection
Nu Blue Memphis
"The Memphis collection is a focus on how ceramics can embody a function beyond the traditional. The sculptural play on lighting and ornament pushes the role of purposeful decoration as well as practical aspects within a space. I wanted to create pieces that were forward thinking in their design whilst referencing a sense of architecture and remnants of ancient cities and civilisations. Each piece references a sun, a moon or a bead, those of which I find personal connection with those concerning nature, spiritual and archeology." - Dea Domus, Nu Blue Memphis