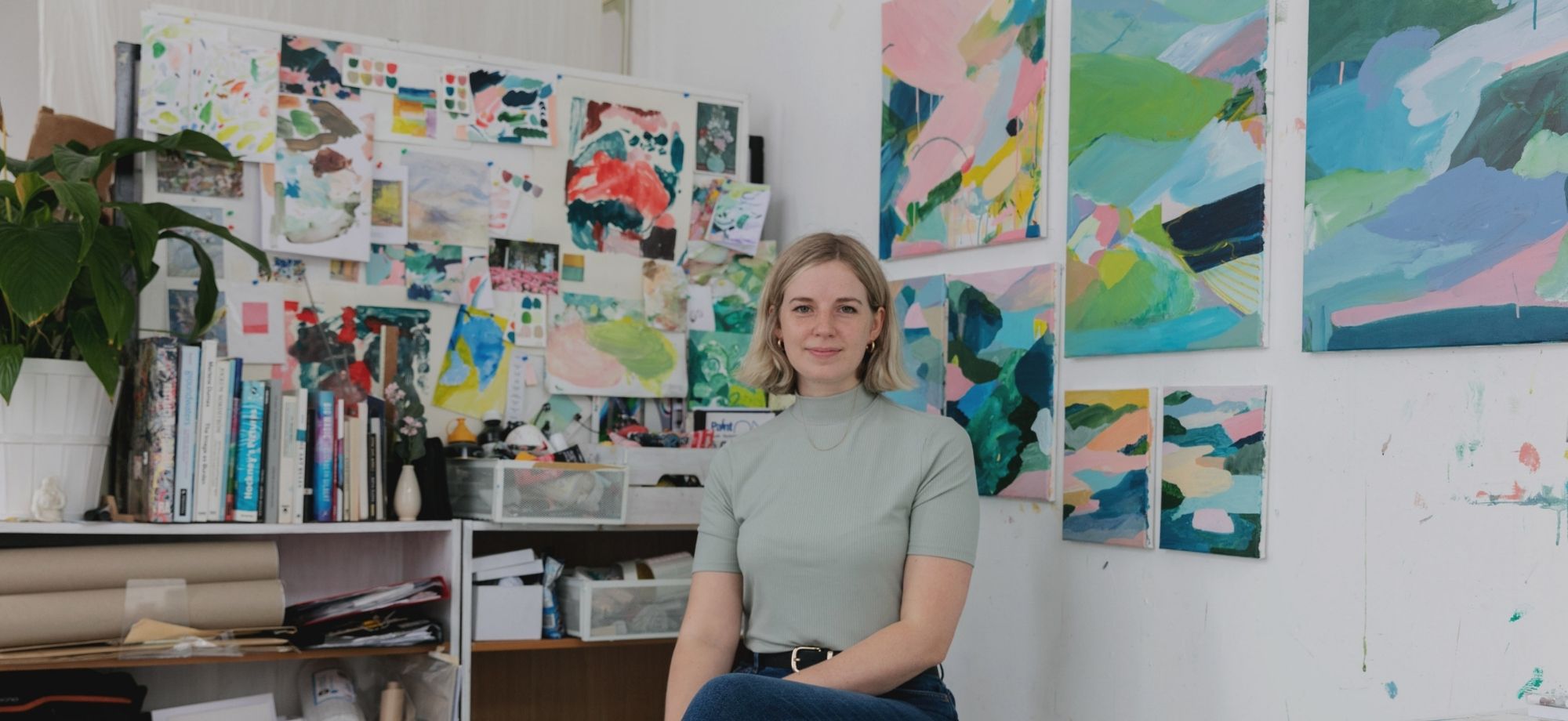 Laura Gee is a London based artist who works across painting, drawing and ceramics. Laura's practise reflects her interest in nature, colour and emotion. She uses the unpredictable nature of paint to express the impermanence of emotional states and nature. Inspired by the ever changing seasons, her art is a way of slowing down and elevating small everyday encounters of nature and love.

She graduated from The School of Art in Manchester and moved to London where she took drawing courses at the Royal Drawing School. It was here that she realised she was more interested in merging observational drawings with abstraction, and using colour and mark making to express mood and emotions. Her work has since been exhibited at The Garden Museum, Dulwich Picture Gallery, Bankside Gallery and Liberty London. Laura was the winner of the Partnership Editions x Artist's Residence emerging artist award in 2019. 
Read more
Laura's Style
A colourist at heart, Laura's work is heavily influenced by Fauvism and Expressionism and how colour and mark-making can be used to imply a certain mood or emotion. She particularly loves the work of Ivon Hitchens, Matisse, Pierre Bonnard, Alma Thomas and Howard Hodgkin. Laura applies thick paint with bold mark making, lots of layers and painterly gestures to set a mood and energy in her work. She embraces this instinctive process, then refining her abstractions into more recognisable elements.
Laura's process usually starts with "en plein air" paintings made across different meaningful places that she visits, always keeping a sketchbook with her. Back in the studio, she then creates many studies, adding and editing away the painterly marks until she feels freer, and no longer has to reference the drawings. She says: "It is in this space I try to get the essence and mood of the subject rather than imitate it. I start to rely on my personal connection to the subject to evoke a mood through colour and marks. When referencing these studies on the canvas, I always work on a few paintings at once, so the energetic marks are translated across a few works at once and the idea that the canvas is precious leaves my mind."
Laura explores ideas that art, just like nature, can have a positive effect on our wellbeing, alleviating stress and anxiety: "My work is influenced by the idea of pausing to be present in moments of nature. Living in London, I have sought time with nature more and more and have cherished even small moments, such as daily walks, throughout lockdown. This notion of being present translates itself in the studio as I get into a state of flow and become totally present in creating painterly marks and colour-filled pieces."
"My paintings can be seen as an invitation to pause, as if taking in a new view, or a moment of beauty on a walk. My practise is inspired by feeling renewed and at peace in nature, even for a moment, and I hope the viewer feels hopeful and inspired looking at my works. Also I hope my paintings invite the viewer to pause and take a moment to be present to the beauty found in nature in day to day life and to serve as a reminder of being in places of nature they love." - Laura Gee
Shop by Collection