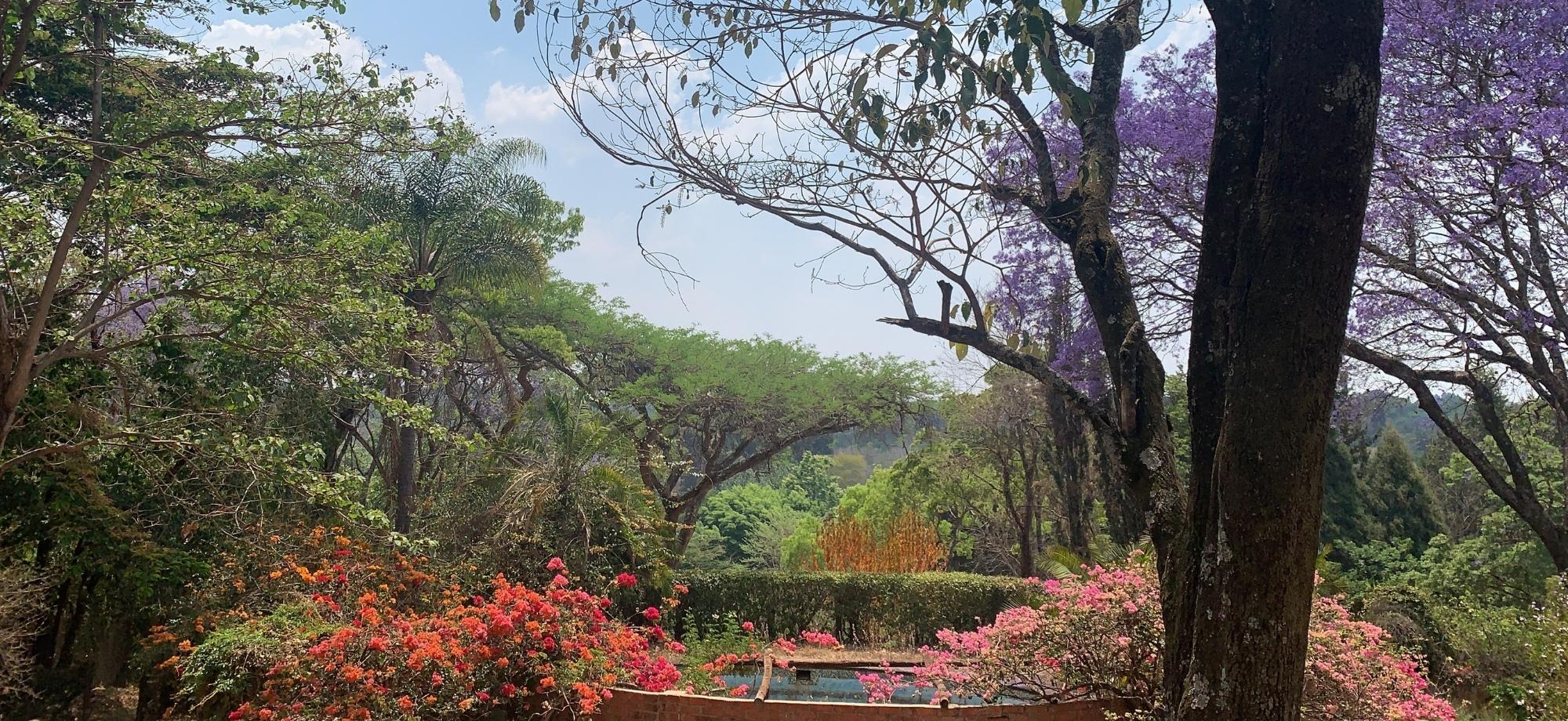 Ceramic Artist
61/ Work In Progress With Xanthe Somers
Today we are sharing a wonderful 'Work In Progress' feature by Zimbabwean ceramic artist, sculptor, and Home Open Call winner, Xanthe Somers.
We invite you to step inside the two ceramic studios she splits her time in, London's Peckham Levels studios and the scenic space in her hometown, Harare. In this Journal, Xanthe runs us through her creative practice and the endless influence of Postcolonial culture that informs her debut collection of lamps and mirrors 'Bold, Bright and Brash'.
My inspiration comes from my experience growing up in Zimbabwe, which gave me my interest in Postcolonial culture, and the drive to explore the ghosts that live with us every day. The commonplace objects we surround ourselves with are beacons that speak of the times they were made in. They tell us stories about politics, resources, cultures, and their motivations. They are not inert- they are made with a purpose.
Living in Zimbabwe made me wonder about how my ideas around refinement, value, and beauty have been prescribed to me by oppressive colonial narratives, and their persistent presence in objects that have outlived their creators. Through a sense of play, I hope to challenge my ideas of what is both normal and beautiful. We are all legacies of something and I think it is essential that we actively examine our own heritage.
When I moved to London I needed to get a job to pay the bills. So, I worked in a gallery to begin with, and to assuage my own creative needs I joined a shared pottery studio space, where I went to a couple of times a week.
I was never taught ceramics at art school so this was a place for me to play, fail, try out new things, and be creative in its most basic form. I received a grant to study a Masters in Post Colonial Culture in London and slowly my ceramics began to embody some of my learnings- or became a way to express what I was learning.
Soon the scale and experimental nature of my ceramics were no longer suited to a shared space where my pieces took up the entire kiln or exploded onto other people's work. I was then juggling a full-time job, a full-time MA, and my passion for ceramics. Something had to give, so I took a giant risk and quit my job, set up my studio, and bought my first kiln.
I get inspired on my walk to my studio every morning on Rye lane, which supposedly has the most spoken languages in the world on a single street.
I keep a notebook or drawing pad with me, all my ideas start with a sketch. I draw lots of variations until I find one that seems to resonate with the idea in my head. I then draw a slightly more technical drawing that details how the shapes will either fit together or fit into the kiln. The size of my kiln is something I have to keep very present in my mind when making anything, especially as my work is mostly very large.
I start the making process by rolling stoneware clay into long sausage rolls and slowly building up the shape, taking references from my drawings. From there the material usually dictates the shape as it depends on how wet the clay is, how dry the air is, the temperature outside, and my levels of calmness.
I feel everything I make is an intimate exchange, or a dialogue between me and the clay- with me trying to work it into shapes and the weight of the clay pulling against me morphing the clay into forms of its own creation. Sometimes I win- sometimes the clay wins- and sometimes something better happens; where the shape is a combination of both forces.
The challenge for me is battling any cracks forming. On such large scale pieces, they start drying in one place and remain wet in the other, which causes cracks. I feel like I see small cracks in my dreams (or nightmares rather). I think being a self-taught ceramicist is helpful, as I have never been told what the limitations or challenges of the medium are- I find my naivety is a form of creativity in itself.
The colours and patterns I work with are, as the title of my debut collection with Partnership Editions suggests, bold, bright and brash. They are intentionally demanding of one's attention, almost garnish, to try and challenge ideas surrounding value, beauty, refinement, and sophistication that all get wrapped into our social class systems.
I love to work with my hands. There is something magical about mixing clay with water and adding fire to get ceramics. There is a fragile creative existence between these elements, where in the midst I act as a storyteller to add meaning, shape, and form to the material.
FOLLOW XANTHE SOMERS: