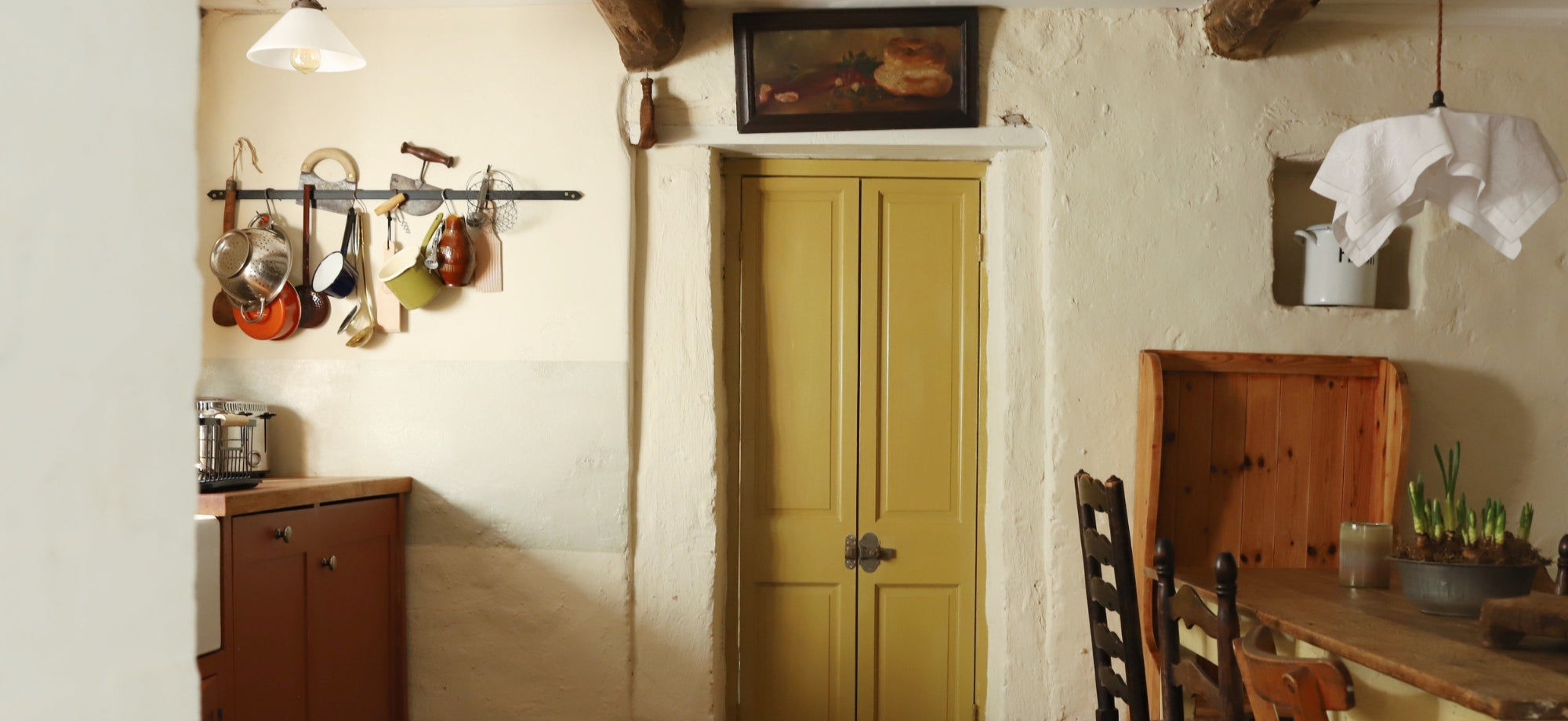 ARTIST AND CO-OWNER OF LITTLE MILL ABERGAVENNY
103/ Hang At The Little Mill Abergavenny With Leo Bruno Todd
In this very special feature, we talk to Leo Bruno Todd, the owner and creative behind the dreamy holiday cottage, Little Mill Abergavenny.
Here, Leo shows us around the family-run home, and tells us about the history of the mill, his journey with the restoration, and the treasures found along the way. 
Known for its simple and warm interiors, Little Mill had become a social media sensation. Having seen Leo's impeccable curatorial eye at work we had to ask him to be a part of our Artist Open Call panel.
Meet our Open Call Winners, and read about Leo's selection. The collection will launch 25th October.

After studying at Camberwell College in the early 2000s I went on to work in set design, build, and prop making. Alongside this, I have also worked for international galleries and museums and assisted world-renowned artists.
Little Mill is a late 16th-century corn mill, sat next to the river Gavenny. It has had many guises over the years. At one point it was owned by the local Pen-Y-Fal Psychiatric hospital that loomed on the hill above. It produced flour for the people interned there. 
After that, it was purchased by the NHS, and the local Doctor used to live next door. It fell into disrepair in the early-mid-19th century until it was purchased in the 90s by two local musicians who began the work of restoring the old building and also hosting folk concerts and recording sessions there.
We came across Little Mill when we were renting the house next door. We had just moved to Wales, and a house we were trying to buy fell through. I turned up with all our belongings in a van, two kids, two cats, and my wife Hayley, who had never even seen the house we were moving into.
We instantly fell in love with the old buildings. We never imagined we would be able to one day own the property. It was fate that the owners decided to sell when we arrived, and we were in a position to take them on.
It has been A LOT of work. We have done the majority of the work ourselves while holding down our day jobs. We have learnt so much along the way. We decided from the start we wanted to get our hands dirty, and we have certainly done that.
I love discovering the history of the building, so I was thrilled when we uncovered the old miller's handwriting all over the lime plaster walls. We found the old millstone in the undergrowth in the garden as well. I have no idea how we are going to move it, as it weighs a few tonnes!
When it came to the interiors and curation of artwork and furniture we knew the building would guide us. It is a large industrial building that would never allow itself to be over-styled. Simple, crafted pieces suited the spaces best.
QUICKFIRE
Favourite place? Llanthony Priory and Gospels pass 
Where do you go for inspiration? St. Fagans Museum and the endless chapels of Wales  
The Little Mill sounds like… a running river 
Best advice you've been given? "Art is the beginning" (Aldous Huxley)
Can't live without? Mountains or the sea


FOLLOW LEO & THE LITTLE MILL
Instagram - @little_mill_abergavenny

Website - Littlemillabergavenny.com
Instagram - @leobrunotodd
We're very excited to announce the Partnership Editions Artist Open Call winners. We had over 500 applicants from all around the world, all of an incredibly high standard, so making this edit was not easy, and we are so grateful to all those who took the time to apply.
Alongside our founder, Georgia Spray, we called on our selection committee of tastemakers including Leo Bruno Todd, who used his expertise and excellent eye to help us unearth and shine a light on new talent.

Meet his three chosen winners below. Their work will be available to buy on Wednesday 25th October and to preview on 18th October. Sign up to be notified.
"The haunting scenes and energy in Alice's paintings are very powerful,
like a macabre folk tale, the story sticks with you." - Leo Bruno Todd
"Jonathan's work draws you in. There is something so familiar about the vernacular architecture he
chooses to paint, and yet something otherworldly makes you feel unsettled." - Leo Bruno Todd
"There is a real joy in her work. Just looking at these paintings lightens my mood." - Leo Bruno Todd