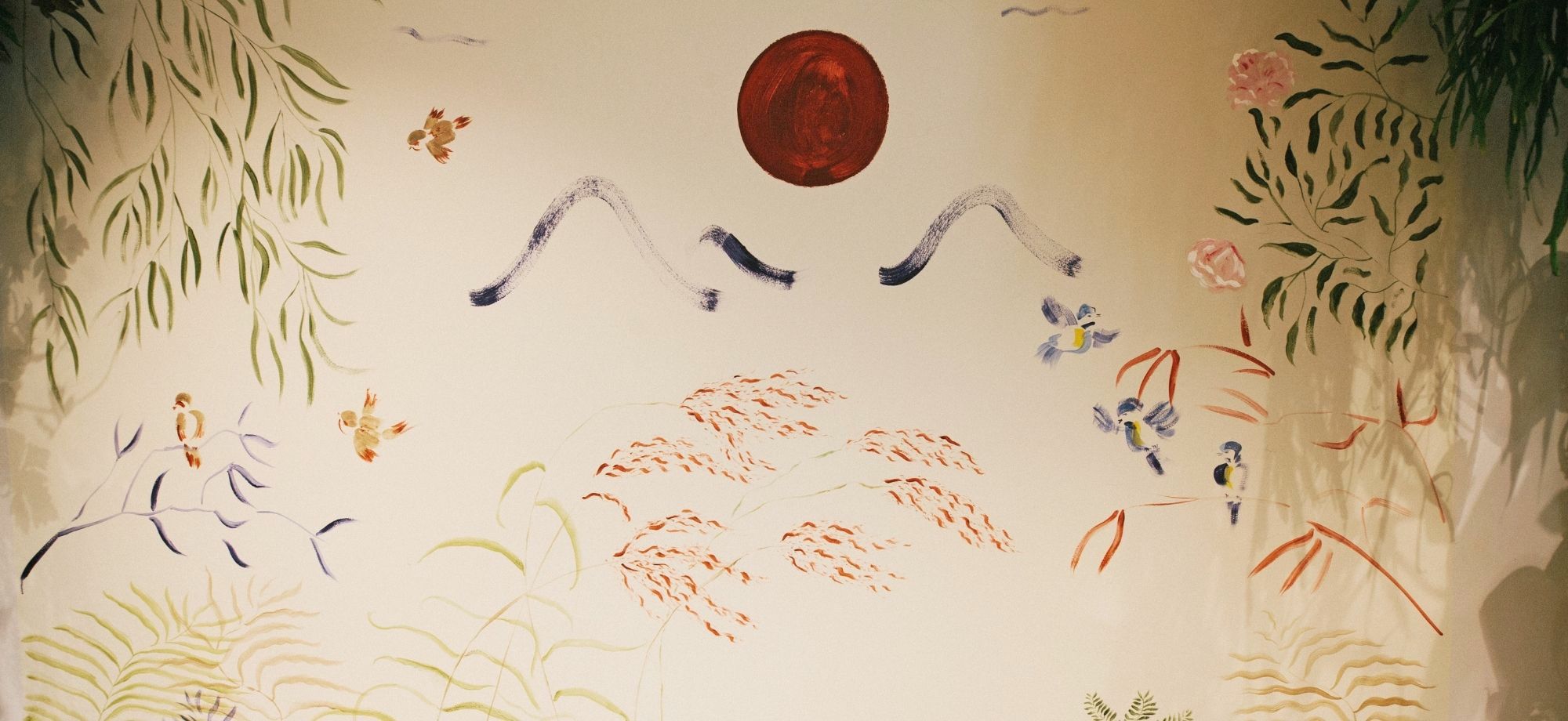 13/ How To Commission a Bespoke Artwork
A bespoke commission is an artwork made by an artist specifically with you in mind. It is totally unique and is often a thrilling and collaborative experience for both artist and collector. 

A common misconception is that a commission will always cost the earth, and people are often too afraid to ask due to the assumption that they'll never be able to afford it, but we are happy to work to your budget and guide you through the process. 
In this guide, we hope to help you understand the different types of commission that are available, and what is useful to consider when starting that process to ensure the artist can create something that you'll cherish forever. 


Get in touch about a bespoke commission
COMMON TYPES OF COMMISSION
 Laxmi Hussain's studio and Laxmi at work

Portrait commissions are when an artist depicts you in some way - this can be something more representational or abstract depending on the artist you choose. Artists like Laxmi Hussain like to work from life, so you or the person who you are commissioning it for would go to her studio and witness her process in action while she draws you. Whereas if you wanted a more abstract approach to a portrait, you could always consider having Venetia Berry depicting you or a loved one in her signature abstract forms - any references to your relationship or imagery that can help Venetia bring this concept to life are very helpful.
Top tip: If you're feeling brave, why not sit for a nude portrait for Laxmi Hussain... It can result in something that feels collaborative and empowering. Laxmi makes you feel very relaxed and a nude pregnancy portrait can be a wonderful way to remember such a special time.

 Artwork by Camilla Perkins
2. YOU MISSED OUT ON THE WORK YOU LOVE
Have you had your eye on a particular artist's work in our drop, but keep missing out on the ones you want? We can discuss commissioning something similar to this piece by the artist. 
Bear in mind that as artworks are original, it won't be exactly the same, but with a bespoke commission you'll also get the opportunity to give feedback on which bits you love the most, and the artist might be willing to tweak the colour scheme or composition so that you love it even more. Expect to pay a little more than the original work, seeing as it's been made especially for you and is outside of our drop. Factor about 20% on top of the original price, but remember it will be totally tailored to you. 
Top tip: rather than asking for an exact replica of the original work, why not add something even more personal - we recently had a client who missed out on a Camilla Perkins seascape commission a depiction of their own seaside town.
 Artworks by Alexandria Coe and Julianna Byrne
3. COMMISSION FOR A SPECIAL OCCASION
A bespoke commission can be the perfect way to commemorate a special occasion. First wedding anniversary is paper, so that's one that we're frequently asked about, as well as Christening presents, special birthdays and wedding presents. A starting point could be deciding on a subject matter that will resonate with the person you're gifting it to, and from there you might have a good sense of which of our artists might be able to capture that for you. You could even ask the artist to include an inscription or to write a significant date on the work somewhere.


Top Tip: Why not commission an Alexandria Coe lover for something romantic like a wedding or anniversary. Julianna Byrne's botanicals can be an amazing idea for a green-fingered friend - she can depict their favourite plant and write a personal message too. 
4. COMMISSION FOR A SPECIFIC SPACE
You may have a favourite artist on the platform, but they don't work in the scale that you're looking for to fill a certain space in your home. We often work with private clients as well as interior designers to create bespoke works to fit a brief. This could be a large-scale artwork or even a mural. Get in touch with your brief, and we can either suggest an artist for the job, or reach out to the artist you have in mind to bring your vision to life.  
Top tip: Why not commission Julianna Byrne to create a bespoke mural in your home? Julianna's incredible murals look amazing in nurseries as well as in a living room, hallway, or up a staircase. 
We hope this guide has given you some ideas of the various options available, but do get in touch with us and we'd be happy to guide you personally through the process, as well as tailor something to fit your budget. Remember that commissions can take an artist time, and you don't want to rush the process, so try and leave plenty of time before your deadline and get in touch as early as possible. Whether you have a fully formed concept, or just want to put feelers out or bounce ideas around, we'd love to hear from you.