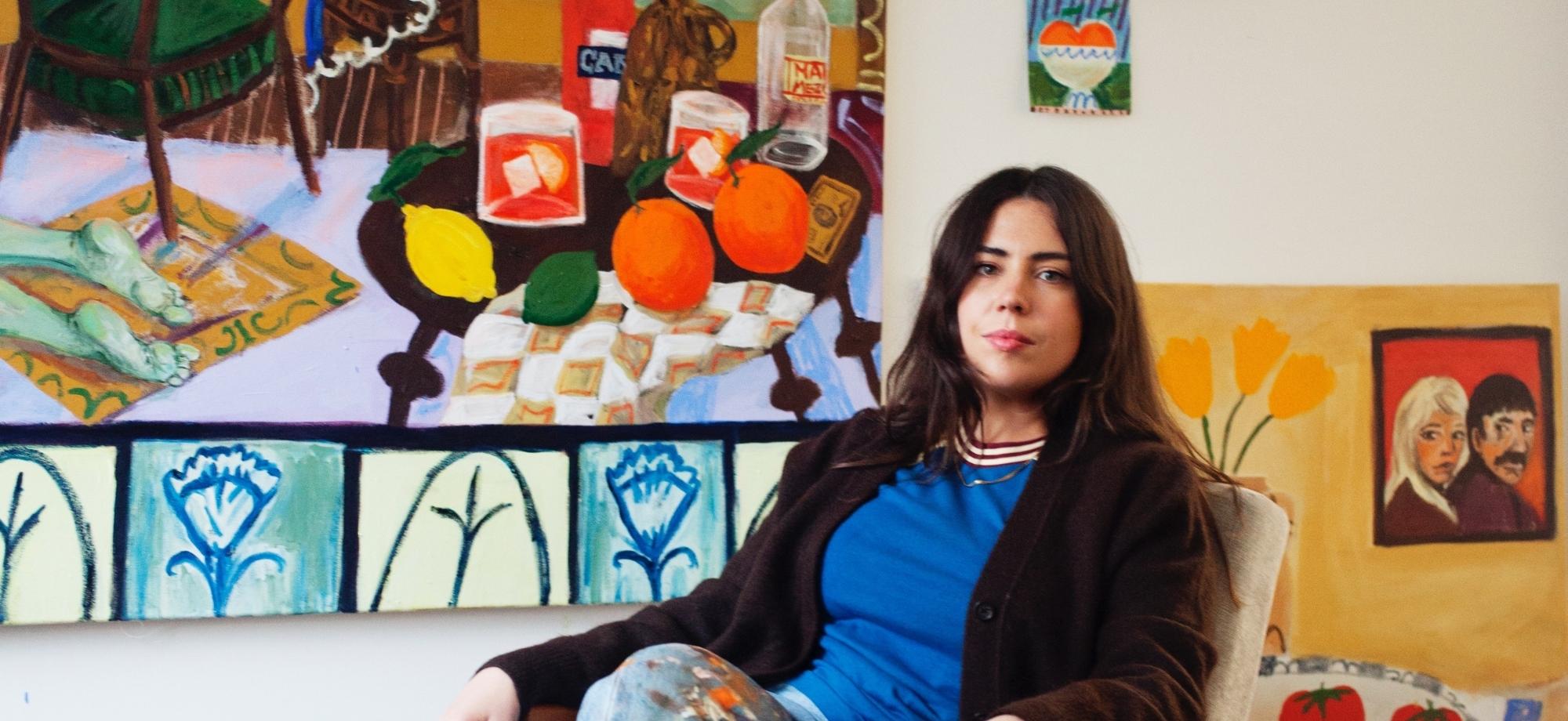 Artist
54/ In The Studio With Frankie Thorp
For this journal feature, we step into the studio of London-based artist Frankie Thorp, who will be releasing her first Partnership Editions collection 'Lazing On A Sunny Afternoon'.
Frankie is known for her humorous tablescapes, a modern twist on traditional still life paintings, with kitsch 70s and 80s references such as cocktails and retro desserts.
How did you become an artist, what's your training and background?
I studied illustration at the London College of Communication. Having only painted and doodled for my own enjoyment for a long time in early 2019 I decided to take the plunge and start sharing my work on Instagram which was the first step in allowing my career as a professional artist to grow.
What are your influences - generally and specifically for this collection? Are there certain artists, subjects or movements that inspire your work in particular?
My main influences come from travel, film and dining. I am a massive foodie and love a good cocktail. In respect of artists that inspire me; to name a few Matisse, Tal R and Mary Fedden.
What does your process look like? Why do you choose to work with this type of materials/techniques?
My preferred medium is acrylic and oil pastel although I am dabbling with oil paint more and more. My process normally starts with colour. I am very particular about my colour palettes and will sometimes decide on this ahead of the subject matter.
I have an abundance of still life photos that I have collected for reference either found or taken by myself. However, I often like to paint from memory as I like to reduce the objects in my paintings to a more simpler form and find if I have the image in front of me I start including too much detail and I lose the desired outcome.
| | |
| --- | --- |
| | |
QUICKFIRE:
What's your current song on repeat in the studio? Chaise longue - Wet Leg
Favourite cocktail? My answer should probably be a negroni but if it was my last supper I think it would have to be a spicy margarita with Tajin salt rim.
Your muse? David Byrne. I tell everyone I meet to watch 'Stop Making Sense' 
Perfect night out? A pre-dinner pint at a proper London boozer. Bonus points if the pub has carpet. Dinner in Soho, I like lots of small plates so I can sample as much different food as possible, followed by a nightcap in a speakeasy-style cocktail bar. 
Favourite gallery? Guts Gallery. They've just got a perm space in London and I really admire their ethos. 
Can't live without? My phone. But then maybe also cheese? I can't imagine life without cheese.
FOLLOW FRANKIE
Learn more about Frankie Thorp's work and shop her debut collection.
Lazing On A Sunny Afternoon by Frankie Thorp