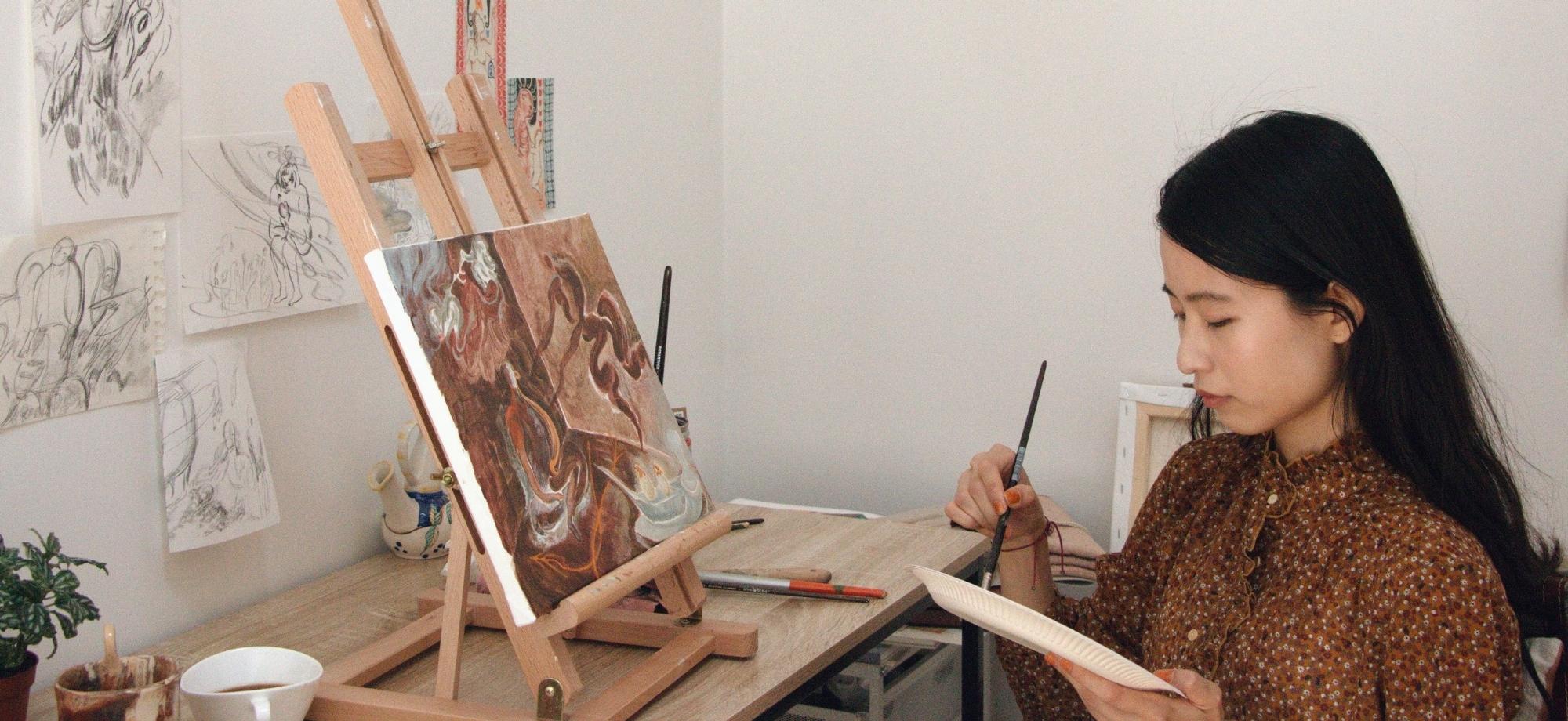 Artist
65/ In The Studio With Shaoyu Chen
We are so happy to introduce Shaoyu Chen, the artist working between France and Switzerland who will be joining our roster of artists with the launch of her debut collection 'The Peace of Wild Things'.
Shaoyu's work explores the complexity of the human psyche, taking inspiration ranging from daily interactions to other people's dreams. Her first Partnership Editions collection, formed by 14 original mixed media artworks, reads between her conscious and subconscious minds through metaphorical representations.

How did you become an artist, what's your training and background?
I'm an autodidact painter who grew up in a family of musicians and designers. As a kid, I enjoyed drawing beside my parents, who always encouraged me to draw faithfully with my heart.
Even though I've been drawing since I could hold a pencil, I'd never thought about becoming an artist, until I felt bewildered and empty after finishing university. This was when I decided not to shove drawing aside as a hobby any longer and started sharing my work on the internet.
What are your influences? 
I've always been sensitive toward my own and others' mental states, and I am fascinated with dreams and their metaphors. After studying a bit of Jungian psychology in university, painting has also become an oracle reading between my conscious and subconscious minds.
Artists such as Remedios Varo and Leonora Carrington influence me a lot – I am intrigued by how they "stage" and present the dynamics between different metaphorical objects.
What does your process look like?
I keep a diary to document my dreams and conversations with friends, which are the main source of my ideas for painting. I sketched down inspirations after my meditations, and the following morning I would prepare these sketches to paint – with a pre-painting dance session.
Dancing frees up my flow and soothes my chatty mind. I mainly use acrylic to keep my work pace quick and intuitive, but I'm looking forward to trying out oils.
What response do you hope to create for the viewer with your work?
I don't expect how others would respond or react to my work. I'm rather fascinated by how the viewers take in the imagery. Whenever somebody shares how they feel or what they see in my art, I feel like they are reading an enigma about themselves, rather than about my original intentions.
QUICKFIRE 
Music on replay in the studio? Reunion by Anoushka Shankar
Muse? Mother nature 
Perfect day out? Being anywhere close to the water: a river, a lake, the ocean.
Favourite gallery? Too many! But the most special one in my heart is my grandfather's self-curated "gallery" wall at our house. I loved watching his arrangements as a kid.
Can't live without? Homemade food
Favorite holiday spot? A small shady nook next to Lac Léman during summertime, with rocks beneath my feet and willows above my head. Luckily, I also happen to live there, which means everyday feels like a holiday.
FOLLOW SHAOYU
Discover her debut collection 'The Peace of Wild Things'.