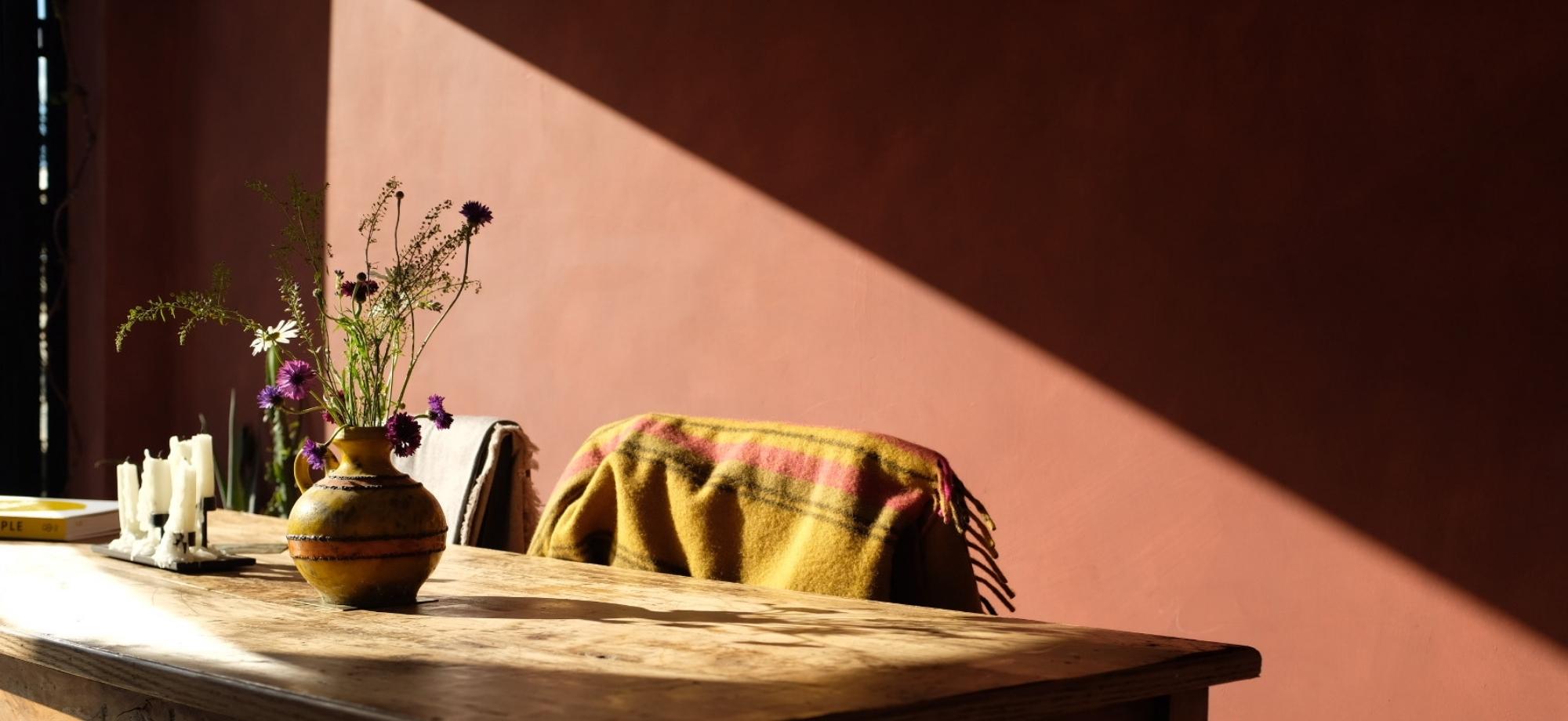 Journalist
66/ How To Incorporate Art Into Your Home Renovation With Jess Alavi-Ellis
For this 'How To' feature we have invited journalist, art lover, and former 'Clueless Renovator' Jess Alavi-Ellis to share her tips on how to incorporate art into your home renovation.
Having undergone a three year renovation project in her North London home, her incredible curatorial eye and DIY mentality have lead her to source an impressive collection of affordable art and treasured pieces.
We invite you to step inside her now-iconic terracotta-walled home and read the words of wisdom in this guide.
We've spent the last three years renovating our Victorian terraced house in North London, slowly but surely putting it back together, restoring what had been lost over the years and transforming it into a home that works for our little family.
That renovation has been mostly DIY and the budget dried up long before the paint, so when it came to filling our now perfectly smooth but totally empty walls with art, we've done it piece by piece.
| | |
| --- | --- |
| Watercolour by Kara Rose Marshall of Tuft Luck, bespoke frame commissioned from Flo Doyne-Ditmas. | Oil on paper by Alison Britton-Paterson and collage by Tegen-mor Tossell via Iota Edit. |
TAKE YOUR TIME

Towards the end of a renovation it can be tempting to fill the walls asap but budgets have usually run out (or overrun). Rather than bulk ordering mass-produced posters or prints that I don't connect with, I try to wait and instead of three or four posters I'll buy one piece from an artist I love (it doesn't matter to me if that's a print or the teeny tiniest original). That's how I've built our little collection and each piece is all the more special to me for it.
| | |
| --- | --- |
| Oil painting by Cora Murphy. | Nude On Orange With Blue Buttocks Print by Hester Finch. |
BUY VINTAGE
I love a good rummage in an antiques market or an endless scroll through auctions and social media as they are great ways to find affordable art. Unknown or lesser known artists from past decades tend to come with a lower price tag and can often be framed already, so they're ready to hang. Check auction sites like thesaleroom, auctionet, and your favourite Instagram vintage seller among mine are Medium Room and Conspicuous Collector.
 Rust-coloured nude bought from Medium Room.
SUPPORT EMERGING ARTISTS
Seeking out emerging artists is a great way of finding more accessible or affordable art and support them at the same time, but I love that you can often also have a conversation, understand their work on a deeper level and as a result treasure the piece all the more. We are lucky enough to own two pieces by Studio Lenca. I connected with his story and the meaning behind his pieces (and admired his exceptional talent) but even more so as I have had the pleasure of meeting him.
ANYTHING YOU LOVE CAN BE ART
Not all art has to be by artists! I love framing postcards from places we've visited, menus, children's drawings and most of all - plates! In our kitchen we have three tortilla plates from Oaxaca which are too beautiful to eat from, we've whacked them up on the wall and they bring me so much joy. I spent months collecting a series of 70s fish plates and when one of them smashed I hung that too.
| | |
| --- | --- |
| Tortilla plates from Oaxaca. | |
Our most treasured piece is a farm scene sewn by my mother-in-law. She started it when my husband was born and she gave it to us when we had our own baby last year.
| | |
| --- | --- |
| Farm tapestry by mother-in-law Jill Riding, alphabet tapestry by grandma-in-law Jean Ellis. | |
FRAMES CAN MAKE A PIECE
I'm a firm believer that a good frame can make a piece. For originals I try to go to a professional; Brider and Bull in Stoke Newington is a firm favourite. I've also commissioned a frame from artist Flo Doyne-Ditmas but when I'm on a budget or I want to frame something simple I get back into renovation mode and do it myself. One of my most popular DIYs has been a bobbin frame and I often dig out leftover sample tins and will paint frames and mounts. It makes a huge difference and you can really get creative.
| | |
| --- | --- |
| Watercolour by Kara Rose Marshall of Tuft Luck, bespoke frame commissioned from Flo Doyne-Ditmas. | Bobbye Fermie watercolour being dropped off at framers Brider & Bull. |
FOLLOW JESS
Are you renovating a house? A first-time buyer not sure how to start your collection? Have an empty space in your home that you don't know what to do with?
Our free Art Advisory service is designed to give you the confidence to build a unique and meaningful art collection that is tailored to you - whatever your art budget or scale of project.
Jess Alavi-Ellis' Curation