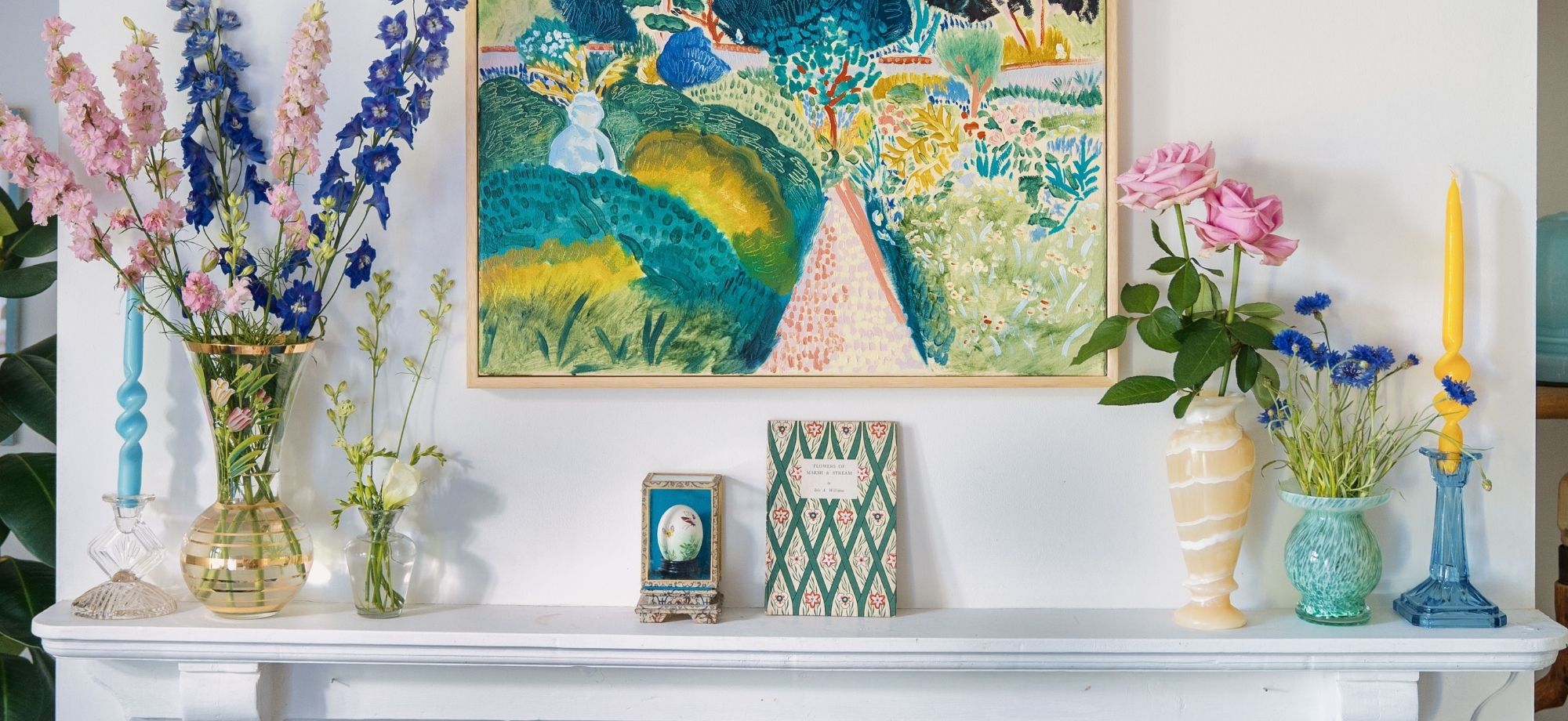 Artist and Illustrator
44/ Hang With Camilla Perkins
For this 'Hang With' feature we step into the Lewes home, studio and shed of Camilla Perkins. Through her art, hand-painted furniture and extensive collection of antiques she has turned these spaces into havens of creativity and inspiration.
Growing up near Charleston, Camilla was influenced from a young age by their colourful patterned furniture and vibrant gardens, an influence that can be clearly seen through her unique home decor.
In this Journal piece she shares her tips to adding personality to a home, her first memories of Charleston, and the experience of working alongside her husband Jack on her now iconic hand-painted stools.
Her upcoming solo exhibition 'Summertime At Charleston' is a celebration of this romantic and special place. Sign up to our newsletter to get first access to this wonderful collection.
Camilla Perkins by Georgia Rothman
I live in... a little 19th-century cottage on the Village Green in Ringmer, just outside of Lewes. I really loved that it has the original fireplace and little stained glass windows in the living room, and that I can go straight out onto the Green from my back gate. It's also next door to the Church so on Sundays my daughters like to dance to the bells ringing in the garden, which always makes me laugh.
Camilla's blue shed with monoprint and hand painted stools
My home inspires me because... I really like every single bit of space on the walls to be filled up with artwork, I've got a mix of both originals, prints, and textiles that I've collected over the years. I've actually got a bit of a problem with hoarding pieces that I definitely don't have space for, so I end up moving everything around constantly like it's an ever-changing exhibition! 
Lewes is a really beautiful town with a great creative community, nestled right on the edge of the South Downs so if I'm ever in need of inspiration I head up there. The landscape is amazing!
| | |
| --- | --- |
| Camilla and her dog Ralph | Amongst The Leaves by Camilla Perkins |
I like to work from my studio because... I have spent the last decade working from home but after having two children it just became impossible to get anything done, especially when one of them is brushing your hair, one is trying to eat my oil pastels, and Ralph the dog is sitting on my feet so I can't move! I now have a little studio space in the middle of Lewes and it is heaven!
'Summertime At Charleston' in 
Camilla's Studio
I started painting furniture... with my mum when I was a child. I remember the first time I ever visited Charleston with her and it blew my mind! I love how even the simple patterns they used can look so effective. I still see Charleston as a major influence, but I like to paint in my own style, with the colours that feel right to me. There are certain subjects that I always seem to come back to, water lily ponds, lobsters, and anything botanical are all winners in my opinion!
| | |
| --- | --- |
| Nasturtium Stool by Camilla Perkins | In Full Bloom by Camilla Perkins |
Working with my husband... has been a wonderful process, we've talked about making furniture together since we first met and we have a really similar aesthetic, so for me, it felt completely natural.  I'm so pleased to have collaborated with Jack on our wavy-edged stools! I absolutely love how they've turned out, they really are extra special pieces that are both functional and beautiful objects. It all started when I wanted to make some for our own daughters but couldn't find anything that was suitable. Jack is a gardener by trade but also has a passion for woodwork and a great eye for design, so it was really exciting to see how his design for the stools perfectly complements my artwork. 
Jack has loved the challenge of turning a vague idea into a physical object, and it's been so nice being able to bounce ideas off each other in between wrangling our toddlers. We're both really looking forward to seeing what we can work together on next!
Lobster Stool & Nasturtium Stool by Camilla Perkins
One of my greatest inspirations growing up was… Charleston and I wanted this collection to be a celebration of this romantic, special place. I love how everywhere you look there are sculptures hidden amongst the flowers, and how after the rain the garden turns emerald green. I like to imagine what it must have been like there at the beginning of the 20th century, how many summer's days ended with a dip in the lily pond, and I love how this perfect English garden contrasts with the rugged chalk landscape that surrounds it.
Charleston Study 1 & 3 by Camilla Perkins
My prized possession is... I think it would have to be the portraits that my Mum commissioned of me and Jack as our wedding presents, they are really special. I also have this weird obsession with a Chinese painted egg that I bought from a car boot sale in Brighton with my Dad when I must have been 4 or 5, it really is complete tat but I love it! I would also have to include my two Hester Finch pastels which hang in pride of place above my sofa, I couldn't ever just choose one thing!
 Pastel nudes by Hester Finch
I think it's really important to fill your home with... things that you love, they don't necessarily have to be worth a fortune. I love rummaging around antique shops and car boot sales for mismatched vases and candlesticks or searching online for vintage embroidery and Kantha quilts which I think all add personality to a home. I would really recommend that everyone gives painting a piece of furniture a go, even if it's just an interior door painted in a colour that you love! 

It's more important to have a space that's true to your personal style rather than it looking perfect. I love homes that embrace their imperfections, it's much more fun! 
| | |
| --- | --- |
|  Just After The Rain by Camilla Perkins | An Evening Dip by Camilla Perkins |
My recipe for a happy home is... something delicious cooking in the kitchen, children laughing in the garden when all the flowers have just burst into life, Ralph sunbathing on the front doorstep, the rooms being filled with friends and family. Our house is usually in complete chaos but I secretly quite enjoy the madness of it all…
Shop Camilla's online solo exhibition 'Summertime At Charleston'.
Photography by Georgia Rothman.
Summertime At Charleston by Camilla Perkins