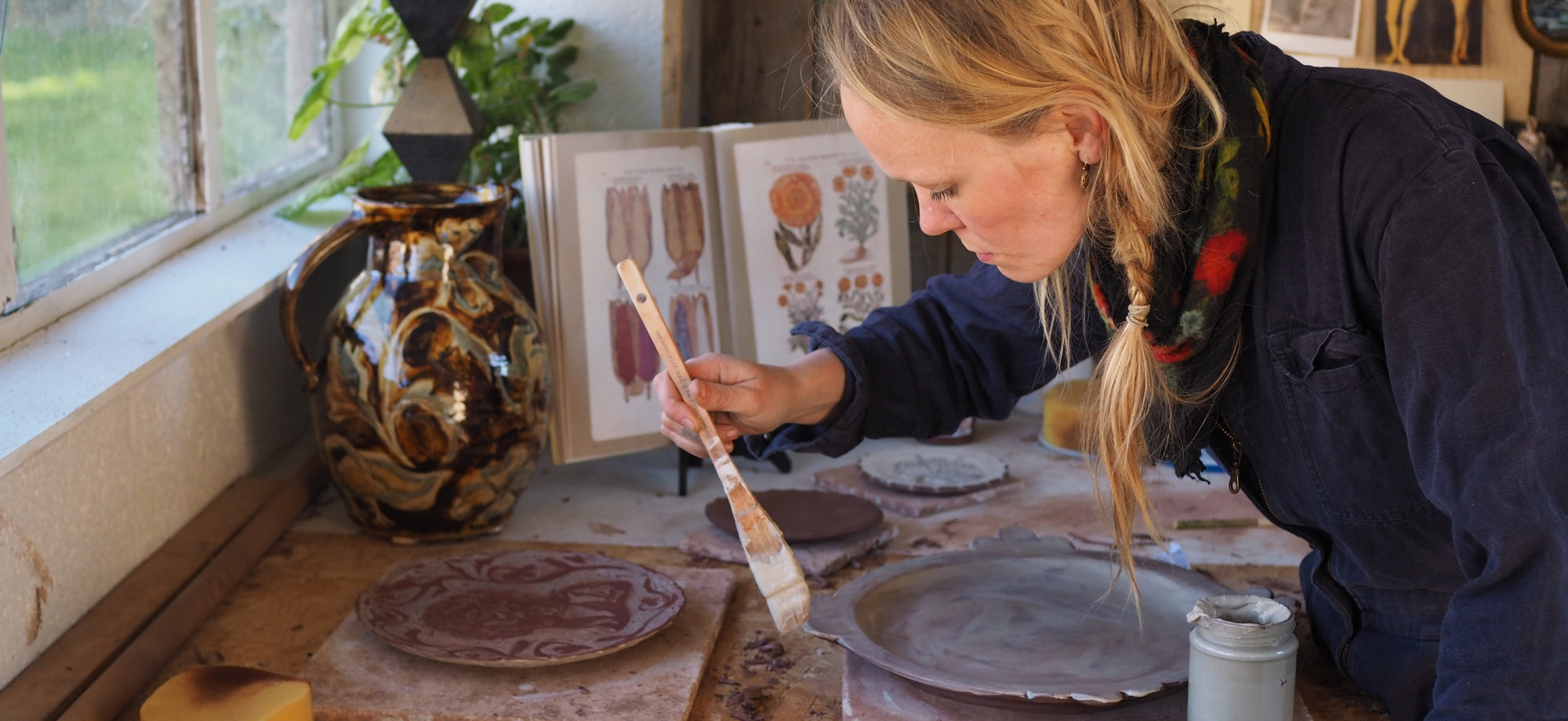 Artists & makers
89/ Celebrating Slow Craft With Our Artists
To celebrate Craft Week we're chatting with eight talented artists that are part of the Slow Craft movement - Ali Bassett, Bellamy Jean, Catherine-Marie Longtin, Chelsea Vivash, Colette LaVette, Freyja Lee, Noe Kuremoto, and Sophie Victoria Edwards. Uniting these artists is the fact that process is as, if not more, important than the final piece.
Whether the stitching of a quilt by hand, taking weeks at a time, or the creation of ceramics that require multiple glazings and firings, which at any point might explode in the kiln, there is a brittle and unexpected beauty to the journey of the craftsman.

For many years 'craft' wrongly was viewed as a lesser art form - more of a 'hobby' than 'fine art'. However, in a generation where the world around us is speeding up and dragging us away from the hand-made, we have a newfound appreciation and deep respect for the role of craft in our lives and in the art world.
In the words of our artist and maker Freyja Lee - "We live in a world of mass production, where stories and objects are separated. But in the past, storytelling was part of making and vice versa. Humans historically used jugs and drank out of cups that told stories on their surfaces – either figuratively or in the thumbprints left by the person that made them. I'm noticing more than ever, with the increased interest in craftsmanship, how hungry people are for these story-shaped things."
Can you talk us through your process?
Bellamy Jean: I transfer my drawings into embroidered images in different ways using different fabrics and embroidering freehand on an industrial embroidery machine.
The process can be very laborious as each piece of material responds differently to the machine. I like to use linen and velvet as they both contrast and complement each other. Embracing their natural fray and layering them brings a depth you cannot achieve with other materials.
Noe Kuremoto: Simple and hand-built. It takes a long time to make a hand build sculpture but I love that about ceramics. For me, it feels like drawing in the air!
Ali Bassett: My process always begins with a story. I love folklore, superstitions, and old wives' tales. I try to sum up a feeling in just a few words, making sketches and playing with these as ideas for paintings to see how they may be woven together. Then I paint some out onto canvas and play with the pieces together. This gives me a collection of canvas patchwork pieces that I can reuse and play with for ideas and later work. Sometimes they find their place, sometimes they get worked over.
What materials do you use?
Chelsea Vivash: I mostly work with veneer surplus from large-scale veneer manufacturers. This means that each piece is unique, as I carefully select from a limited stock of real wood veneers.
Marquetry to me is like drawing down your ideas with wood and it combines all of the things I enjoy. I like the way that you have to be very precise when cutting the veneers and it's a skill that takes practice. There is also the element of mystery when the piece comes out of the press and the final piece is revealed.
Colette LaVette: I use sustainable, cruelty-free oils that I mix myself from natural minerals such as iron oxide with walnut and linseed oils, and use alongside earthenware clay.
I use hemp rags in the studio, a recycled acrylic sheet to mix the paints, and my best friend makes wooden palettes for me. I use lavender oil and surplus linseed oil from an essential oil company to make my paints, whilst it is now not suitable for cosmetics it is for making paint.
Why is your process so important to the work?
Catherine-Marie Longtin: I don't have any formal training in design or sewing, but I've always been attracted to textiles, from reading the French Elle Deco at home in Montreal when growing up to lingering in the homeware section of chic department stores while I was studying in Paris. 
It has very much been a process of teaching myself the skills necessary to bring my ideas to life. Process for me is the main path to creation, most pieces I make come to life as I go. Every decision I make in terms of proportions, colours, and overall design becomes part of the whole.
Freyja Lee: When I was deep in the throws of being a new mother with my first child my mother-in-law whisked me away to paint on a few of her sister's pots. I was drawing on paper at the time, but the tactile magic nature of clay entranced me.
The possibilities of working with ceramics are never-ending, I feel it fits me as an artist to continue to explore, but will not be limited by it. My process comes from a basic need to make. I work with wax to paint on the negative space, therefore, creating the impression of a woodcut(when done well) which I love as I studied printmaking for a while.
Sophie Victoria Edwards: 
I love working in multiple mediums. The slower pace of working with clay means you have to slow down and respect the time it needs to build, dry, and patiently glaze. It feels like a contrast to when I paint and draw which is very immediate and often a spontaneous process of mixing materials and colours. I began making lamps as I wanted my ceramics to be functional decorative sculptures that can be lived with, admired, and used every day.
Shop the Slow Craft Edit