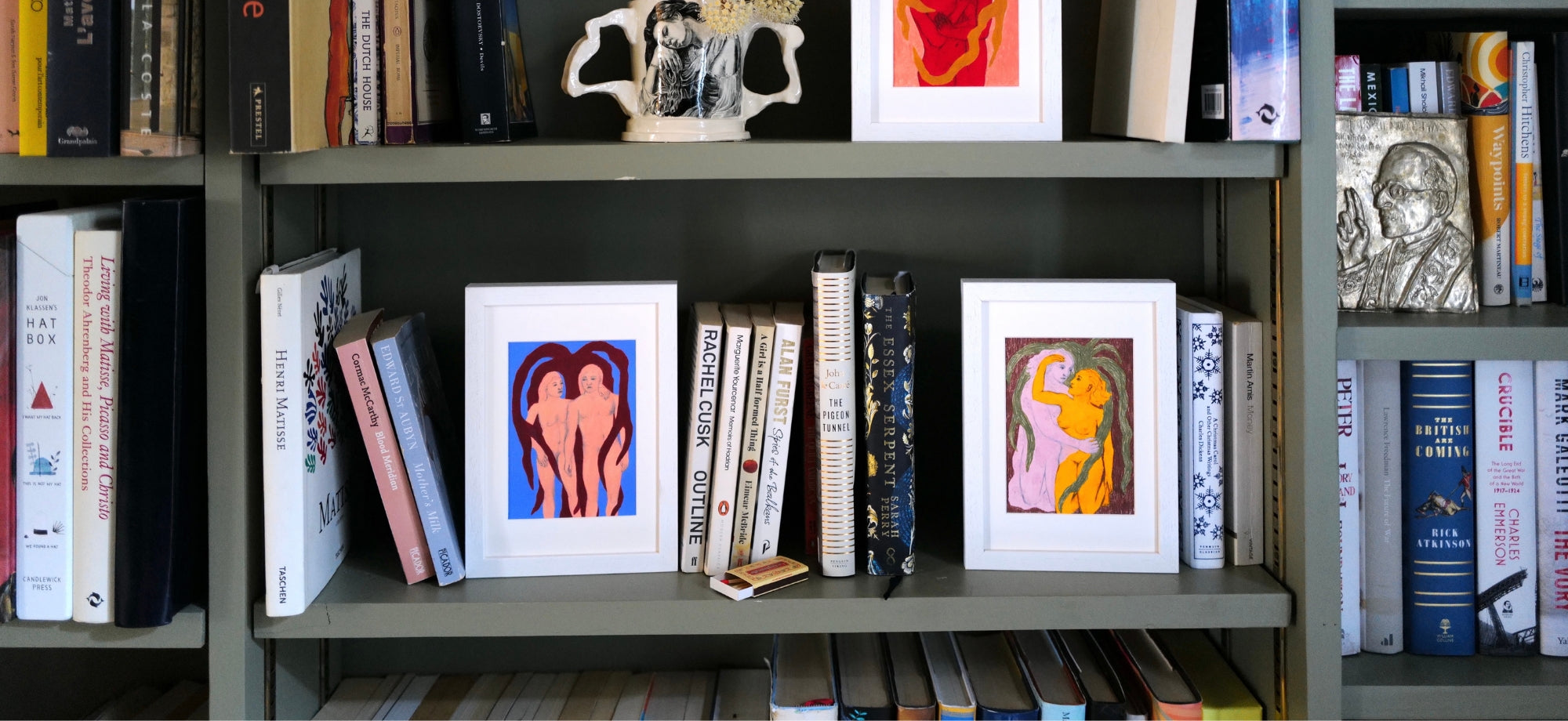 78/ Tips For A Unique Home By Industry Tastemakers
How do you curate a considered and uncluttered home?

"I really love the idea of stepping into a home and feeling a sense of tranquil, calm and a sense of an escape from the busy outside world - therefore before purchasing a new item, it's best to assess how much you need it and whether there is actual space for it - by doing so there will be less opportunity for clutter"

Prints by Lottie Hampson, in the home of Liv Madeline
How do you curate an eclectic collection of art and homewares?
"Don't sweat it! If you love the item and it brings you joy or sparks a memory about the person that gave it to you or the place where you bought it from on your travels that's all that really matters! Always express yourself with your art and go with your gut."
Prints by Joseph Dupré, in the home of Sophie Rowell
How do you add warmth to your home?
"Lots and lots of candles. I burn candles throughout the year but in the winter I light them first thing, when it's still dark outside, and keep them going all day. I light different sizes and heights, pillar candles, tapers, and tea lights. A candlelit breakfast is always cosy and cheering and a lovely, warm start to the day."
Prints by Julianna Byrne, in the home of Charlotte Bland
How do you incorporate colour and pattern into your home and art?
"When it comes to bringing colour and pattern to a room, we would encourage clients to be brave and bold with one or two key items. The power of having an amazing statement sofa/armchair, or painting/ image, in an otherwise neutrally decorated room, can completely lift the entire space. The calmer the rest of the room, the more impact that some great colour and pattern will have.
 With almost all of our art that we have at home or specify for clients we lean towards a monochrome frame so that the frame doesn't start to "fight" with the art. We can't advocate good framing enough, a well-framed piece with the correct size mount will totally change how the art is seen and is always worth the investment."
Prints by Joseph Dupré, in the home of Charlotte and Angus Buchanan
How do you bring nature into your home space?
"I guess I have a few tips for bringing nature into your home space. A lot of my job revolves around doing this in various ways. It is what drew me to floristry in the first place. I don't think one needs to do something fussy or complicated. At home, I am drawn to keeping it very simple. I have one vase which is placed on a dresser in my house. I usually fill it with one type of seasonal flower. I prefer having one type of flower in it, as I like the simplicity of this. In summer I will bring back a bunch of peonies or dahlias. In winter, some simple winter branches are placed in it. I try to keep it seasonal as in a way it is a tool for me to connect and appreciate each season. The bright energetic colours of summer and the darker inward colours in winter. Seasonal flowers carry the mood of the season and I like my vase to reflect this. 
A seasonal wreath is also a lovely way to bring nature into the home. I have a friend who has a wreath which hangs in her living room. She adds and makes changes to it each season. It's a little bit like an ongoing project she has with her and her kids. They usually just use bits they have foraged from their garden. I think this is a lovely way to connect with nature and bring a bit of the outside in. 
I have a large tall stem of cow parsley which dried out from the summer. It sits against a wall in the corner of my bedroom. It looks beautiful and I enjoy watching it in the morning light. Right now I am reminded of summer walks in the marshes when the weather was warmer. 
Finally, plants are a great way to bring nature into your home. I don't have many plants, but I care deeply about the ones which I do have. I have one which was so tiny when I got it. Now it is really big. I enjoy looking after it. This plant has been with me for a long time and in a strange way feels part of my family. Looking after these plants also makes me feel more connected to nature. They give me a greater understanding of nature and the life cycle. You need to tend and care for them in order for them to grow. A metaphor we can all take from?"
Prints by Shaoyu Chen, in the home of Katie Smyth
How do you incorporate books and art harmoniously in your home?
"For me, it wouldn't be home without a bookshelf or two; even when I've lived places for a matter of weeks I've piled up paperbacks somewhere. Adding meaningful objects and artwork can inject a home library with personality and stop it looking too formal. If I had fewer books, I'd have a designated "stuff shelf" for such things, somewhere in the middle of the shelves, but for now I'm compromising with having deep alcove shelving that allows me to prop artwork up at different levels. It's a lovely way to change things around - and can range from beautiful framed pieces to a particularly thoughtful greetings card."
Prints by Hester Finch, in the home of Alice Vincent
How do you make a family home to last?
"I think of a home as your own world, a world that you create. A house is never finished, it's an ongoing project and the joy is that you can keep on adding pieces you like and from places you have been. The more layers you add the more joyful your home will become."
Prints by Terence Finch, in the home of Sarah Corbett-Winder
The Tastemakers' Curation